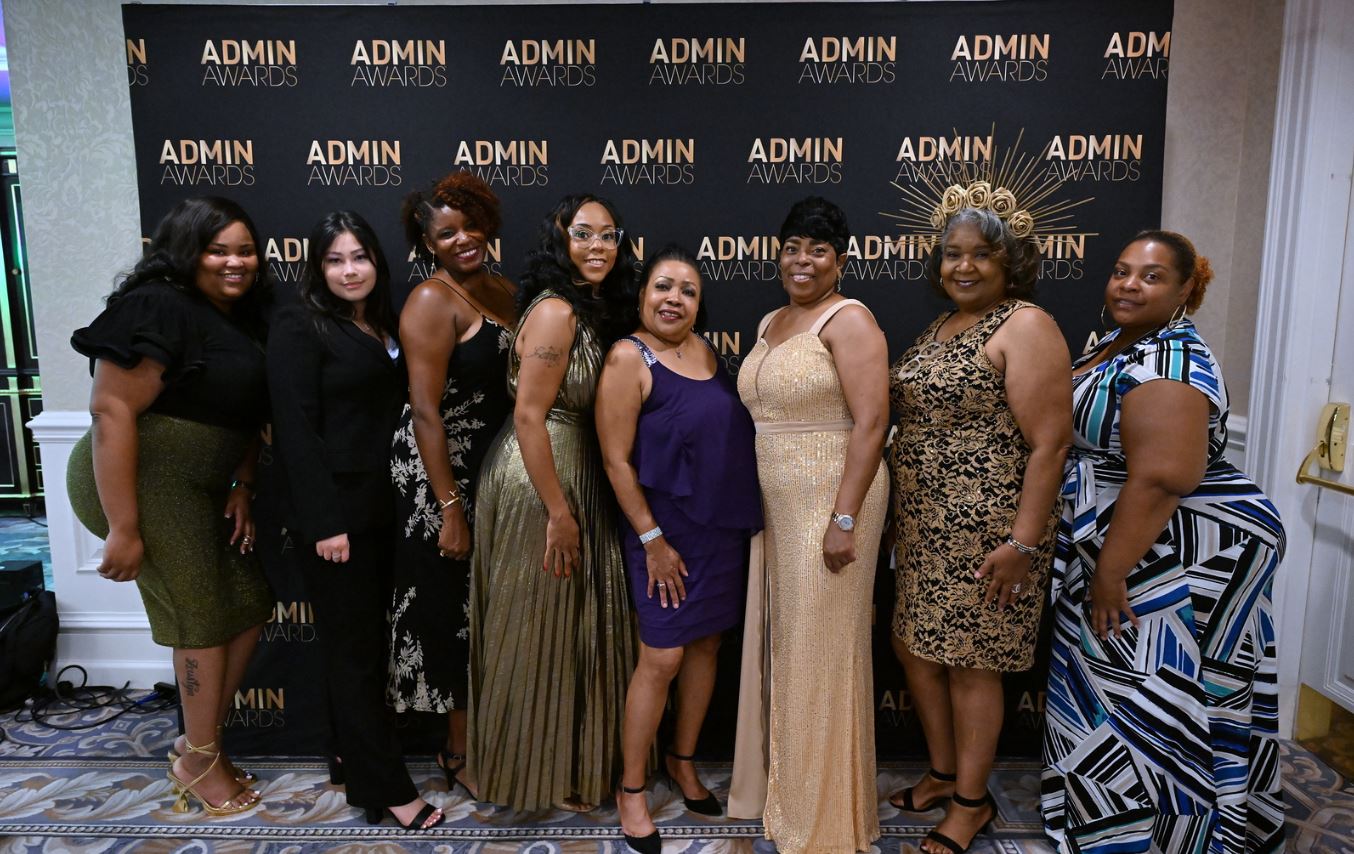 Christina Cortese, Danielle Hill, and LaToya Ludd of Administration & Finance are recognized as finalists in the 2023 Admin Awards.
---
Photo: From left, UMB employees Krishauna Greene, Christina Cortese, Danielle Hill, Latoya Ludd, Saifa Poole, Eris Smith, Alvette Chase, and Brittany Johnson attended the "Good as Gold" award ceremony Aug. 25 in Washington, D.C.

---
Three University of Maryland, Baltimore (UMB) Administration and Finance administrative stalwarts were honored by their peers for their invaluable contributions to keeping their respective divisions running like well-oiled machines.
Christina Cortese, office manager, Police and Public Safety; Danielle Hill, MHA, senior program specialist, International Operations; and LaToya Ludd, MBA, manager, business operations, Office of the Senior Vice President, were finalists in the 2023 Admin Awards. The "Good as Gold" award ceremony was held Aug. 25 at the famed Waldorf Astoria in Washington, D.C.
The Admin Awards bills itself as the profession's highest honor, and the first and only public recognition program of its kind in the country that focuses specifically on rewarding the achievements, dedication, and importance of administrative professionals. As the highest honor in the administrative profession, the Admin Awards are known as the Academy Awards for Admins.
Participating companies range from literal high flyers like NASA, Southwest Airlines, and Bell Helicopter to tech giants like Apple, Facebook, and Google. Other participating institutions include a number of schools and colleges, investment firms and international banks, and businesses of all shapes, sizes, and scope. What unites them are the invaluable administrative professionals that make sure the real work gets done.
Each UMB nominees has a career and story as unique as their respective positions.
Cortese, nominated in the Strategic Partnership category, joined the UMB Police Department five years ago. She quickly rose through the administrative ranks. Just one year after being hired as an administrative assistant, she was chosen to serve as assistant to the chief of police. Two years later, she was promoted to office manager. Her rapid rise can be attributed to her knowledge, innovation, and excellent service to internal and external partners.
Hill, nominated in the Public Service category, joined UMB six years ago after earning her Master of Healthcare Administration degree. She was nominated for bringing humor, positivity, curiosity, energy, and team spirit to work every day while meeting (or beating) every deadline, responding quickly and comprehensively to questions and requests, providing clear guidance and direction, and explaining the "why" behind the "what" when communicating policy or procedure requirements.
Ludd, nominated in the Leadership category, joined UMB five years ago. While here, she earned her MBA as she worked full time. A jack-of-all-trades for the Office of the Senior Vice President, she brings a positive attitude, professionalism, and willingness to her position. She consistently demonstrates a commitment to customer service and operational excellence, resulting in increased proficiency and productivity among her colleagues. Her unwavering integrity, even in the absence of supervision, distinguishes her as a standout administrative professional within the University community.