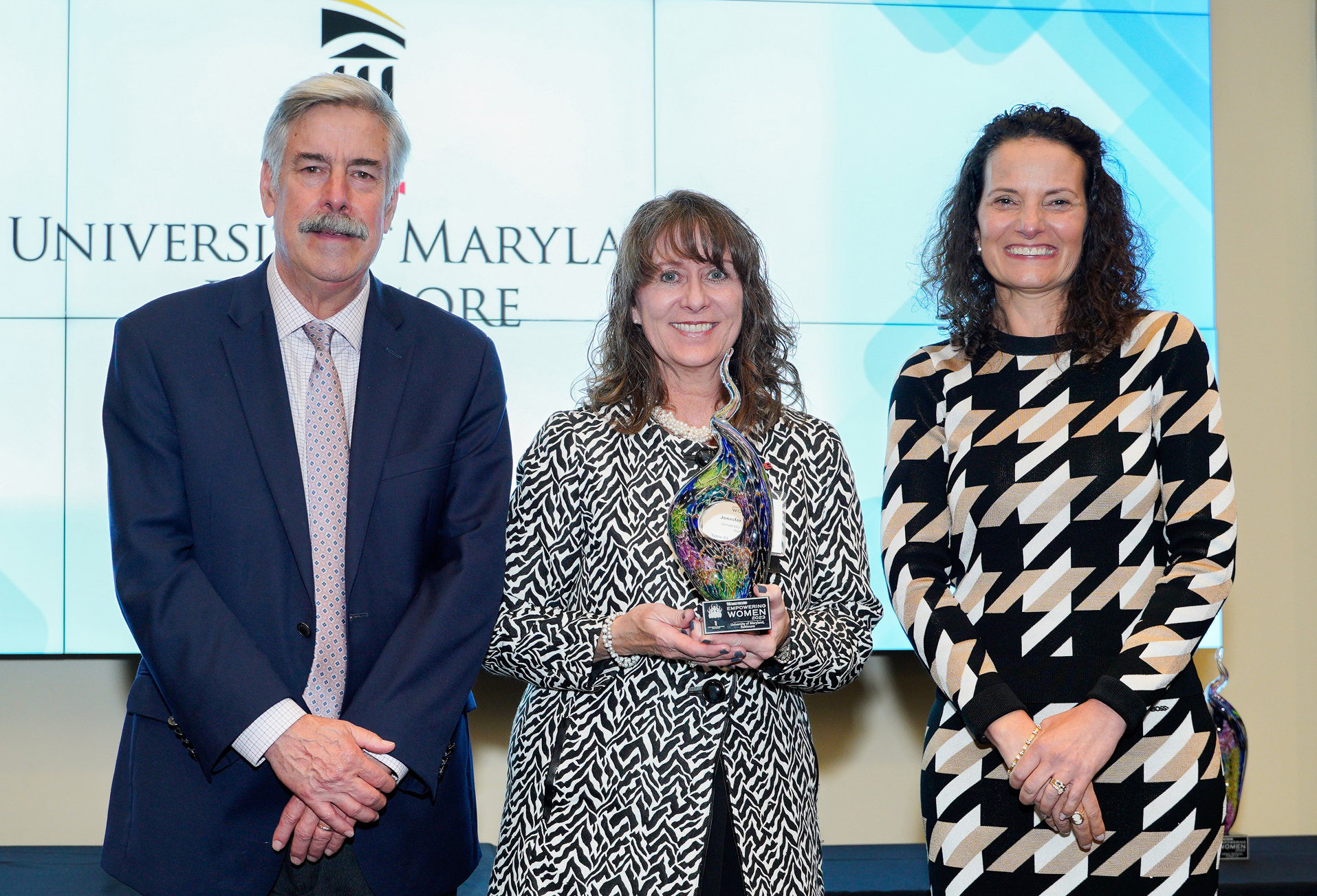 The award recognizes organizations in Maryland that show a strong commitment to supporting and elevating women.
---
Photo: Jennifer Litchman (center), UMB's senior vice president for external relations, accepts the University's Empowering Women Award from Thomas Baden Jr. (left) and Suzanne Fischer-Huettner of "The Daily Record." (Photo courtesy of The Daily Record)
---
The University of Maryland, Baltimore (UMB) is among the inaugural recipients of The Daily Record's Empowering Women Awards, which recognize organizations in Maryland that show a strong commitment to supporting and elevating women. The Daily Record honor is designed to showcase tangible and innovative efforts by companies, law firms, nonprofits, and other organizations to advance women in the workplace and community.
"The inaugural Empowering Women Award honorees know the importance of women in the workplace and work to support and advance their leadership," said Suzanne Fischer-Huettner, managing director of BridgeTower Media/The Daily Record. "These businesses support mentoring for women and other programs that are clearly aimed at helping women succeed. The Daily Record is proud to congratulate these organizations for recognizing the incredible value and power of women in the workforce."
In its award nomination, UMB detailed its longstanding commitment to equity, diversity, and inclusion (EDI) and the ways in which the University advances EDI and two of its four core values sets: Equity and Justice, and Respect and Integrity. The nomination noted that UMB regards advancing women's representation, leadership, and development as foundational to its mission to improve the human condition and serve the public good of Maryland and society at-large.
"We are deeply honored and proud to be among the inaugural recipients of this award," said UMB President Bruce E. Jarrell, MD, FACS. "At UMB, we believe in the power of diversity, equity, and inclusion, and we are committed to creating an environment where everyone can thrive and lead. This recognition reaffirms our dedication to supporting and elevating women in our community and beyond, and we will continue to champion their achievements and contributions."
This is just the latest award to recognize UMB for its dedication to EDI. The University was listed as one of America's Best Employers for Diversity in 2022 and 2023 by Forbes magazine, based on a survey of 5,000 Americans who work for organizations with at least 1,000 employees. UMB also received the Executive Alliance's 2023 Honor Roll Award for Women's Representation for having women comprise at least 30 percent of its executive leadership and board. And the University of Maryland Francis King Carey School of Law ranked first for women's representation among faculty, second for students, and 17th for deans in a 2022 study of U.S. law schools between 1948 and 2021.
UMB champions leadership and professional development for women through programs such as UMBrella (UMB Roundtable on Empowerment in Leadership and Leveraging Aspirations), which advocates for women-inclusive work environments and promotes initiatives such as a coaching program, professional development, and networking opportunities. An UMBrella affinity group, UMBPACE (UMB Professional Administratives Committed to Excellence), was created to embrace the challenges encountered by new and existing administrative staff within UMB.
UMB and its seven schools also are committed to strengthening and increasing representation of women in all jobs. For example, Administration and Finance has set a goal of achieving pay equity by race and gender, and the University of Maryland School of Medicine is developing unconscious bias training around gender, race, and other forms of systemic oppression for faculty who supervise students' clinical rotations.
UMB Human Resource Services offers a suite of training and development opportunities for women that includes Career Essentials, Management Essentials, and the Emerging Leaders Program, while the Intercultural Center in the Division of Student Affairs provides anti-racism and anti-oppression programming, transgender and non-binary resources, leadership and engagement around pronoun usage, and more.
UMB also is working to increase its investment in the Child Care Grant Program, which assists working parents with taxable, need-based grants to help them pay for qualifying, work-related child care.
"I am thrilled that UMB is an inaugural recipient of the Empowering Women Award," said Jennifer B. Litchman, MA, senior vice president for external relations and founder and chair of UMBrella. "While our commitment to supporting and elevating women is well-known inside UMB, it's incredibly gratifying to be publicly recognized for this important work."
The Daily Record, a 135-year-old news media company focused on law, government, and business, hosts 11 annual events to recognize excellence in Maryland and provide leadership opportunities. These events include Maryland's Top 100 Women, Most Admired CEOs, Influential Marylanders, Health Care Heroes, and Icon Honors.
According to The Daily Record, the Empowering Women Award honorees have demonstrated a record of hiring and promoting women; supported programs to mentor women in their organizations and address inequalities; shown a strong record of women on the company's board or in C-suite positions; and established EDI programs and philanthropic efforts to support women. Judges reviewed each nominee's application and letters of reference and evaluated the information relative to the company's resources.
The award winners were celebrated Oct. 25 during the Women's Leadership Summit at UMB's SMC Campus Center. The event brought together The Daily Record's Top 100 Women, Leading Women, and other women professionals from across Maryland to learn from one another and build a network to create change.