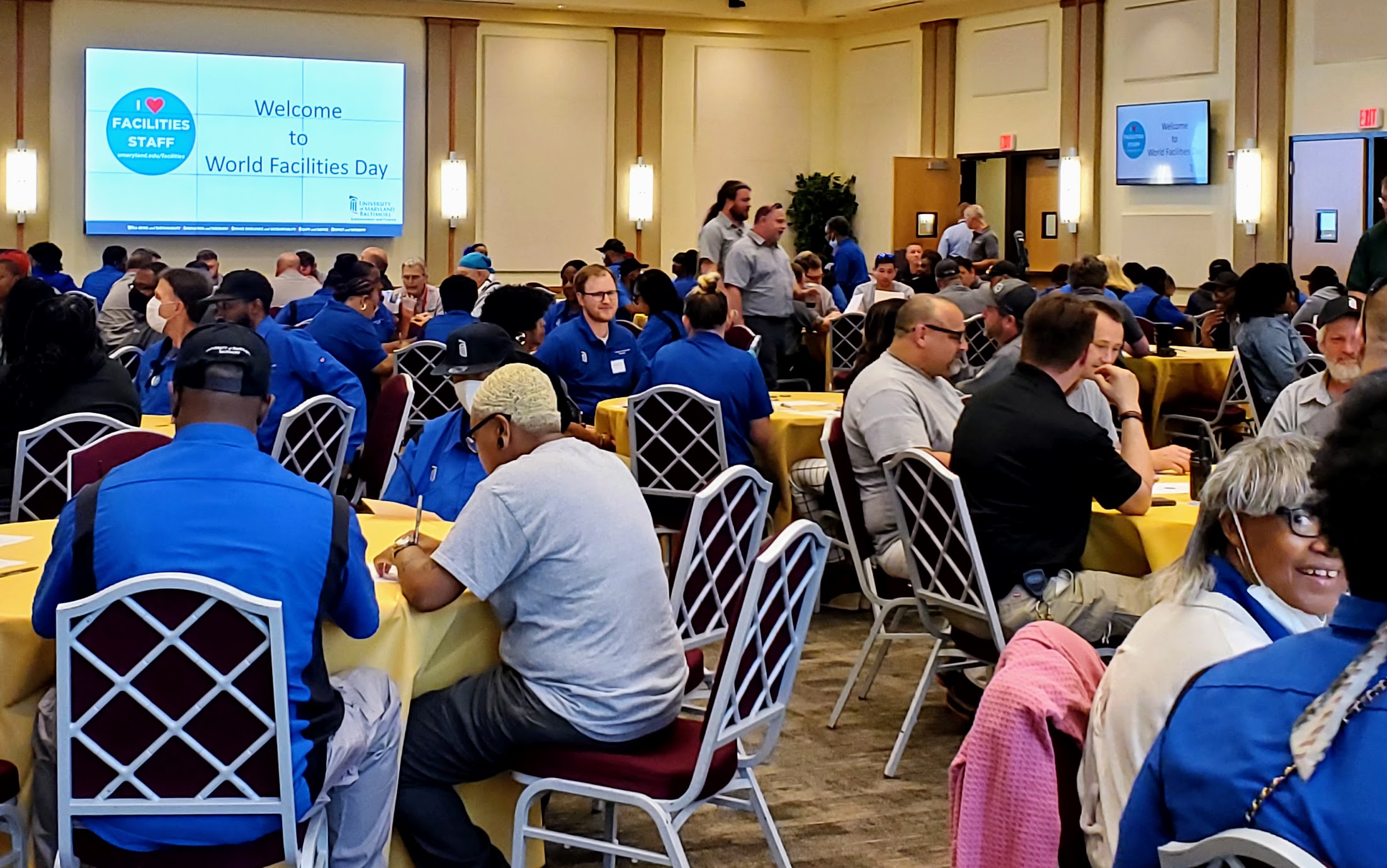 "Today is like a big family reunion," one member of the Environmental Services team said as the University recognized Facilities and Operations staff members for their efforts.
---
It can be easy to miss their contributions to the University of Maryland, Baltimore (UMB) community. After all, the better they do their jobs, the easier it can be to overlook their efforts. Which explains why UMB's Facilities and Operations (F&O) staff can sometimes be easy to miss — they do an amazing job. The University's first World Facilities Day celebration aimed to make sure the people who take care of the campus were duly recognized for their efforts.
Following the lead of the nationally recognized World Facilities Management Day, UMB World Facilities Day was celebrated Tuesday, May 23. Those in attendance included members from Environmental Services (EVS), Operations and Maintenance, Sustainability, Capital Projects Service Center, Construction and Facilities Strategic Acquisitions, and Design and Construction.
The celebration was broken into two, three-hour sessions so that members of the day and evening shifts could attend. An abridged version of the event also was held for the overnight crew. All the sessions were standing room-only, filled with enthusiastic attendees who welcomed the chance to salute their fellow workers.
"It feels like a family reunion. It's just so nice getting to mix with all these people," said Ida Powell, custodial lead in EVS and a UMB community member since 1995. "It's about the unity. Being able to mingle with your peers, getting to know what the different divisions do. Since Dawn Rhodes showed up, it feels like more than a family. She's made it so that every EVS worker can be out in front and reach their full potential. She challenges us to be better."
Powell also praised Anna Borgerding, PMP, the newly named assistant vice president of F&O, calling her "a shining light."
"She doesn't just tell people what to do, she explains why we're doing something. It might not sound like much, but this makes us all feel seen, heard, and appreciated. She brings a sense of peace to everyone," Powell said.
Each session began with a welcome message from Dawn M. Rhodes, DBA, senior vice president and chief business and finance officer. Drawing applause and the occasional laugh, she made it clear the day was about the people.
"Let us recognize and appreciate the unsung heroes among us — the tireless work of the UMB Facilities and Operations staff," Rhodes said. "The invaluable contributions by each person in this room in creating and maintaining our environments, in enhancing our organizational image, and keeping the campus running like a well-oiled machine cannot be overstated."
Rhodes also made sure to recognize the efforts of the F&O team during the COVID-19 pandemic. Asking those who were on campus during the pandemic to rise to be recognized, she said, "While others had the opportunity to work from home, many of you addressed the mission-critical functions needed to keep the campus operational. This wasn't just the embodiment of a core value or guiding principle, it was the very definition of dedication. This kind of commitment deserves and demands the respect of everyone. We cannot thank you enough, so please give these people a hand."
Brenda Johnson, an EVS team member in the University of Maryland School of Dentistry since 2009, agrees that the day and the celebration is about the people. "It was a beautiful day. It's all about the people," Johnson said. "We get to mingle with all these friends we don't see every day. This day is about feeling loved, which we all do."
Borgerding was the next presenter, going into a brief review of the unit's accomplishments while providing updates on the strategic plan. This included progress on converting the campus to LED light bulbs, updates for standards and specifications for construction and maintenance projects, innovative recruitment and retention strategies, streamlining recycling and waste streams, and increasing communications both internally and externally.
After taking care of the business portion of the event, it was time for food, fun, and a little friendly competition. An F&O trivia contest — hosted by Nicole Palmore, MSW, executive director of Administration and Finance's Office of Diversity, Equity, and Inclusion — tested everyone's knowledge of F&O fun facts. The sometimes-raucous crowd enjoyed the competition, with the "Heroes" team taking first place in the early session, and the "Nightshades" team winning the contest in the later session.
A rousing session of Mingle Bingo was served up next, followed by a catered lunch/dinner by the Classic Catering People, who were partial sponsors. The entire meal was served on fully compostable plates, cups, and cutlery, making it an even bigger hit with those from the Office of Sustainability. Additional sponsors of the event included Lexington Market and Lord Baltimore Uniforms, as well as volunteers from within the F&O team.
From their raucous participation, spirited competition, and follow-up comments, it's clear those in attendance felt seen, recognized, and appreciated. As Rhodes said, "Let us remember that behind every project plan, clean facility, gleaming hallway, every sanitized surface, and every hygienic restroom, there is a Facilities and Operations team member working diligently to ensure our comfort and well-being."
The next time you find yourself on campus, take a moment to notice how well maintained it is. Then make sure to remember the team that makes it all happen — because they're so good at their jobs, they can be easy to miss.