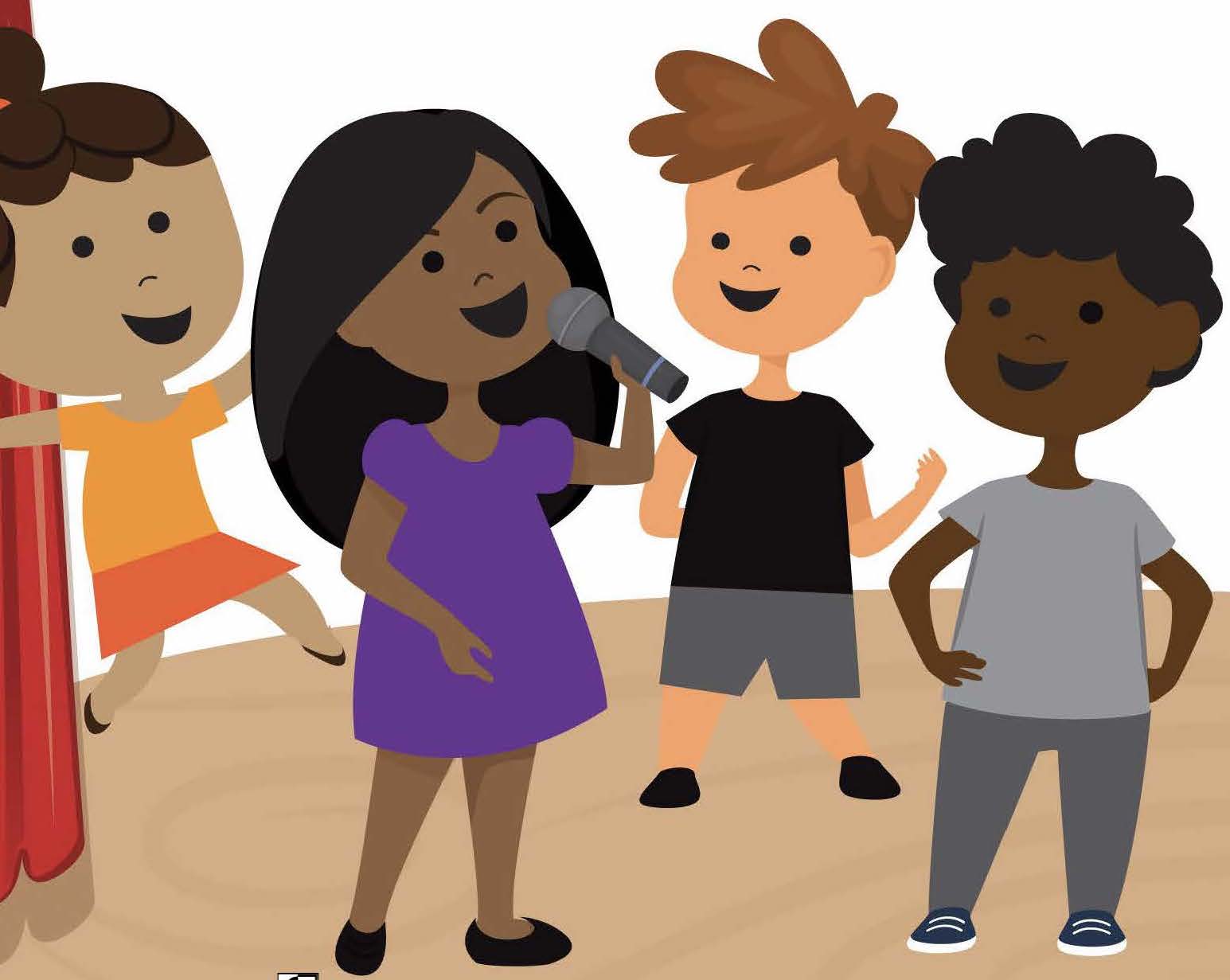 The free program, which will be held June 26-30, is an example of both organizations' continued commitment to the community.
---
West Baltimore children can use their imagination to travel the world this summer through a theater experience collaboration between the University of Maryland, Baltimore's (UMB) Community Engagement Center (CEC) and Everyman Theatre.
The free Global Tales experience, the first partnership between the CEC and Everyman, will teach 20 children about a country and its culture each day through drama, design, dance, and music. The goals of the program, which will be held the week of June 26-30, include helping children to gain confidence in themselves as performers and people; to be exposed to the theater arts and expand their creative thinking; to sharpen their skills in ensemble-building, coordination and body awareness, vocalization, and imagination; and to learn to work with others in a productive, positive manner.
Liv Alanis Myers, MA, CEC program coordinator, said the CEC is using its relationships with UMB's West Baltimore neighbors to ensure that access to the experience is equitable and inclusive and working with Everyman to customize the experience to meet the needs and interests of the community.
"Youth in West Baltimore deserve access to exciting, high-quality, and inclusive arts programming, led by community partners who have demonstrated a passion for educational practice and community engagement," Alanis Myers said. "Through our relationships with families and schools in the community, we know that high-quality experiences for youth to safely learn, play, and grow is a top priority for our neighbors. We're excited to play a small role in meeting that need."
Anthony Javier Savoy, Everyman's director of education and engagement, said the theater, located near UMB on Fayette Street, is thrilled to partner with the CEC.
"The mission and programming of the CEC perfectly align with Everyman's mission in serving the community, and we are excited to offer specific programming for the CEC student attendees," he said.
Savoy added that exposing children to theater early increases their development, confidence, empathy, and understanding of themselves and others.
"We believe that creative play and exposure to theater contribute to self-confidence and deeper interpersonal connections that we know our world could use more of," he said. "Engaging children in theater from an early age, especially theater that represents diversity, invites them to be a part of theater and understand that it is a place for them and a place in which they belong."
During the summer theater experience, children will participate in three types of skill-building classes taught by Everyman Theatre Teaching Artists, who are local educators as well as actors, directors, and designers:
Drama classes, in which students will learn about everything involving theater, with a specific emphasis on story and actor's skills;
Design classes, in which students will make props, set pieces, and costume pieces;
Music/movement classes, in which students will explore song, rhythm, dance, yoga, and more.
At the end of the week, the children will share what they've learned in a 30-minute event for family and friends.
"Students will learn foundational skills of theater, while learning to work as an ensemble, explore their artistic spirit, and embrace story as a tool to understand themselves, their community, and the world around them," Savoy said. "As a collaborative interest of our CEC partnership, we have taken our curriculum and adjusted it to culturally relevant topics for these students."
It is this type of approach that the CEC values.
"Everyman's commitment to becoming an anti-racist, multicultural institution that centers equity, diversity, and inclusion at every layer of their organization aligns deeply with the values, mission, and vision of the CEC," said Alanis Myers, adding that the CEC hopes to expand the partnership into a long-term relationship.
The Global Tales theater experience will be held from 8:30 a.m. to 4 p.m. June 26-30 at the CEC, 16 S. Poppleton St. The experience includes daily breakfast, lunch, and snack for each child. Children are eligible to participate if they are in rising grades two through four and live in the following neighborhoods: Poppleton, Pigtown, Mount Clare, Hollins Roundhouse, Union Square, Franklin Square, and Barre Circle. If space is still available after June 16, the program will be open to children in any West Baltimore neighborhood. For more information, contact Alanis Myers at omyers@umaryland.edu or call 410-706-5620. Complete the interest form, which does not guarantee selection to the program, here: umbforms.wufoo.com/forms/cec-everyman-theatre-summer-experience.
Everyman in the Community
While the summer theater experience is the first time the CEC has collaborated with Everyman, it is not the first time UMB has partnered with the theater. Everyman and the University of Maryland School of Social Work have collaborated on Essential Conversations, which allow audiences at the theater to dive deeper into material presented on stage.
"Everyman uses this space to help intentionally and mindfully navigate our community through any triggers or trauma that may carry over from the work our artistic team and artists are digging into," Savoy said. "These spaces help process and answer any questions that arise to further educate our patrons on the moving parts of any performance. It is nice for them to be able to directly bridge the work they see on stage and have their questions answered by our artists and licensed professionals. It is another point of connection that we value."
Everyman also has developed numerous programs to support inclusivity among its theatergoers.
UMB and other students with an ID can purchase $20 tickets to the theater, which is currently showing "The World Goes 'Round" through July 2. Student tickets will continue throughout next season.
The theater also offers experiences such as child care matinees on select Sundays. Parents and caregivers can attend a matinee while children ages 3 to 12 participate in creative play, art projects, drama games, and snack time. The next child care matinee is July 2, and participants pay a rate of their choosing.
Theatre Night for Teens is a social event for high school students who want to see a play, meet other teens interested in theater, and engage with performers. This program, which costs $20, includes a pre-show discussion with a member of the production team, dinner, a tour of the facilities, and a post-show talk with an actor.
Everyman offers theater classes for all ages.
Also, for every performance, the theater offers eight pay-what-you-choose seats in which patrons can see a show at whatever price fits their budget.
"We believe in providing programming that truly supports and engages with our community — and we believe that theater should be something that all can participate in. We work hard to remove barriers to access including pricing, time, type of programming, representation, and child care," said Marissa LaRose, Everyman's managing director.
"We offer scholarship opportunities for every class and allot pay-what-you-choose seats for each show because we believe strongly that theater should be for everyone. Part of serving the community is ensuring we remove any barrier that may exist for all."
Everyman Theatre, 315 W. Fayette St., will kick off its 33rd season with "A Doll's House" from Sept. 3-Oct. 1. For more information about Everyman Theatre's 2023-2024 season and its community programs, visit the website: everymantheatre.org.