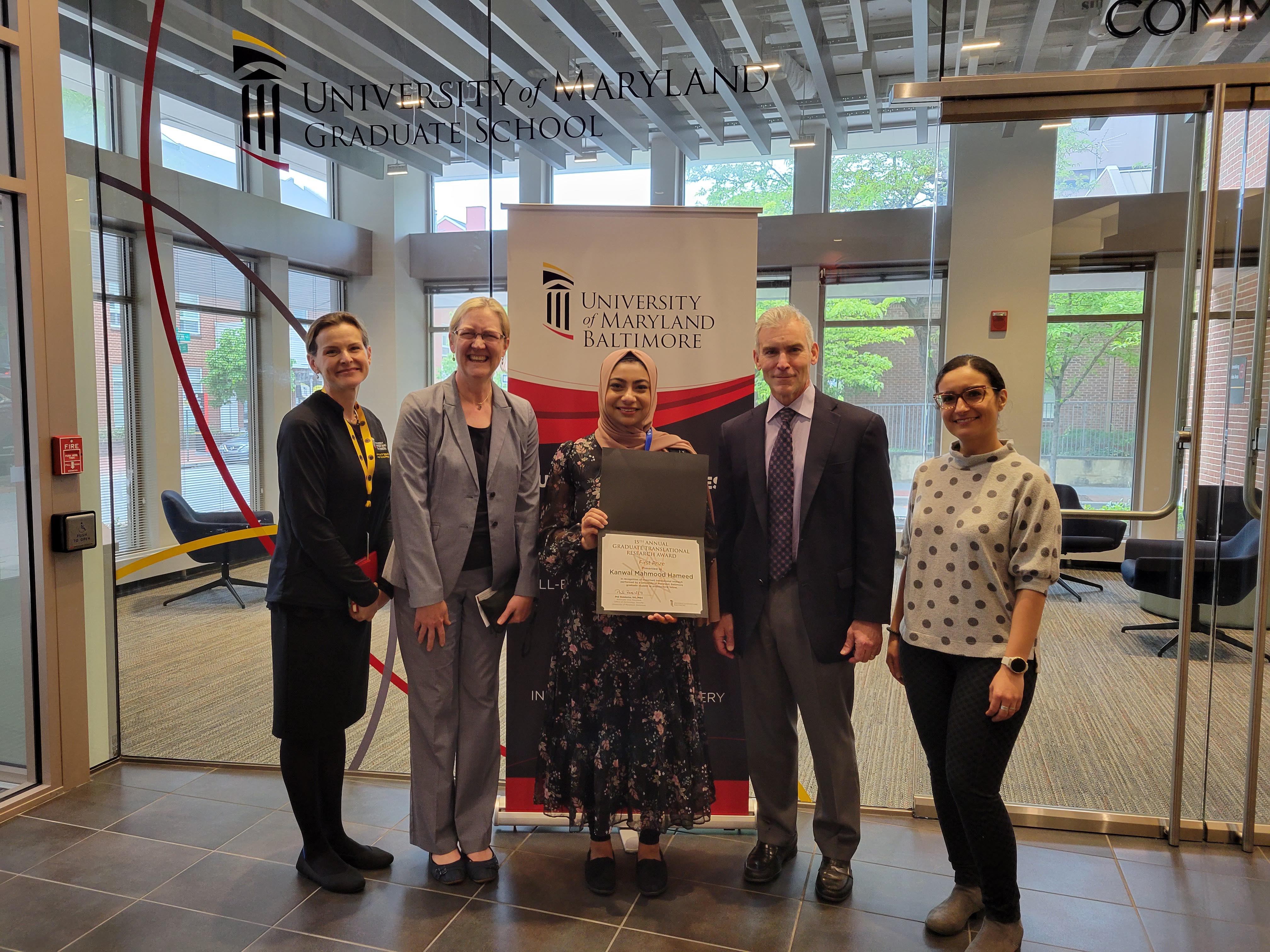 Student in the Graduate Program in Life Sciences Molecular Medicine Program is working to advance therapeutic treatments for acute myeloid leukemia, a type of blood cancer.
---
Kanwal Mahmood Hameed, a student in the Graduate Program in Life Sciences (GPILS) Molecular Medicine Program at the University of Maryland School of Medicine (UMSOM), was the first-prize recipient of the 2023 Graduate Translational Research Award.
Under the mentorship of Ashkan Emadi, MD, PhD, professor in the UMSOM Department of Medicine and associate director for clinical research at the University of Maryland Marlene and Stewart Greenebaum Comprehensive Cancer Center, Hameed is working to advance therapeutic treatments for acute myeloid leukemia (AML), a type of blood cancer.
"Mrs. Hameed is a brilliant, innovative, and hardworking junior scientist whose discovery of exploiting serine metabolism for treatment of cancer will impact the well-being of not only patients with AML, but also patients with other blood cancers and solid tumors. I am very proud of her!" Emadi said.
Despite new treatment options, the outcome for AML patients remains unfavorable, highlighting the need to identify better targets and treatment strategies. Research has shown that AML cells thrive on glutamine, an amino acid in blood, making it an attractive target. Crisantaspases, an asparaginase-based chemotherapy that decreases the amount of glutamine in the blood, has been developed to inhibit blood cancer tumor burden.
Prior to Hameed joining the lab, Emadi's team discovered that in patients with AML and in AML mouse models, treatment with crisantaspase led to an increase of another amino acid — serine — in the blood. This is significant because the increase of serine may represent a compensatory resistance mechanism that helps AML cells survive glutamine depletion, contributing to patient response and possible relapse.
Intrigued by these findings, especially given the impact to AML patients, Hameed joined the lab to further understand the connection between glutamine depletion and serine upregulation and determine if targeting both amino acids would improve the efficacy of crisantaspases. Given the clinical relevance, she used U.S. Food and Drug Administration (FDA)-approved crisantaspase — Rylaze — for her investigations.
"I think it's really important, for several reasons, to better understand the connection between Rylaze [and other crisantaspases], glutamine, and serine," Hameed said. "First, it may help improve outcomes for AML patients who either have been or will be treated with a crisantaspase, as well as AML patients that have relapsed or have refractory disease. Additionally, the combinatory treatment method could be utilized in many other types of cancer that show similar dependence on glutamine for survival."
Hameed's project may have implications for real-world drug development. Her novel findings have revealed a potential mechanism of resistance to crisantaspase treatment, which is significant given that crisantaspases are FDA-approved and currently used in the clinic. Hameed's discoveries could be applied to create more effective treatment regimens that combine serine-targeting drugs with crisantaspase.
"Our team was gratified to learn about this work by Kanwal and Dr. Emadi's team," said Phil Robilotto, DO, MBA, associate vice president for technology transfer at the University of Maryland, Baltimore (UMB) and director of UM Ventures, Baltimore. "We believe it has great potential for translation to the clinic and treating cancer patients."
Members of the UM Ventures, Baltimore team — Rebecca Bettes, MS, MBA, senior technology licensing officer, and Robert McCarthy, JD, PhD, senior patent attorney — are advising Hameed and Emadi on the long-term development of their intellectual property.
Before starting at UMSOM, Hameed earned a bachelor's degree from the University of Maryland, Baltimore County and a master's degree in tumor biology from Georgetown University, after which she worked as a research fellow at the FDA.
One highlight of Hameed's doctoral journey has been the opportunity to present her work to more than 500 clinicians and other health care professionals at the 2023 International Acute Leukemia Research and Care Network (ALRCaN) meeting. Impressively, she was the first-ever graduate student to present at an ALRCaN meeting. Apart from this accolade, Hameed has garnered numerous awards for her thesis work at multiple conferences.
Hameed expects to complete her doctoral degree this year. After graduating, she plans to work in the biopharmaceutical industry as a medical science liaison or in medical affairs, to be at the forefront of medicine. As a first-generation American and the first in her family to pursue secondary education and the sciences, Hameed also hopes to be an inspiration and motivation to young women like her, helping them see that regardless of background, they can successfully pursue their dreams.
Presented in coordination with the University of Maryland Graduate School's annual Graduate Research Conference, the GTR award is made in recognition of important translational research performed by a UMB graduate student or postdoctoral fellow. It embodies the mission of UM Ventures, Baltimore to translate outcomes from basic research into real-world applications. This year's judge panel included Nancy Cowger, PhD, director of technology licensing; Rebecca Bettes, MS, MBA, senior technology licensing officer; Teodolinda (Linda) Petrillo, PhD, MSc, research and alliances officer; and Rana Quraishi, PhD, director of new ventures. Competition this year was significant, with 20 qualified applicants from five of UMB's schools — twice as many submissions as in prior years.
We extend our heartfelt congratulations to Hameed for her remarkable achievement in the 15th Annual Graduate Translational Research Award. Her passion for developing more effective treatments for AML — and potentially for other cancers as well — is admirable, and we have great faith in her future scientific contributions.