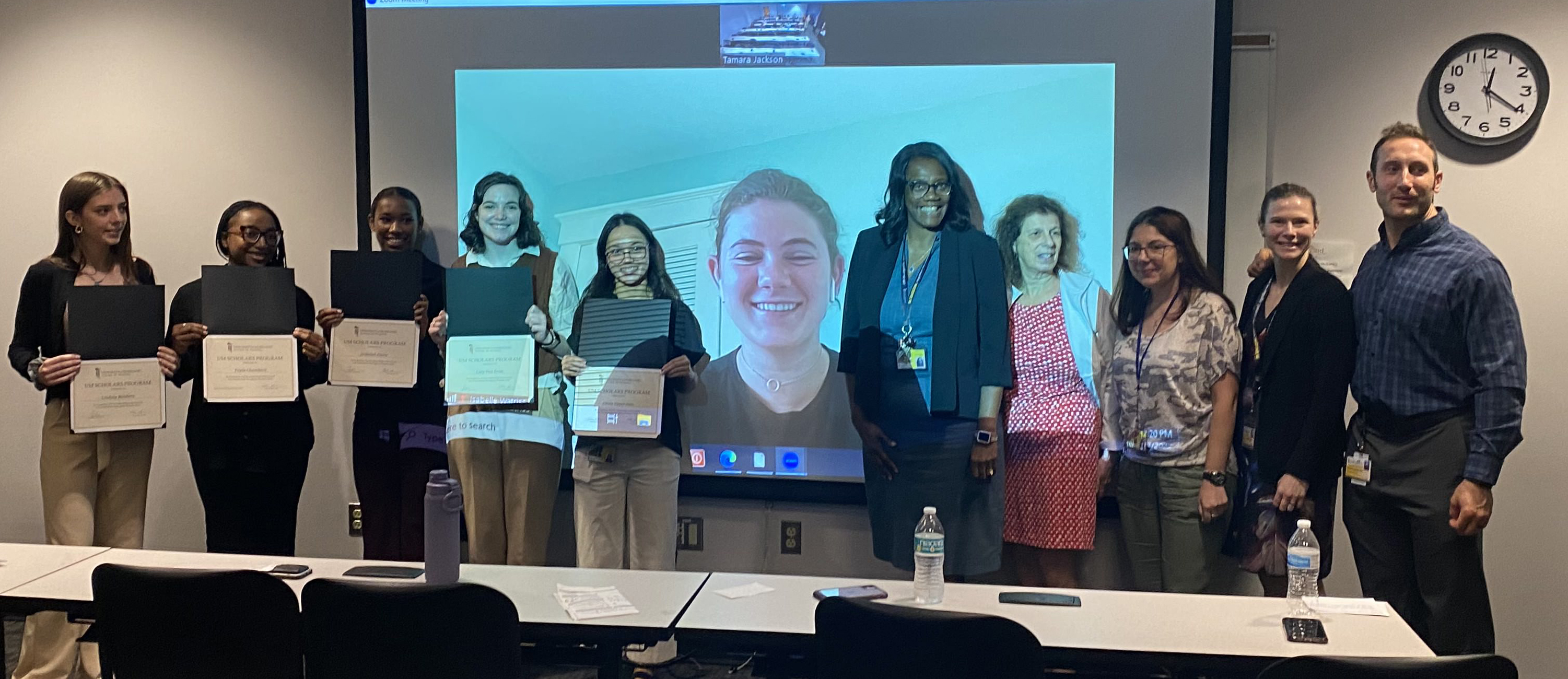 Six University of Maryland, College Park students participated in the summer program with UMSON researchers.
---
The UM Scholars program is a paid summer internship program that connects students from the University of Maryland, College Park (UMCP) with faculty from the University of Maryland, Baltimore to collaborate on research projects. It is part of the University of Maryland Strategic Partnership: MPowering the State (or MPower).
Faculty members mentor students during the 10-week summer program with the hopes of expanding their knowledge about specific topics in nursing research and exposing them to various research careers available to doctoral-prepared nurses.
At UMSON, six UMCP students participated in the summer 2023 session and celebrated its completion with their mentors on Aug. 3. The students, all of whom will be matriculating into UMSON's entry Bachelor of Science in Nursing program between fall 2023 and fall 2024, produced posters about their research.
About Their Research
Study: Pain
The feeling of pain is not just a sensory experience but is also influenced by emotions, beliefs and expectations, making pain a highly subjective experience. This is evident in clinical practice, where the behavior of the provider and the treatment context can strongly influence the pain experience of patients.

PI: Luana Colloca, MD, PhD, MS
UM Scholars:
Joshebel Abase, entering UMSON fall 2023
Lindsay Baldwin, entering UMSON fall 2023
Lucy Van Eron, entering UMSON fall 2023
Study: Predictors of Cancer-Related Fatigue
Nearly all patients who undergo chemotherapy for cancer treatment experience fatigue. The fatigue can be so severe that they cannot go to work, attend important family events, or participate in hobbies. Unfortunately, fatigue can persist for months or even years after the cancer is cured, which greatly reduces quality of life. We are exploring biomarkers of cancer-related fatigue so that we can predict who will get fatigue and optimize preventive programs and treatments for cancer-related fatigue so that people can quickly return to their lives "before cancer."

PI: Amber Kleckner, PhD
UM Scholar: Alexie Opperman, entering UMSON fall 2023

Study: Testing the Implementation of the Pain CPG-EIT
This study is focused on pain management in nursing home settings and is implementing the use of a new Pain Clinical Management Guideline. Activities may include pulling data from charts within the facilities, data management, and participation in all research team related activities.

PI: Barbara Resnick, PhD, RN, CRNP, FAAN, FAANP
UM Scholar: Tayla Chambers, entering UMSON fall 2024

Study: The Effects of Exercise on Chemotherapy-Induced Peripheral Neuropathy, Inflammation
The Cancer Control Mind and Body Lab is conducting research on chemotherapy-induced peripheral neuropathy (CIPN), which is a common, severe, uncomfortable, dose-limiting, and tough-to-treat side effect of cancer chemotherapy that can include pain, numbness, tingling in the hands and feet, and balance problems. We are conducting two clinical trials testing exercise and healthy eating for the prevention of CIPN in patients with cancer in Baltimore. We also conduct brain fMRI scans to study the role of the brain in CIPN.

PI: Ian Kleckner, PhD, MPH
UM Scholar: Isabelle Watriss, entering UMSON fall 2023

Congratulations to this year's UM Scholars!
pictured, l. to r.: Baldwin; Chambers; Abase; Van Eron; Opperman; Watriss (on screen); Yolanda Ogbolu, PhD, CRNP-Neonatal, FNAP, FAAN, the Bill and Joanne Conway Dean of the University of Maryland School of Nursing; Erika Friedmann, PhD, associate dean for research; Colloca; Amber Kleckner; and Ian Kleckner