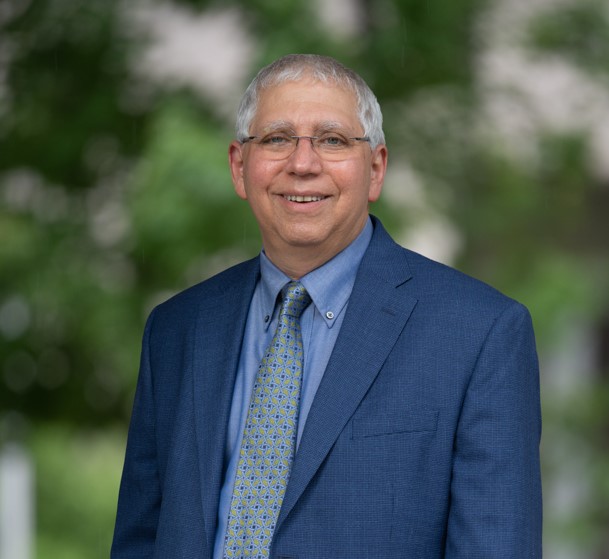 School of Medicine professor is dedicated to researching the effects of hip fracture in the aging population and helping patients recover from those injuries.
---
Every fall, the University of Maryland, Baltimore (UMB) commemorates our rich history and celebrates the future we're building together during Founders Week, which this year runs Oct. 10-13. Among the highlights is recognizing the extraordinary work of UMB's faculty and staff with four awards, each signifying outstanding accomplishment in one facet of our mission.
Leading up to Founders Week, we will highlight the award winners every Wednesday on The Elm. For more information on UMB's annual celebration and associated events, please check out the Founders Week website.
---
Today: Researcher of the Year: Jay S. Magaziner, PhD, MSHyg
---
It was the 1970s, and the field of aging was mostly an unexplored area of study. Jay Magaziner was working in childhood development when he was drawn to the then-uncharted field and its immense potential.
Decades later, he has become a pioneer, a mentor, and one of the world's pre-eminent researchers in hip fracture recovery.
Magaziner, professor and chair of the University of Maryland School of Medicine's (UMSOM) Department of Epidemiology and Public Health, has been driven by his desire to help people recover as he has studied the effects of hip fracture in the aging population.
"We know that hip fracture, stroke, and sudden fall injury reduce people's ability to walk. They also may get confused, feel depressed, and have fewer contacts with friends. These are all functional limitations that get in the way of carrying out their everyday lives," he says.
"And what I've been interested in is, what happens in each of these functional areas and what can we do to actually help people to recover from them? What are the key things we can do to ensure that they get back to as close to their prior functional level as possible?"
For his body of work, Magaziner has been named the University of Maryland, Baltimore (UMB) 2020 Researcher of the Year. And his colleagues at UMB's schools say that's a fitting honor, because he's the epitome of what a researcher should be. They talk about his compassion, his collaboration, his mentorship, and his legacy.
"His accomplishments in research — through peer-reviewed manuscripts, funded grants, and training opportunities — are a legacy, not only for scholars and clinicians who endeavor in the geriatric arena, but for older persons as well," says Linda Simoni-Wastila, PhD, the Parke-Davis Chair in Geriatric Pharmacotherapy in the Department of Pharmaceutical Health Services Research at the University of Maryland School of Pharmacy. "His work makes a fundamental difference in the way in which researchers approach their studies, the way clinicians treat their patients, and the way in which older persons approach their health and lives."
"It is his character, collegiality, and generosity that is truly outstanding. His willingness to share, mentor, encourage, and support is what makes Dr. Magaziner a truly remarkable colleague and asset to UMB," says Richard J. Manski, DDS, MBA, PhD, professor and chair of the University of Maryland School of Dentistry's Department of Dental Public Health and executive director of the Samuel D. Harris National Museum of Dentistry.
Magaziner in turn attributes his success to his colleagues and students, and their openness to collaborate freely.
"There are colleagues all over the University and elsewhere in the country who are doing work in this area. My success is based on their success," he says.
Force Behind His Work
Magaziner started out as a middle school science teacher in Chicago and worked in childhood development at the University of Chicago before deciding to shift his career path.
He says he was partly inspired to enter the field of aging by his grandfather, who lived with him and his parents during his childhood in New Jersey. He calls him a "force" behind his work.
"I was always with him, looked forward to talking and going places with him, and had very positive memories and experiences with him," Magaziner says.
Magaziner's research focuses on examining changes in function, bone, and muscle after hip fracture and the effects of new rehabilitation programs on outcomes such as the ability to walk. Last year, he published his last randomized clinical trial findings on hip fracture in The Journal of the American Medical Association. The work, in which two physical therapy interventions were tested over 16 weeks, emphasized the importance of carefully studying physical rehabilitation in a quest to find programs that can be supported by evidence.
"Some people who have a hip fracture feel like, 'This is the beginning of the end for me' and that's the old wisdom; it's really not the case for most people who have a fracture," he says. "What can we do? I think social interaction is important. I think engaging with others, getting the services one needs, and care with an orthopedic surgeon is but one key ingredient. Involvement of someone in geriatrics who fully understands and can manage multiple morbidities and medications, and others expert in nursing and rehabilitation are critical."
The COVID-19 pandemic has affected his work with the elderly, but it hasn't stopped his research. He is a leader of a multisite study on hip fracture in women in which they are given high-intensity exercise and testosterone to improve their walking ability.
Numerous Roles at University and Beyond
Magaziner holds numerous roles at the University. In 1986, he started the Division of Gerontology within UMSOM's Department of Epidemiology and Public Health and has risen to leadership positions with several campus programs on aging, many of which he helped to create, including the Doctoral Program in Gerontology and the Center for Research on Aging, whose mission is to advance interdisciplinary aging research across UMB. He also directs the Claude D. Pepper Older Americans Independence Center.
Magaziner helped found the Maryland Long-Term Care Project, which studied important issues in aging in Maryland's nursing homes, and the Program in Aging, Trauma, and Emergency Care, which was designed to address the need to improve emergency and trauma care for older persons. He also founded the Baltimore Hip Studies, which evaluates outcomes and develops and tests interventions after hip fracture; the leadership of that program has transitioned to his colleague, Denise Orwig, PhD, and he remains its executive director.
"Dr. Magaziner has been a key player in the establishment of the entire aging research enterprise at UMB and will continue to contribute in major ways to the strategic research plans in this area for the entire school," says Ann L. Gruber-Baldini, PhD, MS, professor, Division of Gerontology, and director, Program in Epidemiology and Human Genetics, Graduate Program in Life Sciences, UMSOM.
Magaziner's work on hip fracture recovery is recognized nationally and internationally. He has earned two consecutive Method to Extend Research in Time (MERIT) awards from the National Institute on Aging, given to the highest-quality researchers. He has published extensively in internationally recognized journals and is deputy editor of Journals of Gerontology: Medical Sciences. And he is president of the Fragility Fracture Network (FFN), a global network of health disciplines that helps set policy and care standards for treatment and secondary prevention of serious fractures.
"One of Jay's reasons for engaging with FFN was to bring global researchers with similar interests together to advance research in care of patients with hip fractures," says Lauren Beaupre, PhD, professor and Dr. David Magee Endowed Chair in Musculoskeletal Research in the Department of Physical Therapy at University of Alberta. "FFN is but one example of Jay's ability to lead diverse groups of people to achieve common goals, and much of this due to his international reputation of research excellence."
His mentorship of students and colleagues is among the many marks he has left on his field.
"I represent one of many individuals that Jay found time to assist in their professional development," Beaupre says. "As a result of Jay's mentorship, I have, in turn, become a mentor for young bone and joint researchers."
Magaziner says of mentoring, "I find it very rewarding when those I work with make advances and contribute to a bigger plan of advancing work in a field that I care about."