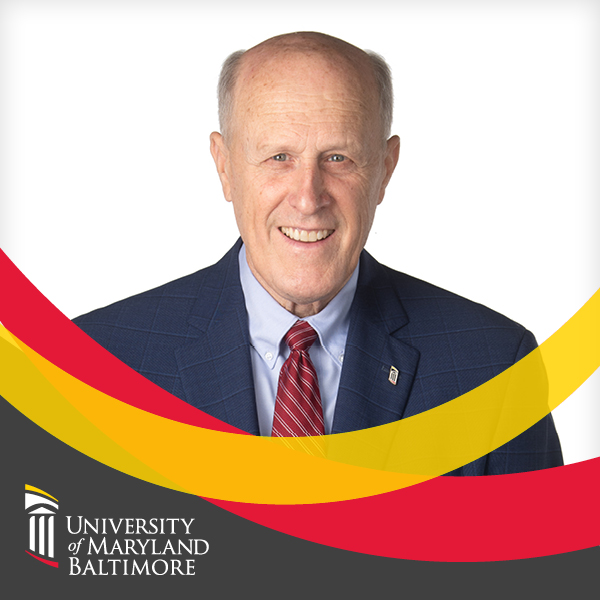 As interim president, he took swift action to protect the University community when the COVID-19 pandemic unfolded.
---
When Bruce E. Jarrell, MD, FACS, became the University of Maryland, Baltimore's (UMB) interim president Jan. 6, COVID-19 wasn't yet front and center in people's minds. Two months later, as the pandemic began to slowly spread across the country, Jarrell's interim presidency became not a trial by fire, but a trial by virus.
Today, almost exactly six months after the World Health Organization declared COVID-19 a pandemic, Jarrell was unanimously selected as the seventh president of UMB by the University System of Maryland (USM) Board of Regents after a four-month search process. The board's chair, Linda R. Gooden, noted Jarrell's leadership during the pandemic in USM's announcement.
"He has already served the University so well in leading its academic and research offices, and his effective stewardship as interim president was seamless during an important and transitional time for USM," Gooden said of Jarrell, who became interim president when Jay A. Perman, MD, left UMB to become the fifth chancellor of USM. "Dr. Jarrell has been a critical part of the system's planning and response to the COVID-19 pandemic this year, and we are delighted that he will remain in this key leadership role at UMB."
In accepting the job, Jarrell said, "The core of my professional life is centered here at UMB. I have been so proud to guide the University during these months of staggering challenge due to the COVID-19 pandemic, with UMB on the forefront of medical and societal advances. As I wrote recently to the UMB community, our University will not be an island within a city, but an integral part of our community that houses our institution. I am privileged to continue that vision for UMB."