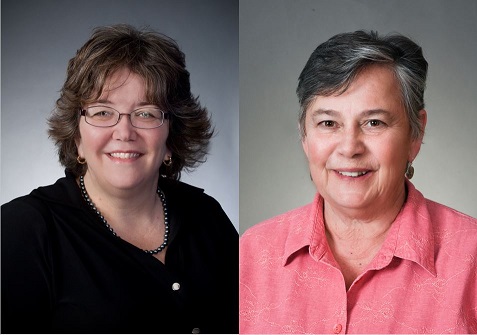 Assistant professor and director named IntNSA's 2019 Education Award recipient.
---
Two University of Maryland School of Nursing (UMSON) faculty members brought the International Nurses Society on Addictions (IntNSA) 43rd Annual Education Conference to Baltimore at a time when the Baltimore metropolitan area's rate of opioid-involved overdose deaths per 100,000 residents is nearly 70 percent of the entire state of Maryland's rate, and the state's rate of opioid-related overdose deaths is twice the national rate.
Katherine Fornili, DNP '16, MPH, RN, CARN, FIAAN, assistant professor and president of IntNSA, and Charon Burda, DNP '16, PMHCNS, PMHNP-BC, CARN-AP, assistant professor and director of the Doctor of Nursing Practice Psychiatric Mental Health Nurse Practitioner–Family Specialty and director at large of IntNSA, helped bring more than 230 nurses from more than 10 countries to the conference, Oct. 9-12.
The event focused on the knowledge, skills, and abilities of nurses who care for people with substance use and addictive disorders and provided a platform for attendees to increase their skills and knowledge for collaborative practice with other health care colleagues to further patient-centered care for those with substance use disorders (SUDs). IntNSA recently achieved affiliate status with the International Council of Nurses.
(Photos: Fornili, left, and Burda)