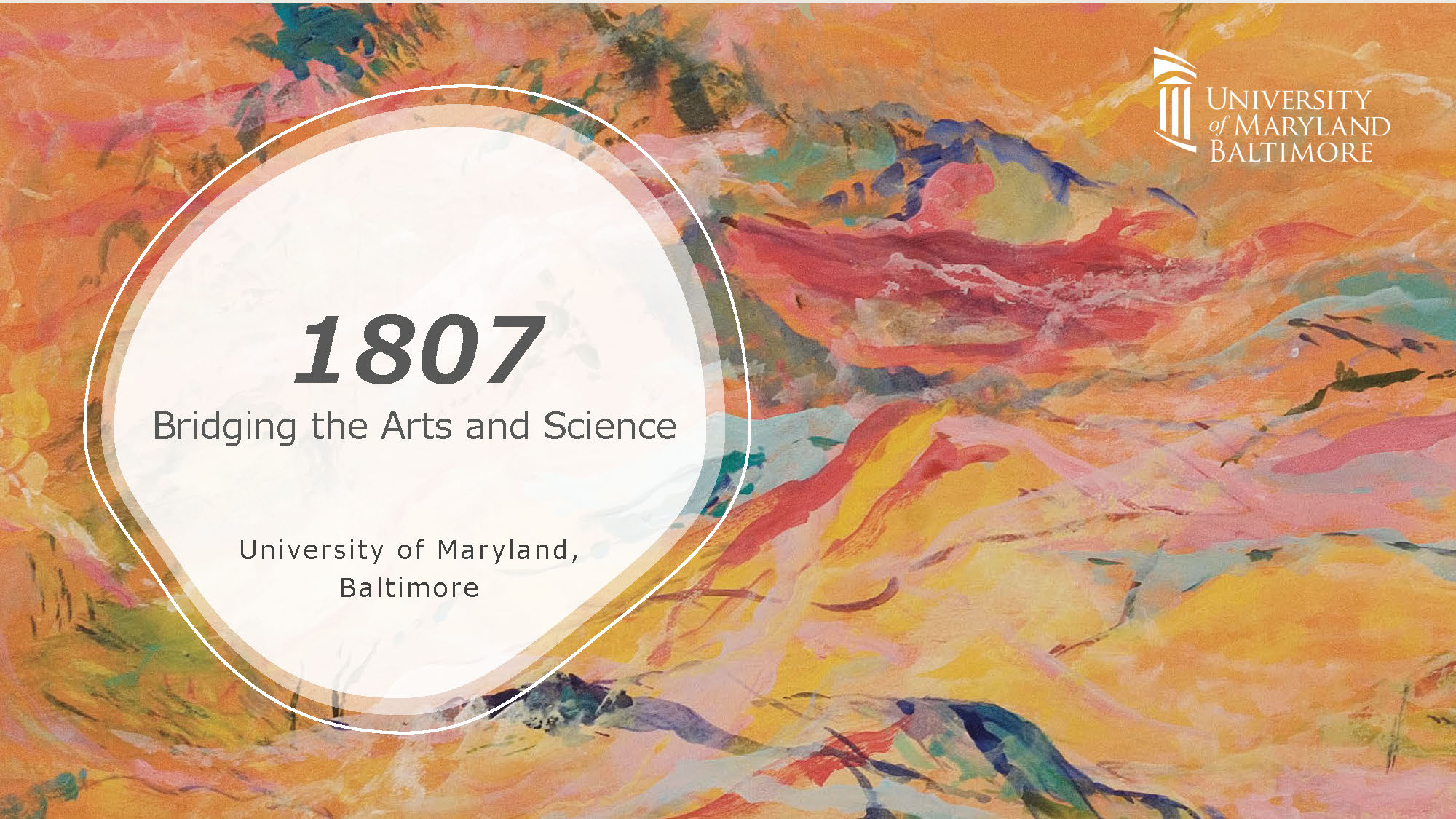 UMB's submission, "Bridging the Arts and Science," receives the Corporate Social Responsibility: Annual Publication Award.
---
The inaugural issue of 1807, the University of Maryland, Baltimore's (UMB) art and literary journal, has received first place in PRNEWS' worldwide competition. UMB's submission, "Bridging the Arts and Science," is the recipient of the Corporate Social Responsibility (CSR): Annual Publication Award.
After the announcement, 1807 editor-in-chief Jennifer Litchman, MA, senior vice president for external relations, was happy to share the news with UMB's Council for the Arts & Culture, reminding the group that "creating an annual art and literary journal had been a dream of the council for many years, which makes this honor that much sweeter."
PRNEWS Awards spotlight the people, organizations, and brands "challenging assumptions, pushing boundaries, and embracing the seemingly impossible to create winning campaigns." The PRNEWS Awards community is composed of communicators and marketers from corporations, agencies, and nonprofits worldwide. These awards recognize both the communications surrounding a CSR initiative and the initiative itself. Other organizations that received top honors include ESPN, National Safety Council, American Red Cross, APCO Worldwide, AARP, Small Girls PR, Microsoft, Nielsen, PwC, PepsiCo, Crayola, Vanguard, Landis Communications, FedEx Freight, and Astellas.
"It was such a surprise! I knew our competition was stiff, after all, entries came from around the world from extremely prestigious firms, companies, and organizations," said Dana Rampolla, director of integrated marketing, UMB's Communications and Public Affairs, and creative director/managing editor of the journal. "When they counted down, I held my breath. Hearing the University's name announced at the virtual gala spoke volumes: It showed what hard work and tenacity can do, but even more importantly, it allowed UMB to shine on an international level!"
Corporate Social Responsibility is one of the key benchmarks of an organization's overall success and reputation in the marketplace. PRNEWS' CSR Awards recognized the corporations that have executed highly successful and impactful CSR campaigns during the 12-month period. Any communications team worldwide — corporate, agency, association, governmental agency, or nonprofit — of any size was eligible to enter. Entries were judged by a blue-chip panel of corporate, agency, and academic executives as well as by the staff of PRNEWS. Each entry was evaluated on creativity, innovation, sound planning, implementation, and outcomes. The most important criterion was proven success in aligning the entrant's strategic objectives with its end goals.
PRNEWS senior marketing coordinator Devan Fishburne said in a follow-up email, "Congrats on your well-deserved win tonight. Our judges were so excited by your publication and the impact it had on the UMB community!"
1807 is an anthology curated, edited, and produced by members of the UMB community. UMB faculty, staff, students, and alumni, as well as University of Maryland Medical Center employees and our West Baltimore neighbors, enter artwork in the categories of visual arts (painting, drawing, illustration, digital art, monotypes, monoprints), photography, varied media (sculpture, clay, metal, glass, textiles, jewelry, wood), and the written word (short story, essay, narrative, poetry). Submission does not guarantee publication — less than 35 percent of the artwork submitted each year is selected for publication, and artists may only have one item published per issue (unless it is part of a series). Artwork is chosen by double blind review. Submissions are open each fall.
---
Watch the winner countdown video below and read more from PRNews here: https://www.prnewsonline.com/csr-diversity-awards/
The journal can be seen online and the first issue, as well as the second issue, may be purchased for the fitting price of $18.07 (also the date of UMB's founding).