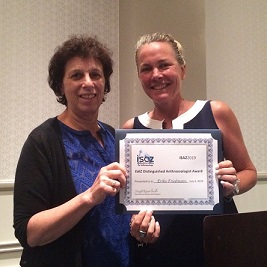 Associate dean for research recognized for outstanding lifetime achievement.
---
Erika Friedmann, PhD, associate dean for research, UMSON, was named the recipient of the 2019 Distinguished Anthrozoologist Award by the International Society for Anthrozoology (ISAZ).
The Distinguished Anthrozoologist Award recognizes outstanding lifetime achievement in anthrozoology/human-animal interaction studies by an ISAZ member who is a senior scholar.
(In photo: Friedmann, left, and ISAZ President Cheryl Krause-Parello, PhD, RN)