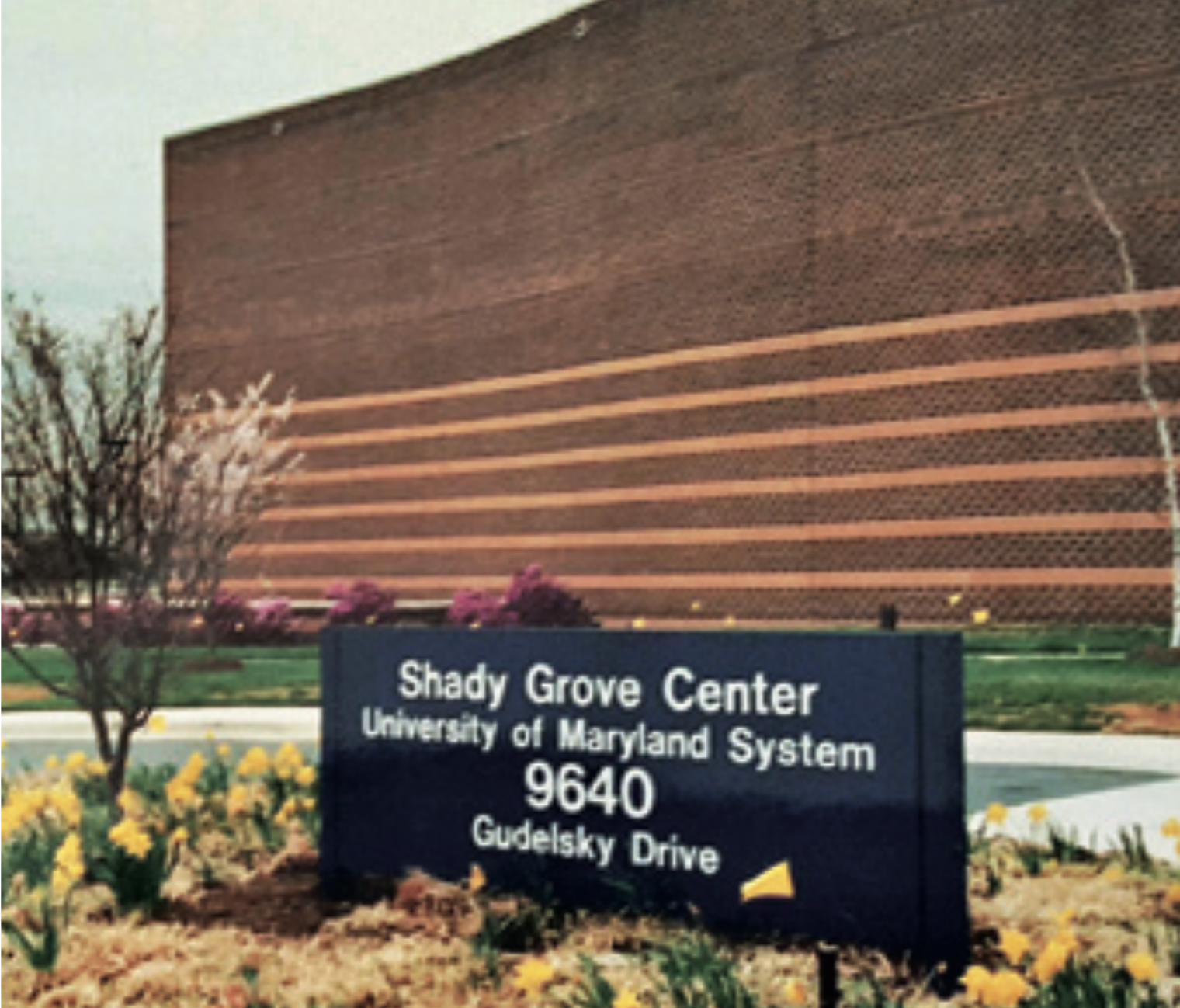 When USG opened its doors in 2000, UMSON was there, providing the location's first baccalaureate professional degree program.
---
Twenty years ago, the University System of Maryland (USM) established the Universities at Shady Grove (USG) to introduce a public university setting to Montgomery County. Two decades later, the Rockville, Maryland, location hosts nine USM institutions offering more than 80 degree programs.
When USG opened its doors in 2000, UMSON was there, providing the location's first baccalaureate professional degree program.
After opening its Biomedical Sciences and Engineering education facility last November, USG now includes four buildings. But when Jana Goodwin, PhD, RN, CNE, assistant professor and director, Bachelor of Science in Nursing (BSN) program, arrived in 2001, there were only two, and where a third would eventually be built, there were fields. "There was nothing but trees and geese," Goodwin recalled. "It really felt like a satellite campus. Things were quieter, a lot smaller. It was cozy."
Eight years later, Rebecca Wiseman, PhD '93, RN, associate professor and chair, UMSON at USG, arrived at the location after the site's then-director, Elizabeth Arnold, PhD, RN, associate professor, had retired. During Wiseman's tenure, UMSON has launched its Doctor of Nursing Practice Family Nurse Practitioner specialty, established a Student Success Center, and significantly increased the number of faculty with doctoral degrees at the location, enhancing opportunities for scholarship and research. Now, UMSON is poised to grow its BSN student body to 100 new students per semester by fall 2022, she said.
With the increase in the student body, UMSON will be expanding its faculty, staff, and physical footprint. Building I, which UMSON has shared with other universities and programs since USG's inception, will be solely dedicated to nursing, including eight state-of-the-art simulation laboratories that underwent a significant upgrade in 2017.
Wiseman said that USG's interprofessional and collaborative approach to education fosters a sense of connectedness for students, faculty, and alumni. "It's not just a place where people take classes and go home; we really try to create a community on the campus," she said. "That's one of the challenges as we get bigger, so we will be really consciously working to keep our students engaged and connected to us."
Goodwin said that the impacts of UMSON's growth at USG are evident throughout the state. "I love seeing our nurses in Montgomery and Frederick counties; this program has contributed to the number of BSNs in these counties," she said. "It is good to see our USG graduates in leadership and advanced practice precepting our current students. That is by far the best part."
THIS ARTICLE FIRST APPEARED IN THE SPRING 2020 ISSUE OF MAGAZINE.
Photograph: an early photo of USG, when it consisted solely of Building I
COURTESY OF USG