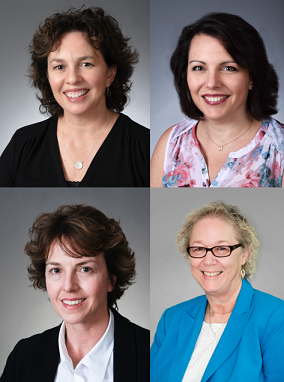 Four faculty members receive funding to increase nursing capacity in Maryland.
---
Four University of Maryland School of Nursing (UMSON) faculty members have been awarded Nurse Support Program (NSP) II grants totaling more than $2.4 million. NSP II grants aid in increasing nursing capacity in Maryland by implementing statewide initiatives to grow the number of nurses prepared to serve effectively in faculty roles, thereby increasing the number of students who can be enrolled in Maryland nursing schools and subsequently increasing the number of qualified nurses across the state.
Clockwise from top left: Susan L. Bindon, DNP, RN-BC, CNE, CNEcl; Margaret Hammersla, PhD, CRNP-A; Victoria L. Selby, PhD, CRNP-PMH, PMHNP-BC; and Rebecca Wiseman, PhD '93, RN.