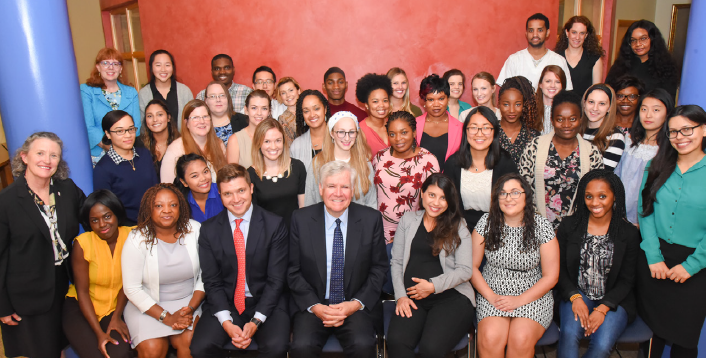 Since 2015, Bill and Joanne Conway have committed $15.4 million to the School of Nursing through their Bedford Falls Foundation Charitable Trust to provide over 450 scholarships to UMSON students.
---
While their gifts to the school are the largest in its history, the Conways also have given to five other schools of nursing in Maryland; Virginia; and Washington, D.C. We spoke with Bill Conway about what drives his nursing-focused philanthropy.
Q: With so many deserving causes, why did you and Mrs. Conway decide to focus your generous philanthropy on nursing schools?
A: In the beginning, we wanted to make a charitable contribution, one that would enable people to receive an education that would allow them to have better lives, to take better care of themselves, of their families, and eventually, to take care of the rest of us. We also thought there will always be a need for nurses, so nurses will always be able to find a job.
Q: It has been more than five years since you first began supporting nursing schools. How has your perception of nursing changed?
A: Frankly, when I started with this, I thought a nurse was a nurse was a nurse — as in a hospital or a clinical setting. I had no idea that there were so many different degrees and specialties. Initially, we wanted to limit our support to scholarships. But we learned that nursing schools also need funding for services: funds for mentoring and tutoring and for faculty and so forth. It has been a great learning experience.
Q: What has been the most rewarding part of this journey?
A: Meeting the students and witnessing their growth and personal development over a period of time. I've gotten to know some of them for two or three years now. I can see their confidence level increase by leaps and bounds and get the sense that they are well equipped to face any nursing challenge put before them. I have great respect for them, and I'm proud of them. I've also been impressed by hearing many of them say that they fully intend to continue their nursing education. I hope that our Conway Scholars will not be burdened by education-related debt; I want them to be able to pursue the kind of jobs they are truly interested in and not be limited to those that might pay the most — free to be all that they can be. And that is all the reward that Mrs. Conway and I could want.
Photo: Conway (front row, fifth from left); Zachary Crowe, principal, The Carlyle Group (front row, fourth from left); Dean Jane M. Kirschling, PhD, RN, FAAN (front row, far left); and Laurette Hankins, UMSON associate dean for development and alumni relations (back row, far left), with Conway Scholars in Baltimore last fall (Photo by Richard Lippenholz)
This article first appeared in the Spring 2019 issue of Nursing For/um magazine.