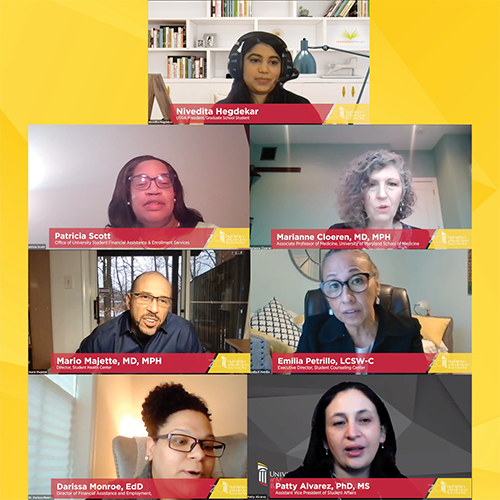 The University Student Government Association and UMB Student Affairs partner on a new event series that amplifies student voices.
---
"As a student, I am feeling completely overwhelmed during this pandemic. Between classwork, clinicals, and COVID-19, it's impossible to feel motivated and hopeful. In addition to scheduling a counseling appointment, what are other options available to me?"
This was one of many questions asked during UMB's Student Community Discussion on Health and Wellness During COVID-19. Moderated by Nivedita Hegdekar, president of the University Student Government Association (USGA) and student in the University of Maryland Graduate School, the event was the first in a new series, where all UMB students are invited to meet with Student Affairs professionals and other experts to discuss topics that impact the student experience at UMB.
The idea for the series developed when USGA started noticing a trend in their conversations with other UMB students. "As student leaders, the USGA interacts with students across all seven schools and programs. A lot of students had unanswered questions about COVID-19 testing and guidelines, mental health resources, financial aid, and more," Hegdekar said. "We approached UMB Student Affairs about creating a space for students to meet with University leaders, and not only get their questions answered, but to provide feedback on how the University can better serve students."
UMB Student Affairs was more than happy to collaborate and are co-sponsoring the event series along with USGA.
The panel on Thursday, Feb. 18, consisted of Student Affairs leaders, health experts, and student financial experts including: Patty Alvarez, PhD, MS, assistant vice president of Student Affairs; Marianne Cloeren, MD, MPH, associate professor of medicine in the University of Maryland School of Medicine's (UMSOM) Division of Occupational and Environmental Medicine; Mario Majette, MD, MPH, clinical instructor of Family & Community Medicine, UMSOM, and medical director of student health; Darissa Monroe, EdD, director of Financial Assistance and Employment in the office of University Student Financial Assistance & Enrollment Services; Emilia Petrillo, LCSW-C, executive director of the Student Counseling Center & Educational Support and Disability Services; and Patricia Scott, assistant vice president of Enrollment Administration in the office of University Student Financial Assistance & Enrollment Services, and the University Registrar.
Panelists answered questions that ranged from how to address vaccine hesitancy, what financial assistance is available to students, and how students can connect with other students in the current virtual environment.
You can watch the entire event on YouTube. Timestamps for specific questions are also available below:
Question: Can the panel provide a vaccine update? How many people have been vaccinated at UMB and what's the vaccine availability? (00:04:21)
Question: Are vaccines available for non-UMB-affiliated persons at the SMC Campus Center? For instance, Anne Arundel was slower to get to stage 1C of vaccination than Baltimore City. (00:07:39)
Question: As a student, I am feeling completely overwhelmed during this pandemic. Between classwork, clinicals, and COVID-19, it's impossible to feel motivated and hopeful. In addition to scheduling a counseling appointment, what are other options available to me? (00:09:32)
Question: I'm a new BSN student and I wanted to ask how to reverse your residency classification from "Out-of-State" to "In-state" if I've already submitted all the documents and filed a petition. I've lived only in Maryland since I was born, and I'm not sure how else to prove that. (00:13:39)
Question: What are some potential ways student can connect with one another during the upcoming fall semester if we are in-person? (00:15:50)
Question: I'm interested in support groups for new grad students, study habits, etc. also for non-traditional students. Are those available? (00:18:14)
Question: I'm a SW student and it has come up in several classes during my first year about issues with unpaid field placement. especially during this difficult economic time (and for those who have families and must work full-time jobs) it can place an undue burden on students. How does the administration plan to address this issue moving forward? (00:21:49)
Question: When can students expect to be able to get vaccinated? (00:28:54)
Question: Can you provide some advice about what you would say to someone who is hesitant to get the vaccine? (00:30:22)
Question: I am ineligible from FASFA and also get some financial help, but my question is if there are any other scholarships new students can apply for? (00:32:34)
Question: You mentioned the Student Affairs deans — last semester I felt completely unheard by my school. I am really stressed out, and the administration only seems to care about punishing students who make mistakes. It's really changed my view about the school. I'm not going to leave, but is this what UMB is about? (00:34:07)
Question: I feel really sad sometimes, should I see a therapist? (00:35:32)
Question: Will the vaccine immunize you against all strains of COVID or just the COVID-19 strain? (00:38:06)
Question: I am eligible for in-state financial aid and I got some help from FASFA, but only some. My question is, why I am not getting the full amount by FASFA? Did I miss anything? I'm confused. (00:41:49)
Question: Going to therapy is stigmatized in my family. My family thinks only people who are weak or crazy go to therapy. Every time I think about making an appointment, I get discouraged. What can I say to them to make them see that I'm not crazy, I just need help. (00:42:55)
Question: What long-term counseling options are available at the Student Counseling Center? (00:45:59)
Question: I know USGA is holding an event tonight, but are you holding any events in the future where students can get to know one another? I really enjoyed socializing at the happy hours, and it helped my mental health! Is there a virtual event like that? (00:48:52)