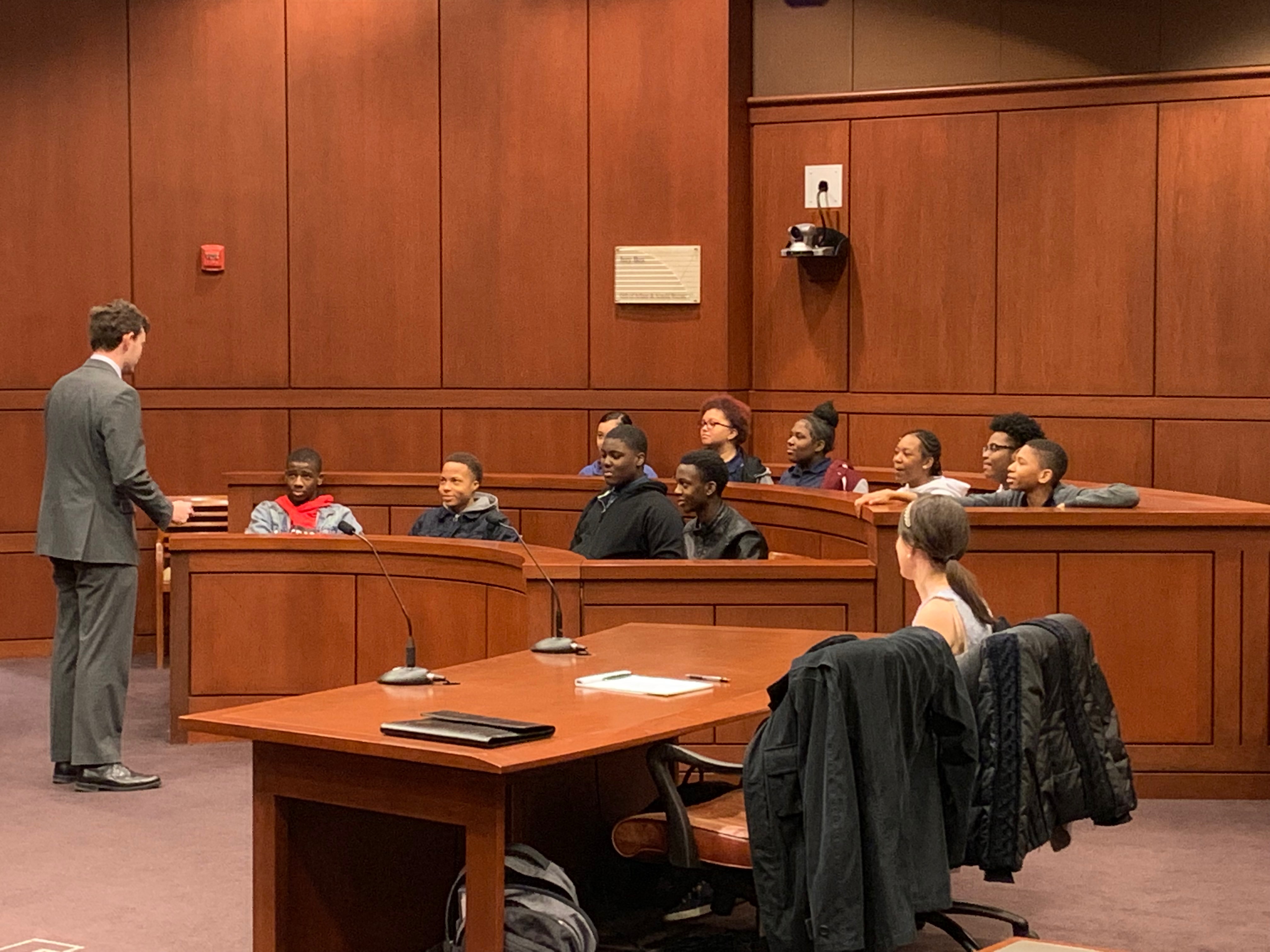 Carey School of Law students hold 'Beauty and the Beast' mock trial for seventh-graders from K-12 partner Franklin Square who serve as jurors.
---
On March 12, members of the Francis King Carey School of Law's trial team hosted 28 seventh-grade students from Franklin Square Elementary/Middle School, a UMB K-12 partner in West Baltimore, for a mock "Fairy Tale Trial" based on Beauty and the Beast.
The mock trial was held in the Ceremonial Moot Courtroom, and all 28 participants from Franklin Square got to play the role of juror while trial team members acted out a trial in which the antagonist, Gaston, was charged with the theft of a book from the main character, Belle.
Trial team members who played various roles included Timothy VanCisin as Gaston, Will Young as Gaston's lowly sidekick LeFou, Alexis Gbemudu as the judge, Ashley Whidby as the defense lawyer, Alexus Brandon as Villager No. 1 witness, Dylan Rogers Elliott as the prosecutor and Fiona Puglese as Belle. The trial hit on several poignant themes relevant today with regard to gender expectations, right vs. wrong, and privilege.
(Click on the link below to watch a video of the visit.)
This campus visit was the second time in the past year that the law school's trial team has shared information about legal careers with neighborhood children in a way that's fun, exciting, and age-appropriate.
Kirk Crawley, JD, seventh-grade Franklin Square social studies teacher and 1988 graduate of the Carey School of Law, said, "The program was awesome and my students really enjoyed it. It allows them to see in practice many of the concepts that I've taught them in the classroom."
These exercises in career exposure provide UMB's K-12 community partners an out-of-classroom learning experience that many of our partner schools are not funded to provide. These types of experiences are well-documented to have positive outcomes for participating students and are among the most cost-effective ways for us to engage our community partners. The Carey School of Law is planning similar visits for UMB partners at George Washington Elementary School in the coming month.
The Office of Community Engagement challenges student groups, staff, and faculty across the UMB campus to develop creative ways to share their chosen career paths with our K-12 partners. If you, your student organization, or department would like to propose such an activity or for assistance in developing creative ways to engage our community partners, please contact Brian Sturdivant, MSW, director of strategic initiatives and community partnerships, at bsturdivant@umaryland.edu or 410-706-1678.