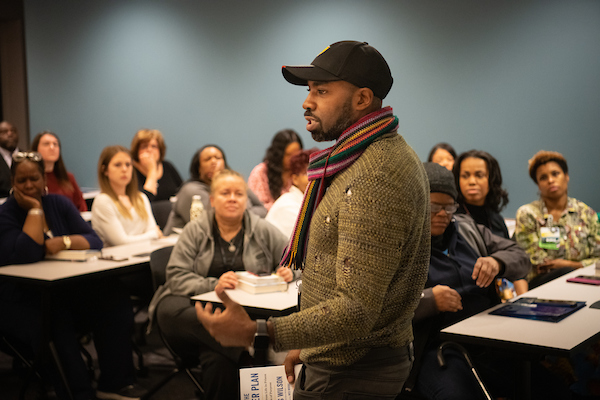 Affinity group, hosted by UMSON, offers a platform for dialogue, awareness, and collaborative thinking through review of a variety of diverse reading and media materials.
---
The group of more than 100 members includes faculty, staff, and students from across the entire University of Maryland, Baltimore campus who gather to discuss a shared reading every other month for an hour. Lunch is provided, sponsored by local women and minority vendors from West Baltimore, as is the reading material, which members are permitted to keep.
Since the club's first meeting in May 2017, the group has read 15 books that explore deep and significant topics such as systemic racism, politics, history, mental health, and more; readings have included:
The Other Wes Moore: One Name, Two Fates (Wes Moore)
Just Mercy (Bryan Stevenson)
Look Me in the Eye (John Elder Robison)
Not in My Neighborhood (Antero Pietella)
I Am Malala (Malala Yousafzai)
Becoming (Michelle Obama)
Conversations are lively, raw, and allow participants to express their feelings. The affinity group has been so successful that the School of Nursing's team at a separate campus location has initiated its own book club. Future plans include utilizing technology via the Microsoft Teams platform to continue the conversation between in-person club meetings.
The group is currently reading The Master Plan, authored by Chris Wilson, who visited the Booked for Lunch Club in February. The memoir was written by Wilson while he was in prison serving a life sentence. The Master Plan details Wilson's plans to ensure that he would successfully get out of prison. Home since the mid-2000s, Chris graduated from the University of Baltimore (UB) and has since become an entrepreneur. Almost everything that he wanted to do upon re-entry into society he has accomplished and then some. From a life in prison to a life of purpose, Wilson has sat with President Obama, has been on The Daily Show with Trevor Noah, has been featured in FORBES, started a scholarship for ex-offenders, and continues to employ ex-offenders. Join the Book Club.