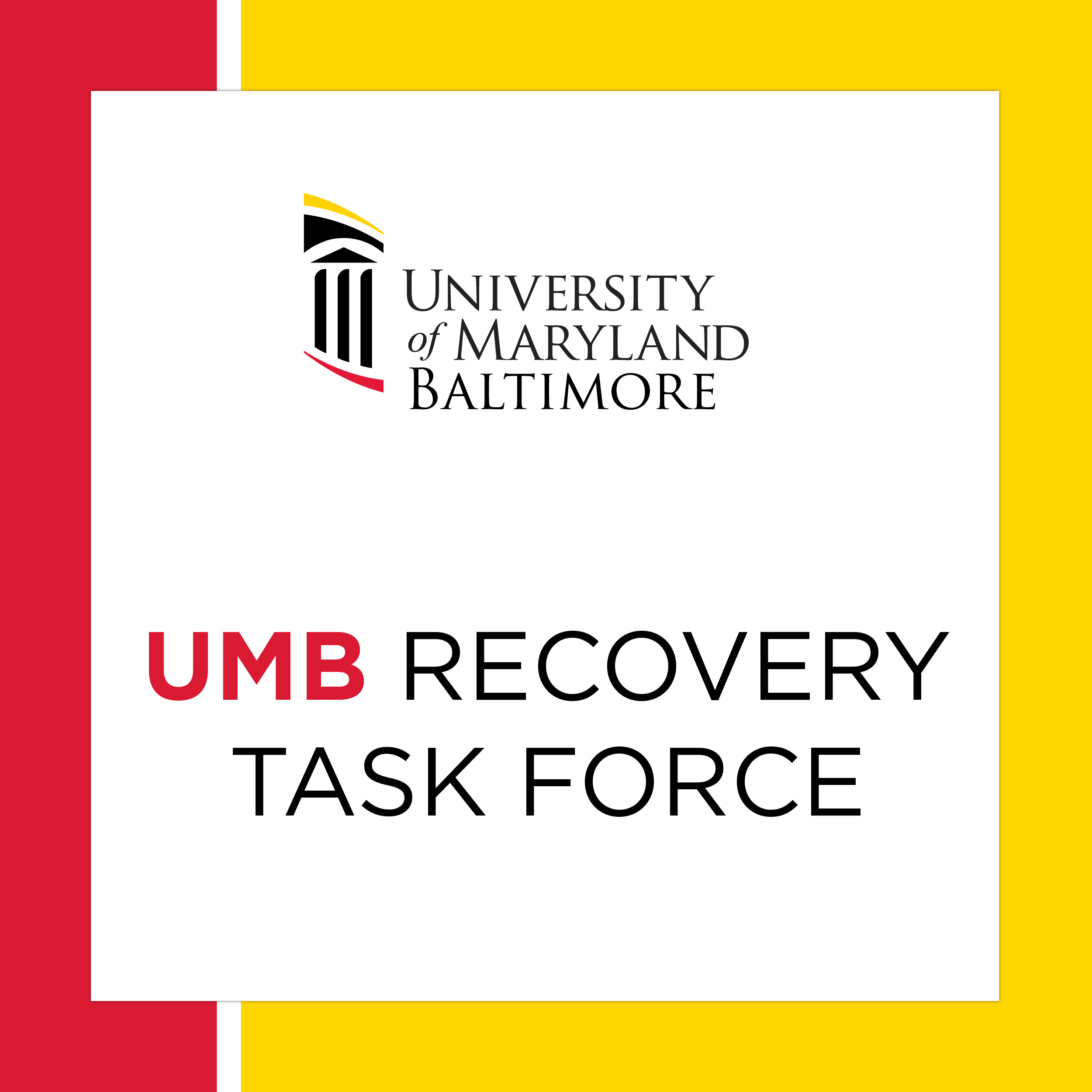 With infection rates surging in Maryland and around the country, protocols on face coverings, physical distancing, and compliance are of paramount importance.
---
COVID-19 infection rates are rising in Maryland and around the country, so the University of Maryland, Baltimore (UMB) Recovery Task Force reminds everyone to follow safe practices to help stop the spread of the coronavirus. To avoid any confusion about the University's safety protocols, Environmental Health and Safety (EHS) offers these reminders on face coverings, physical distancing, and compliance:

Face Coverings: Do I Have to Wear a Mask at All Times While on Campus?
A face covering must be worn at all times while on UMB's campus or at an off-campus location occupied by UMB community members (Universities at Shady Grove, Donaldson Brown Riverfront Event Center, Columbus Center, etc.). UMB's campus is defined as all property owned, leased, or operated by UMB. This includes outdoor and indoor locations including all buses or shuttles operated by UMB.
Face coverings must fit securely over both the nose and the mouth.
The city of Baltimore's mask mandate requires mask wearing anytime you are outdoors unless you are eating or drinking. UMB expects you to maintain physical distance anytime your mask is off outdoors, even if you are eating or drinking.
For more information, you can read the UMB Policy Requiring Face Coverings or the Baltimore City Health Department order.
You do not have to wear a mask indoors if you are ALONE in an office or lab and have the door CLOSED.
You do not have to wear a mask indoors if you are in a break room to eat or drink and are seated more than 6 feet apart from any other individuals. NOTE: Employees should make every effort to stagger breaks so that people are not eating at the same time. Employees also are encouraged to eat outdoors.
Physical Distancing: Do I Have to Keep Physical Distance at All Times While on Campus?
UMB expects everyone to ALWAYS observe physical distancing guidelines with the limited exception of those instances when a person's job duties cannot be performed from a 6-foot distance.
A face covering does not negate the need for physical distancing. If a person must be within 6 feet of another person, they should minimize this time as much as possible even when wearing face coverings.
Some spaces such as kitchens, restrooms, and elevators have occupancy limits posted. If the occupancy limit has already been met, wait before you enter the area. For example, if a break room has an occupancy limit of two individuals, more than two people should not be inside even if they are just using the microwave or removing their lunch from a refrigerator.
There should be no on-campus social gatherings and no organized group meals. Individuals should not be congregating for meal breaks.

Compliance: Are There Consequences for Not Following These Rules?
UMB expects all members of the community to follow these rules.
The most significant consequence of not complying is that it puts you, your colleagues, your patients, your clients, your classmates, and your household at risk.
Failure to follow rules may result in individuals being asked to leave campus.
Supervisors may impose disciplinary consequences against individuals who do not comply with safety rules.