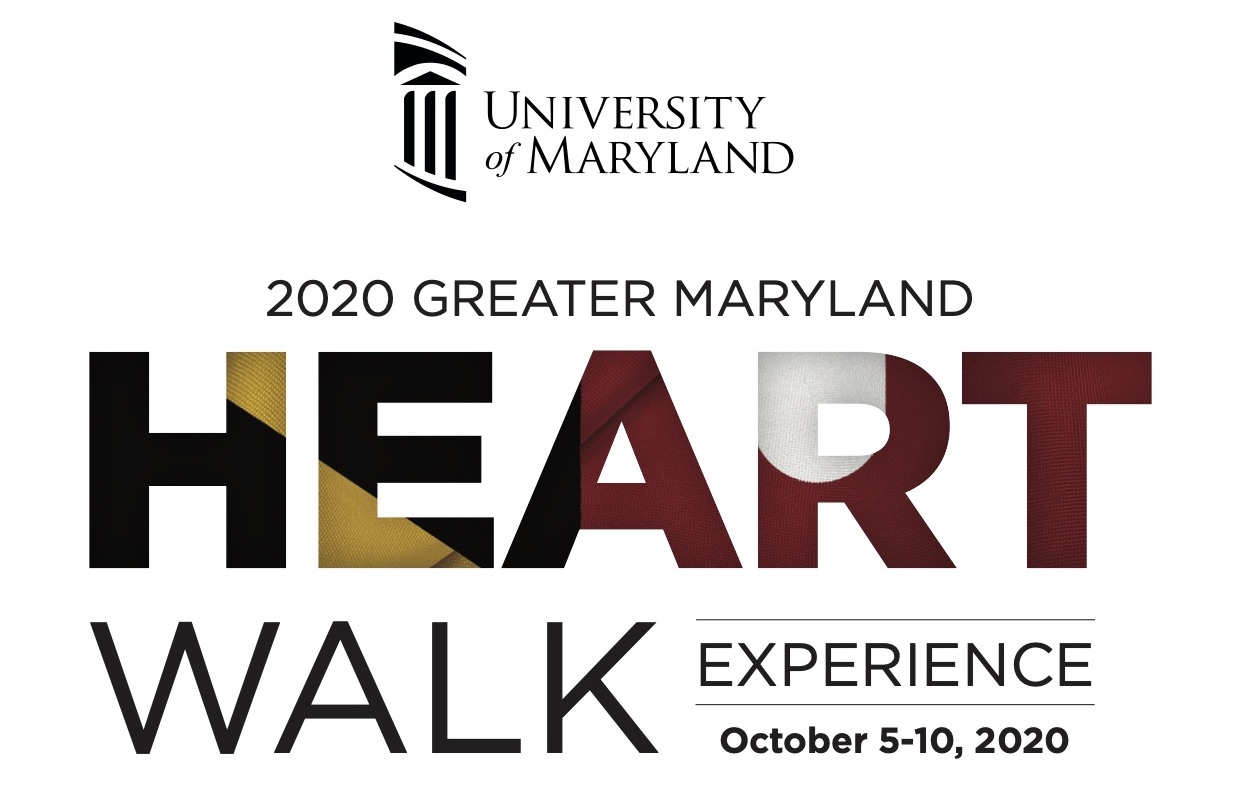 Not only is the digital American Heart Association's Heart Walk Experience a way to raise money for a good cause, it also creates a wonderful learning opportunity for the students participating.
---
When it comes to her aspirations for the future, Shereen Farquharson's heart lies with cardiology.
"When I grow up, I want to be a cardiologist," says the Green Street Academy ninth-grader. "I really like learning about the human heart and think that it's really cool."
It was her passion for the human heart and heart health that motivated Shereen to sign up for the American Heart Association's (AHA) 2020 Heart Walk Experience. The University of Maryland, Baltimore's (UMB) AHA committee organizes participation from both UMB and the University of Maryland Medical System in the walk every year.
Shereen was able to participate in the walk this year through the UMB CURE Scholars team. She is part of cohort 2 in the UMB CURE Scholars Program, a nationally recognized mentoring program that prepares students from three West Baltimore middle schools for careers in science, technology, engineering, math (STEM), and health care. The program begins in sixth grade and follows the students through middle school, high school, and beyond.
"It feels really good to help someone by raising money," says Shereen. "In school, I don't normally get the chance to participate in these types of fundraisers for health conditions, and I feel like this is a small way that I can make difference in someone's life."
The UMB CURE Scholars have been participating in the AHA's annual Greater Maryland Heart Walk for the past five years. The walk is all about coming together, getting hearts pumping, and raising life-saving funds for heart disease and stroke research. The CURE Scholars are learning about philanthropy and staying healthy.
"So many of us have been personally impacted by heart disease and stroke," says Diane Aten, MS, the associate director of development for the University of Maryland School of Medicine and a volunteer on UMB's AHA committee. "I lost my father to heart disease a few years ago, and this connection to the cause motivates me to stay involved with the AHA each year to help raise money for heart disease and stroke research."
The Heart Walk normally takes place in person but this year, because of the COVID-19 pandemic, organizers decided to create a weeklong digital Heart Walk Experience, which took place Oct. 5-10. The week included heart-healthy activities such as virtual chair yoga and virtual cooking classes.
(See full list of events here.)
Even though the digital event is over, donations are still being accepted through Dec. 31. UMB's 2020 Committee has raised $7,015 and would like to raise $10,000 by the end of the year. The CURE Scholars hope to help raise $2,500 worth of donations toward that $10,000 goal.
(Donate to the UMB CURE Scholars Heart Walk Team.)
Not only is this digital walk a way to raise money for a good cause, but it also creates a wonderful learning opportunity for the CURE Scholars participating in the event.
This year, many CURE Scholar mentors raised funds in honor of the CURE Scholars.
"I think it is important at any age to understand what challenges and obstacles others in your community face," says Chelsea Okeh, a CURE Scholars mentor and participant in this year's digital Heart Walk. "Heart health affects most people in the United States in one way or another, and by lessening the degrees of separation and uncovering the unknown nature of it, the CURE Scholars can start understanding that it is an issue of great magnitude and one that they can solve. With participation in events like this, the issue at hand is made more real and its impact is seen with urgency as something that can be eradicated with dedication."
According to the AHA website, almost half of those hospitalized with COVID-19 are stroke survivors or people with heart disease, which puts them more at risk for health complications. Recent studies have also raised concerns of inflammation of the heart muscle after recovery from COVID-19. Donations from this fundraiser will help fast-track research and train front-line workers while also continuing the fight against heart disease and stroke.
"I'm so happy to have the opportunity to help people with heart disease," says Shereen. "I've learned about the high rates of heart disease and this is a chance to help people who can't help themselves."