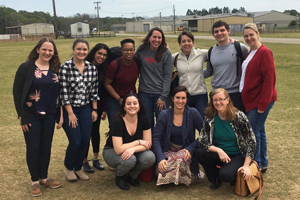 Students are raising funds to cover the costs of a spring break trip to Georgia, where they will offer pro bono legal services to detainees in the Folkston ICE Processing Center.
---
A group of University of Maryland Francis King Carey School of Law students will use their spring break to travel to an ICE processing center in Folkston Ga., to help provide pro bono legal representation to detained immigrants.
During the week of March 18-22, the six students and Maureen Sweeney, JD, director of Carey Law's Immigration Clinic, will be working with the Southeast Immigrant Freedom Initiative (SIFI) at the Folkston ICE Processing Center. SIFI provides pro bono legal representation to detained immigrants in four detention centers in the southeastern United States.
This will be the second time Carey Law students have traveled to Georgia to work with SIFI. Last year, eight students accompanied by Sweeney and Immigration Clinic staff attorney Gabriella Kahrl, JD, volunteered at the Irwin County Detention Center in Ocilla, Ga.
The students worked eight to nine hours every day during their five days in Ocilla. Much of their work involved screening immigrants. For third-year student Jacob Lichtenbaum, the screenings brought home the privilege he enjoyed simply by "accident of birth." Lichtenbaum said he interviewed a man close to his own age who lost his protected status under the Deferred Action for Childhood Arrivals (DACA) policy after a drug possession case. "If the same thing happened to me, I would get an attorney and be fine," he said. "Their status is so fragile."
This year's group looks forward to returning to Georgia and continuing its work with SIFI at the Folkston ICE Processing Center. With the support and generosity of donors, this group of students will have a similar in-depth experience with immigration detention work and will directly impact many detained immigrants in their pursuit of freedom.
If you would like to donate to help cover the costs of the trip, click here.