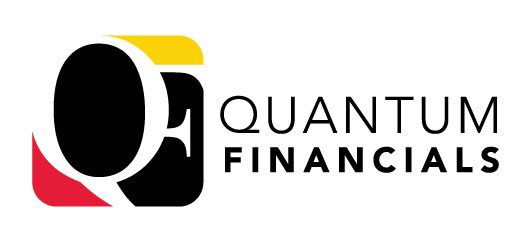 'A great success story': Replacing the University's accounting and reporting system was a huge undertaking that required two-plus years and a high level of teamwork.
---
The definition of "quantum" as an adjective is "sudden and significant." In overhauling the University of Maryland, Baltimore's (UMB) financial accounting and reporting system by moving it to a cloud-based platform and naming it Quantum Financials, the emphasis was on "significant."
The massive scope of the Quantum project precluded any sudden switch, but the two-year-plus process has been completed, the new system launched successfully in October, and the leaders of the initiative see it having a significant impact on the University's financial planning and decision-making.
Dawn M. Rhodes, MBA, chief business and finance officer and vice president, says she felt a sense of relief after the launch but mostly pride that the mission had been accomplished to replace UMB's previous financial accounting and reporting systems, eUMB Financials and RAVEN.
"I have a tremendous amount of appreciation for the Quantum team that did all of the hard work, and I'm overjoyed to bring new tools and better efficiency to the University community," says Rhodes, who termed the great amount of teamwork needed as paramount. "Subject matter experts were pulled into the project, and their roles were critical to configuring the system properly to test it. Without their teamwork and their departments allowing them to participate, the launch wouldn't have been as successful."
Peter J. Murray, PhD, chief information officer and vice president, is thrilled with the new system, saying it will have a positive transformational impact on UMB.
"It was a tremendous amount of work and a lot of change, but it is the best solution for UMB for the present and the future," says Murray, who was part of the project's executive team along with Rhodes and Scott Bitner, MBA, CPA, associate vice president for budget and finance. "It was an opportunity to implement a contemporary, innovative system that helps achieve University strategic goals and desired outcomes."
Overhauling the System
The project's leaders were tasked with replacing eUMB Financials and RAVEN with three distinct but related systems for accounting, reporting, and planning and budgeting: Quantum Financials, Quantum Analytics, and Quantum Planning and Budgeting. These tools will help with tasks such as reimbursements, the purchasing of office and/or lab supplies, and vendor payments, as well as provide UMB schools and departments more robust and contemporary analytics and forecasting tools.
"The systems we selected are Oracle cloud-based and move UMB to the forefront of this type of technology use in higher education," says Michele Evans, CPA, director, management advisory services, and change management lead for the project. "Because Oracle provides a completely different platform to build from than what we had been using with PeopleSoft, this implementation required us to rework the underlying chart of accounts, which touches on every executed financial transaction at UMB. It also brings us squarely into the use of cloud-based technology where we 'use' but don't 'own' the product."
UMB already had begun using other cloud-based applications and systems, Murray says, so the time was right to pursue a cloud-based financial system. Plus, he says, the major cloud vendor companies had shifted their research and development dollars from on-premises solutions to cloud-based applications and continuing to invest in cloud solutions.
"The cloud offers contemporary technology that is constantly updated. It has great capacity and scalability — that is, the ability to make changes faster than you can with an on-premises infrastructure," Murray says. "It also has high availability — almost 24x7x365 — plus redundancy and disaster recovery capability.
"If we had chosen to implement an on-premises system, we most likely would not have had an opportunity to implement a new financial system for another seven to 10 years."
Managers, Experts, and Champions
Contributors to the project were numerous.
"Between the project team; subject matter experts from schools, departments, and central offices; the 'Change Champions'; the advisory council; and the numerous people who took advantage of outreach efforts like town halls and business process sessions, well over 100 people helped to get Quantum up and running," says Evans.
The project team was managed by Kevin Curley, MBA, executive director of financial systems, and Diane Faranetta, assistant vice president of enterprise applications, Center for Information Technology Services (CITS). The team included representatives from UMB central administrative offices and CITS working together with implementation partners from Oracle Consulting, Huron Consulting, Navigator Management Partners, and Sierra-Cedar, Inc.
The project included 50-plus subject matter experts, described as stakeholders with domain expertise from departments or lines of business most affected by the application modules being implemented.
There also were 24 "Change Champions" who represented the UMB schools and central offices as business processes experts who understand detailed transactions.
Finally, an advisory council composed of senior-level administrators and faculty provided advice and input to the project team on policy changes, timing, staffing implications, and other impacts of the new system and business processes.
And what's next in the project?
"We will continue to fine-tune and build out this system, as is the case with any implementation," Rhodes says. "We are excited to add more systems like our human resources and student systems to the data warehouse. Analytics becomes more powerful with each additional system we add, because you can now ask questions that go across systems to better inform decision-making."
Murray says next steps include stabilizing the systems and focusing on analytics, with the hiring of a person to run a new Office of Data Analytics and Reporting.
"This position will support the entire University and be responsible for data analytics and reporting for financial and research administration data, as well as human resources, student, and philanthropy data when those data get loaded into the data warehouse," Murray says. "The person will work with key leaders in information technology, in functional offices, and with personnel in schools and departments in promoting the effective use of data to address questions, assess performance, and inform decision-making."
And the collaboration, one of UMB's core values, will continue.
"The implementation of Quantum Financials is a wonderful achievement that required a tremendous effort by the project team and collaboration with literally dozens upon dozens of people throughout the University community," Murray says. "It's a great success story."
Learn more about Quantum Financials at https://www.umaryland.edu/quantum/