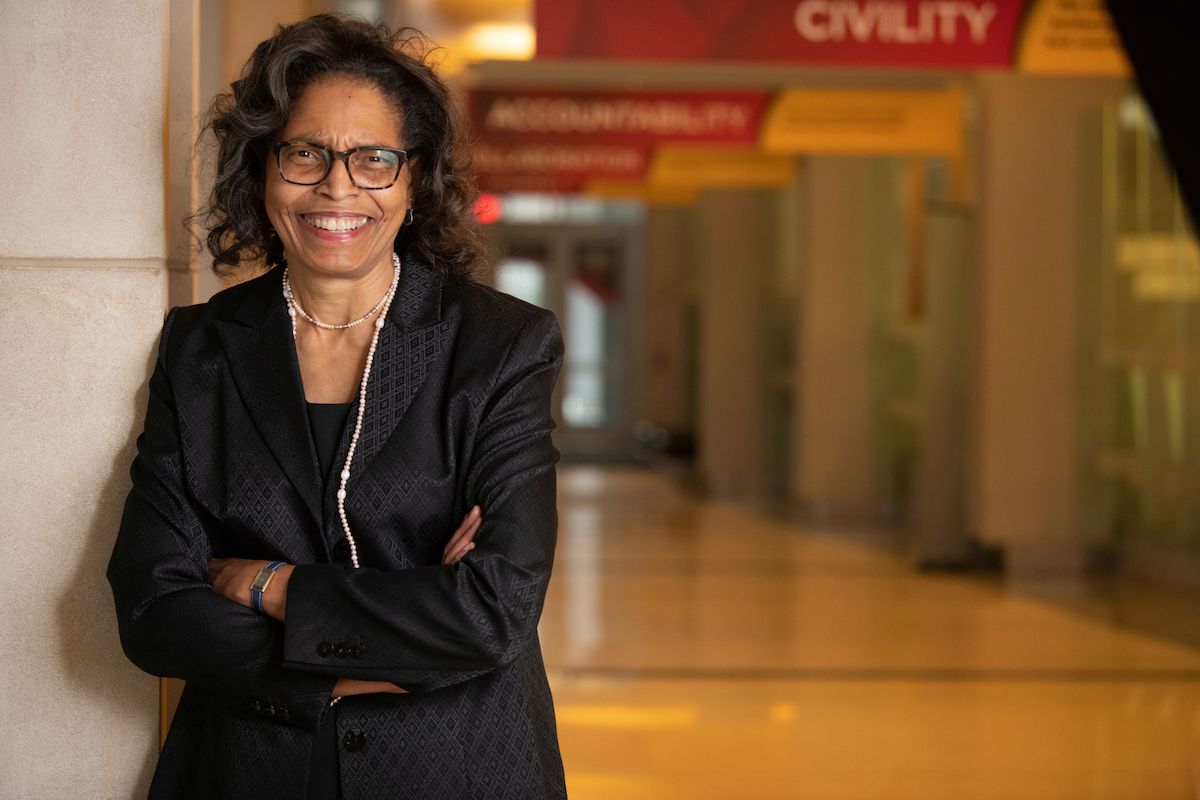 Clinical associate professor in the School of Dentistry founded the PLUS Clinic, which for over 30 years has provided dental treatment to patients living with HIV/AIDS.
---
This is the latest in a series from the University of Maryland, Baltimore's Diversity Advisory Council (DAC) highlighting a student, faculty, or staff member. Read previous DAC Spotlights.
---
In 1989, Valli Meeks, clinical associate professor in the Department of Oncology and Diagnostic Sciences at the University of Maryland School of Dentistry (UMSOD), founded the PLUS Clinic — the first clinic in Maryland dedicated to providing dental treatment to patients living with HIV/AIDS.
In the three decades since, she has worked tirelessly to serve those patients and to imbue her students with a deep understanding of the importance of compassionate and inclusive care. About 650 patients each year receive treatment at UMSOD's PLUS Clinic, and almost 98 percent of them receive care at no cost due to Meeks' efforts.
"Nothing could ever be possible without the support and help of my staff and faculty providers," Meeks says. "It's a team effort. With everyone's support, the PLUS Clinic always emerges as a winner!"
A native of Penllyn, Pa., Meeks earned bachelor's degrees from Springfield College and Thomas Jefferson University before receiving a master's in oral pathology and a Doctor of Dental Surgery degree from UMSOD.
Committed to raising public awareness about HIV/AIDS, Meeks lectures extensively about the impact of the virus on oral health and presents training clinics and workshops nationally and internationally. As a clinical trainer for the MidAtlantic AIDS Education and Training Center, she has established the PLUS Clinic as a regional center for the diagnosis and treatment of oral lesions associated with HIV.
In 2013, Meeks partnered with the University of Maryland School of Medicine Institute of Human Virology's JACQUES Initiative to reduce the number of new HIV infections by providing HIV testing in UMSOD clinics. In 2017, 293 HIV rapid tests were administered at the PLUS Clinic, a 165 percent increase from 2016.
Meeks' work has been recognized with a 2018 University of Maryland, Baltimore Founders Week Public Servant of the Year Award and a 2016 University System of Maryland Regents Faculty Award for Public Service, but her public service efforts extend beyond the Baltimore community.
In Rwanda, Meeks helped to create the first dental degree program at the University of Rwanda College of Medicine and Health Sciences. This is the first and only dental school in Rwanda to offer a Bachelor of Dental Surgery degree. She continues to visit Rwanda, assisting with the dental school's curriculum and bringing donated dental equipment for the clinics.
There is still much work to be done, Meeks says.
Challenges such as transportation, getting time off from work to go a dental appointment, or finding a babysitter to care for young children (or in some circumstances an aging parent) make it difficult to reach certain underserved populations. These include Native Americans; women, particularly Hispanics and women of color; and adolescents, a group that is experiencing an increase in new infections of HIV, Meeks says.
"Interprofessional health care is the trend in our approach to health care delivery, and this is doable at UMSOD through collaborative and creative efforts," she says.