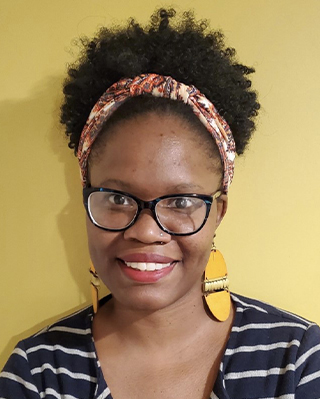 School of Social Work assistant dean's mission revolves around promoting a diverse and inclusive environment for faculty, students, and staff while championing organizational change.
---
This is the latest in a series from the University of Maryland, Baltimore's Diversity Advisory Council (DAC) highlighting a student, faculty, or staff member. Read previous DAC Spotlights.
---
Neijma Celestine-Donnor, MSW '09, is the assistant dean for diversity, equity, and inclusion at the University of Maryland School of Social Work (UMSSW), where she oversees the Office of Diversity, Equity and Inclusion. In her role, she assists in the important leadership of the school's diversity and anti-oppression efforts and helps guide the achievement of a new standard for inclusive excellence. As a member of the dean's executive leadership team, Celestine-Donnor has a strategic position responsible for promoting and enabling an inclusive environment for faculty, students, and staff while championing organizational change.
Grounded in pursuing social justice for minority populations and supporting equity in higher education, Celestine-Donnor is an experienced leader focused on providing strategic oversight for protocols, services, and policies related to campus climate. She uses her clinical and conflict resolution skills to provide individual and systemic trauma-informed outreach, advocacy, and support for all. Her extensive experience in developing, facilitating, and assessing professional development workshops, trainings, and programming designed to enhance the intercultural competency of students, faculty, and staff will be a tremendous benefit to the school.
Celestine-Donnor joined UMSSW after working for the University of Maryland, College Park, where she served as a director in the Office of Diversity and Inclusion. She is a proud graduate of UMSSW's Master of Social Work program and is pursuing her Juris Doctor degree from the University of Baltimore. Since she joined UMSSW, her office has launched affinity spaces and conducted anti-racism and restorative practices trainings. In addition, Celestine-Donnor has worked diligently with UMSSW's Human Resources department to integrate more equity into the school's job search and hiring process.