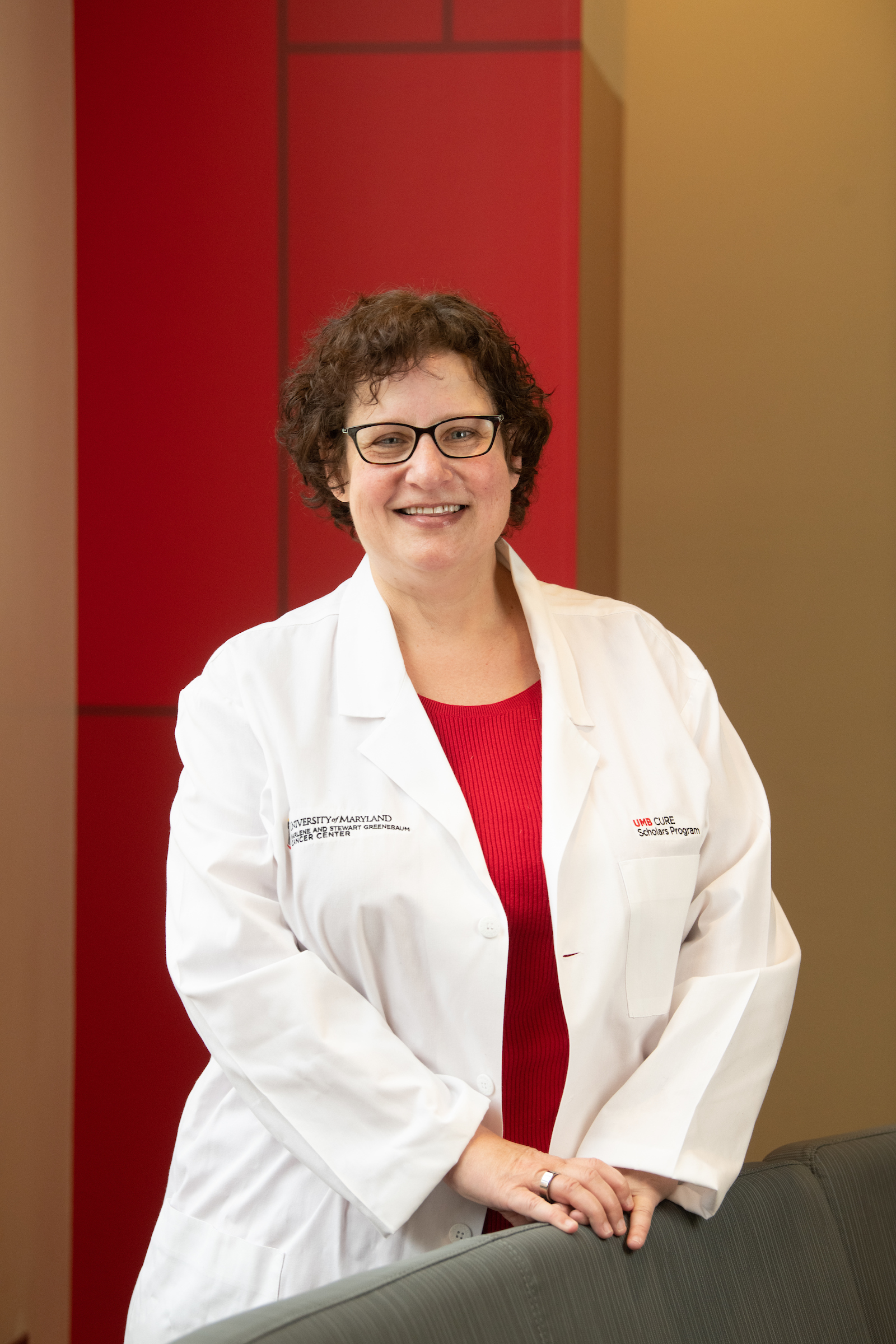 School of Nursing assistant professor honored for her work volunteering as a mentor in the UMB CURE Scholars Program.
---
The Elm is featuring stories on the keynote speaker and the three Diversity Recognition Award winners leading up to UMB's Rev. Dr. Martin Luther King Jr. and Black History Month celebration from noon to 1 p.m. Tuesday, Feb. 8, 2022. Register here to attend. Read about all the award winners at this link.
---
Today: Ann Marie Felauer, DNP, CPNP-AC/PC, Outstanding Faculty

---
When the University of Maryland, Baltimore (UMB) put out a call for science, technology, engineering, and math (STEM) mentors for middle school students in 2016, Ann Marie Felauer leaped at the opportunity to work with children in a different way than she does in hospital settings as a certified pediatric nurse practitioner.
"I thought, 'Yes, I can do this,' " said the assistant professor in the University of Maryland School of Nursing's (UMSON) Department of Family and Community Health. "I love science, my nursing career, and caring for patients and families, and I embraced the opportunity to help others become invested and interested in health care."
Since then, Felauer has volunteered two or three days a week with the UMB CURE Scholars Program, a National Institutes of Health-sponsored initiative aimed at reducing racial disparities in the biomedical health care and research workforce by guiding West Baltimore children into challenging careers in medicine and public health. Mentors like Felauer offer hands-on learning experiences to the students, who enter the program in sixth grade.
Felauer has taught students about anatomy, food science/chemistry, and even robotics and helped to move the scholars, some of whom are now receiving college acceptance letters, closer to reaching their goals. For her efforts with the CURE Scholars Program, Felauer was named the University's 2022 Rev. Dr. Martin Luther King Jr. Diversity Recognition Award Outstanding Faculty Member.
"Dr. Felauer has been a kind, compassionate advocate for youth in the UMB CURE Scholars Program," said CURE Scholars executive director Gia Grier McGinnis, DrPH, MS, who nominated Felauer for the honor. "CURE has had annual retention rates in the 90 percent range due to our hands-on and family-style approach to mentorship. Dr. Felauer fully embodies this philosophy."
Felauer leads the anatomy track for the scholars, some of whom she has been working with since sixth grade and are now in high school. The anatomy lessons include discussions about health care and routine physicals and hands-on learning such as dissections.
"CURE has afforded us the opportunity to have open and honest conversations about science and the connection to health," she said. "For example, I was able to help the scholars use what they were learning in anatomy and dissection and relate it to health disparities and inequities in Baltimore City. Dissecting a sheep's heart and kidney supported discussions about the disproportionally high rates of kidney disease and cardiovascular disease among people of color."
Known as Dr. Ann to the scholars, Felauer added that during one discussion, they told her stories from their parents and grandparents about mistrust of health care providers.
"Some scholars even mentioned this is the reason they want to be doctors; they want to have someone to take care of their health and their family who understands them and looks like them," she said.
When the COVID-19 pandemic shut down schools and programs in March 2020, CURE had to deliver its lessons virtually. Felauer continued to meet with the students and teach them lessons twice a week, but she also checked in to see how her students were doing with the uncertainty and changes.
"The session would start with 'touching base,' where I tried to engage them personally. I wanted to know how they were doing, how was their family doing, what is going on with them," she said. "I loved catching up with them and letting them know that I was glad they took the time to join us for programming, after having been online all day for school. We celebrated things like getting a new dog or having a birthday. We also empathized when students shared experiences that they were struggling with."
Grier McGinnis said that during the early part of the pandemic, Felauer made over 100 well-check calls to 10 scholars over several weeks. During the calls, Felauer checked to see what resources the families might need such as masks and WiFi for virtual learning.
"At a time when our scholars are experiencing extraordinary challenges during the pandemic, Dr. Felauer has continued to be a friendly and warm support for her curriculum track scholars," Grier McGinnis said. "She has had to be very creative in adapting her instruction to online learning. She has had a dedicated group of scholars online with her week after week that enjoy the sense of community her online classroom provides."
As the pandemic continued, CURE adapted and transitioned the program to be more interactive at home. Felauer started leading the students in experiments over video.
"Scholars had food science and chemistry kits brought to their homes, and they were responsible for finding the food and drink items we experimented on," she said. "We identified sugar and fat in foods, what food had the most vitamin C, and talked about how all of this could impact their diet and health."
More recently, Felauer has been working with Grier McGinnis to have two nursing students tutor the scholars this spring, focusing on health literacy. The UMSON students will discuss educational topics about COVID-19, health and cancer screenings, nutrition, and dental health.
"The UMSON students are in their community/public health clinical rotation, and this is a wonderful opportunity for them to become invested in the community of West Baltimore and the UMB partnership with CURE," Felauer said.
She said she was humbled and flattered to be recognized with UMB's Diversity Recognition Award.
"I am proud to be a part of the CURE family and to receive this honor in the name of Dr. Martin Luther King Jr.," Felauer said. "This award emphasizes the mission of CURE, which is 'to build a diverse biomedical workforce, which is critical to addressing the health needs of all Americans and eliminating cancer health disparities in the nation.' The CURE Scholars Program speaks to the spirit of Dr. King and how he wanted to ensure diversity, equality, and inclusion for everyone."