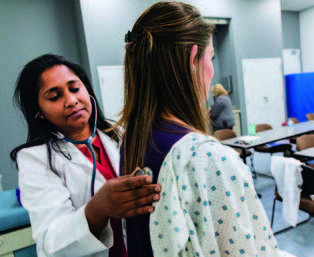 Charting the growth of the Doctor of Nursing Practice Family Nurse Practitioner program at the Universities at Shady Grove in Rockville, Md.
---
Two years ago, in fall 2017, UMSON launched its Doctor of Nursing Practice Family Nurse Practitioner (FNP) specialty at the Universities at Shady Grove (USG) in Montgomery County, Md. The goal was to admit an initial cohort of 10 students, making FNP education available to those unable to attend in Baltimore and especially to those in Western Maryland.
Demand significantly overshot expectations, and 18 students were admitted that first year. The specialty, ranked No. 11 nationally by U.S. News & World Report, has continued to grow with the help of a five-year, $1.5 million Nurse Support Program (NSP) II grant awarded in 2016, funded by the Maryland Health Services Cost Review Commission and administered by the Maryland Higher Education Commission. In fall 2018, another 20 students were admitted to the specialty, with a repeat performance this fall.
"We're exceeding our enrollment based on the projections we made for the NSP II grant," says Bridgitte Gourley, DNP '08, FNP-BC, director of the FNP specialty and principal investigator on the grant. "We admit 25 students to the FNP specialty in Baltimore, so we've nearly doubled the capacity of the FNP specialty through expansion to USG."
The specialties in Baltimore and at USG are identical, and faculty crossteach, traveling back and forth between locations. But the clinical sites and areas served can often be strikingly different. "Montgomery County is accessible to Western Maryland students," Gourley says. "Those western counties are health professional shortage areas that serve diverse communities. In rural and remote locations, an FNP is a critical safety-net provider. You need to have experience across the lifespan, someone who can provide care to the greatest number of patients. In communities that are under-resourced, that's critical."
"Having the USG location provides a strategic access point for face-to-face, high-quality nurse practitioner education."
— Bridgitte Gourley
For students to satisfy the 800 practicum hours the specialty requires, Gourley and her team have focused on developing relationships with Federally Qualified Health Centers (FQHC) and community health centers, which often employ FNPs to provide care to populations across the lifespan. "Many of the clinical sites for the specialty are FQHCs because once you're outside of Montgomery County, you move into more suburban and rural areas that are underserved," Gourley explains. "This is different from Baltimore, where there are FQHCs, but it's an urban environment, so access-to-care issues are often different."
And specialty growth in either location is ultimately tied to availability of high-quality clinical sites because for UMSON and the FNP specialty, high quality is the name of the game. "It's not about graduating a lot of FNPs," Gourley says. "It's about preparing high-quality clinicians who will care for patients, maybe in the communities they hail from. Having the USG location provides a strategic access point for face-to-face, high-quality nurse practitioner education."
The emphasis on quality, and on face-to-face instruction, in a world of increasing online education translates to student satisfaction and improved care outcomes. "UMSON is one of the most rigorous and prestigious programs in the country, and I chose the FNP program due to those reasons," says Laura Thatcher, BSN, BS, RN, a member of the first class of FNP students at USG. "I want to provide my future patients with the most competent, evidence-based care, and our FNP program provides us with the tools needed to do that."
Thatcher says that when she graduates, which she anticipates doing in 2021, she wants to work as an FNP in one of the U.S. Public Health Service clinics in an underserved area in Maryland.
This article first appeared in the Fall 2019 issue of Nursing For/um magazine.
Photo: A Family Nurse Practitioner student at the Universities at Shady Grove practices health assessments (Justin Tsucalas)