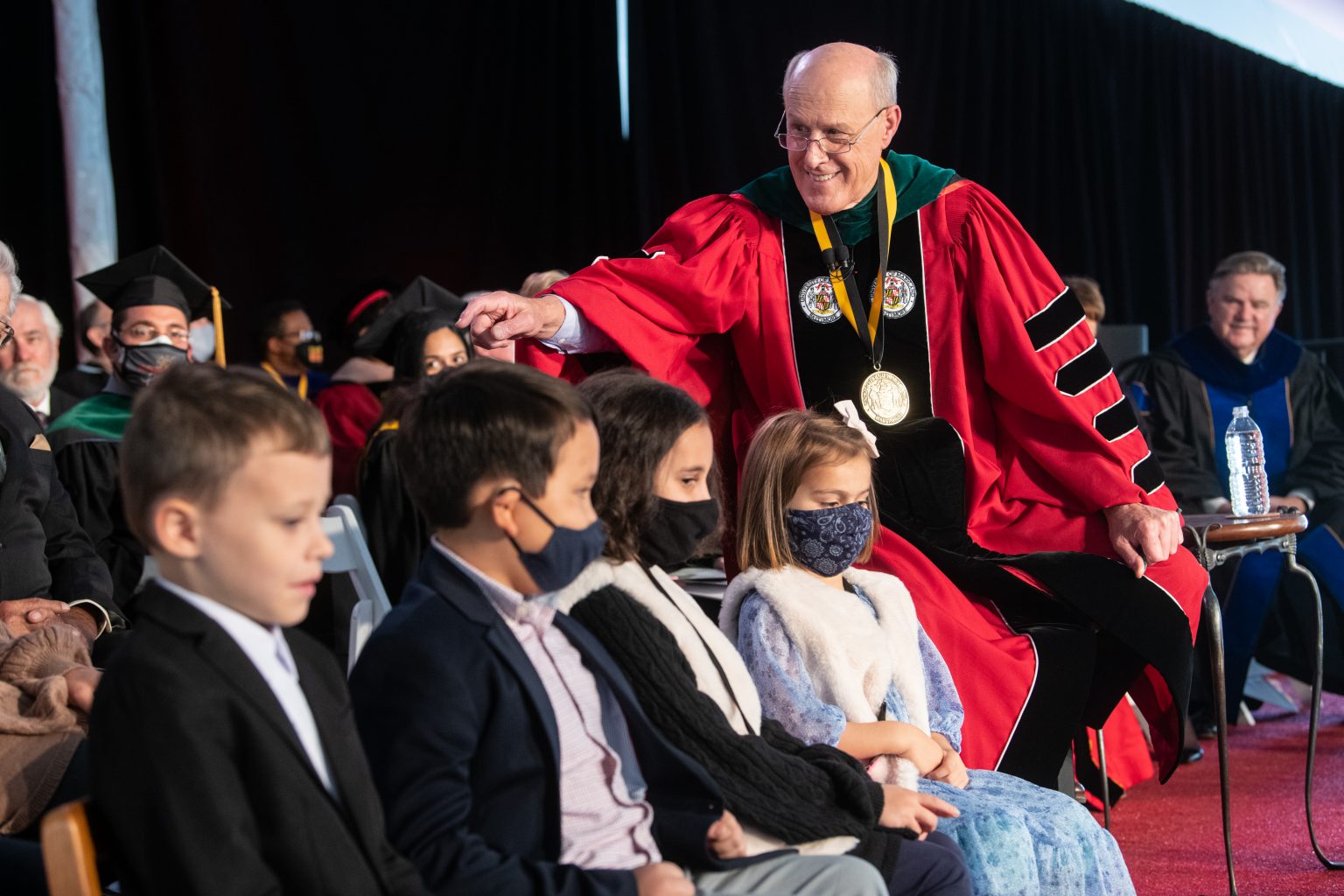 Learn more about the highlights of the inauguration in "CATALYST" magazine.
---
Bruce E. Jarrell, MD, FACS, was installed as the seventh University of Maryland, Baltimore (UMB) president on Nov. 5 before about 400 invited guests in an outdoor ceremony. Read about five memorable moments from the inauguration at CATALYST magazine.
1. University of Maryland Medical System President and CEO Mohan Suntha, MD, MBA, talks about his mentor.
Suntha spoke about meeting Jarrell when Jarrell was a professor of surgery at Jefferson Medical College in Philadelphia and Suntha a third-year medical student completing his rotation in general surgery in 1988.
"Fast-forward three decades, and I think about Dr. Jarrell and the unbelievable opportunity that I have had to consider him first a professor and teacher, now a mentor, a friend, and a professional colleague. And I would say that today represents for me a day that I am incredibly humbled and grateful to have a partner like Dr. Jarrell," he said.
He went on to use the words grace and humility to describe Jarrell. "Those two words define his leadership style and the impact that it affords him when taking on some dramatic challenges as we have partnered together, and you don't need to look any further than the challenges of COVID. I believe that together we have demonstrated to many external stakeholders the impact that this partnership can have."
---
You can read the Fall 2021 issue of CATALYST magazine, which highlights research on veterans with PTSD training service dogs; a celebration of our new Community Engagement Center; outreach by the School of Social Work's Positive Schools Center; Diane Forbes Berthoud, PhD, MA, UMB's first chief equity, diversity, and inclusion officer and vice president; our students returning to in-person learning; and much, much more at https://catalystmag.umaryland.edu/.