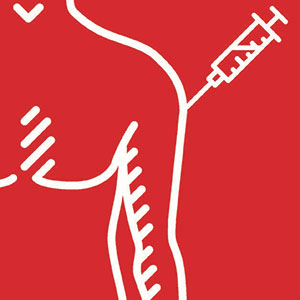 Protect yourself, your family, friends, and colleagues this flu season.
---
Flu shots will be available (by appointment only) to UMB faculty, staff, and students* on Tuesday, Oct. 13, from noon-4 p.m. and Wednesday, Oct. 14, from 9 a.m.-1 p.m. in the Weise Gallery on the first floor of the Health Sciences and Human Services Library (HS/HSL).
To schedule an appointment and find more detailed information on our COVID-19 guidelines and requirements, please click here.
All safety protocols associated with campus COVID-19 policies will be followed at this clinic. Anyone attending the flu clinic must have received a negative COVID-19 diagnostic test within 14 days prior to returning to campus and should fill out the SAFE on Campus form. A mask, insurance card, and photo ID are required at the time of service.
*Note: Walgreens is unable to accept Amerigroup and UnitedHealthcare insurance and will not accept cash payments. Students with these insurance plans and those who are unable to attend this flu clinic should make an appointment with Campus Health Services.
This annual flu clinic is provided by Walgreens in collaboration with the School of Pharmacy and HS/HSL.