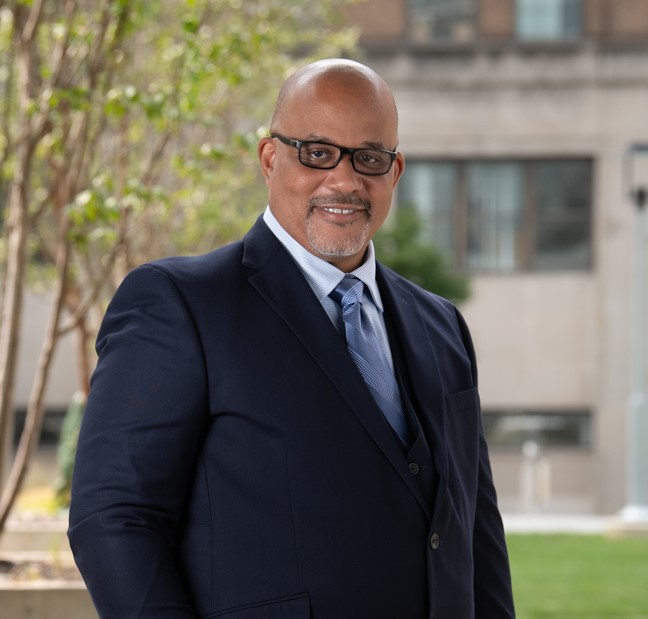 Francis King Carey School of Law professor aims to inspire students through his teaching while increasing minority representation in the classroom and the legal profession.
---
Every fall, the University of Maryland, Baltimore (UMB) commemorates our rich history and celebrates the future we're building together during Founders Week, which this year runs Oct. 10-13. Among the highlights is recognizing the extraordinary work of UMB's faculty and staff with four awards, each signifying outstanding accomplishment in one facet of our mission.
Leading up to Founders Week, we will highlight the award winners every Wednesday on The Elm. For more information on UMB's annual celebration and associated events, please check out the Founders Week website.
---
Today: Educator of the Year Russell A. McClain, JD '95

---
When Russell McClain started law school, he saw himself as an unremarkable student. That all changed as his professors sparked an "intellectual awakening" in him that led him to where he is now.
A professor at his alma mater, the University of Maryland Francis King Carey School of Law, McClain says his purpose is to inspire his own students in the same way.
"The most important thing I can communicate to them is that they are capable. My overriding professional mission is to help students have the breakthrough I had as a law student — to see that they are capable of more than they can imagine," he says.
For his energy, enthusiasm, attitude, and commitment to his students and teaching, McClain has been named the University of Maryland, Baltimore (UMB) 2020 Educator of the Year.
McClain, who is also associate dean for diversity and inclusion and director of the Academic Achievement Program, is known as one of the best professors in the law school, according to Dean Donald B. Tobin, JD.
"Professor McClain's passion for teaching and education manifest in his classroom performance, his scholarship and research interests, and his administrative leadership," Tobin said. "He is as devoted and accomplished an educator as I have seen."
Students in courses such as Bar Exam Preparation, Contracts, and Commercial Law praise his communication with them and his willingness to discuss and analyze issues with different sides and perspectives.
"Professor McClain is celebrated by students for the genuine rapport he forges with them and his evident investment in their comprehension and success," says Michael Pappas, JD, professor and associate dean for research and faculty development at the law school. "They praise, as well, his use of humor, his wide-ranging intellectual repertoire, and his ability to engage all members of a class."
Parents and Professors Show the Way

McClain, who grew up in Montgomery County and earned his bachelor's degree from Howard University in Washington, D.C., credits four people with influencing him as an educator — his parents and two law professors who are now his colleagues.
"My mother was a schoolteacher who taught me skills as a child that remain with me today — she imbued me with creativity and passion and a desire to share with others," he said. "My father did graduate study in two disciplines before going to the Korean War as an officer. He was everything to me — advisor, mentor, and role model. He taught me how to think.
"Richard Boldt was the first professor I met at the law school. In a pre-orientation program, he helped open my eyes to see that I had greater academic potential than I could possibly have known," he said. "Taunya Banks is a mentor who is a model of intellectual integrity, strength, and passion. She saw things in me I never would have seen myself."
McClain, a 1995 graduate who has been teaching at the law school for nearly 15 years, says being a teacher is "central to who I am as a person. There is something about having the opportunity to help people learn that feeds me."
He doesn't like to pick a favorite course but does say that he may enjoy teaching Contracts the most because of the type of student.
"When I teach Contracts, I'm usually teaching it to first-year students, who are full of energy and eager to learn. It creates an amazing learning environment," he says.
Promoting Diversity, Fighting Stereotypes
McClain is passionate about increasing diversity in the law profession. As associate dean for diversity and inclusion, he helps develop and implement an inclusion and equity strategy by participating in training, student recruiting, organizing diversity programming, supporting marginalized students, and managing crises.
"The focus on minority representation in law school and in the legal profession is personal to me," he said. "Had professors like Boldt and Banks not paid attention to me at the right moments, I might never have experienced the intellectual awakening I had in law school. I believe the opportunity to experience that magic exists within every one of my students. So I do my best to help communicate to them that they are capable of excellence — able to thrive, not just survive."
McClain is a leading expert on the impact of implicit bias and stereotype threat on the academic progress of students from groups traditionally under-represented in law school. He has published two law review articles on the topic and recently published a book, The Guide to Belonging in Law School. He has earned a national reputation for his work and has given dozens of presentations and trainings to law schools, firms, and businesses around the country.
"The first and best thing law schools can do is cure their underlying addiction to the notion that there are not enough qualified minority students out here," he said. "If law schools truly believed in the capacity of students to succeed, we would find ways to work harder on the law school pipeline and help the students we do admit to reach their full potential."
McClain is "an educator of educators, and his expertise goes to a crucial topic in higher education," Tobin said.
McClain — and his colleagues at the law school and around the country — face new challenges this school year as they move to online classes during the COVID-19 pandemic and the country grapples with systemic racism.
He says that online teaching should be viewed as an "opportunity" and that he and his colleagues can be "as effective as ever in this setting."
"Helping students feel like they are part of a community is of prime importance," he said. "I try to connect with them by doing more than just teaching them substantive law. I try to show my humanity, my fallibility, so they know that they belong here as much as I do."
On the law school's mission of diversity and inclusion, McClain says, "My colleagues and I all need to be aware of the fact that our students, especially our new students, are looking for guidance from us in these challenging times. We are surrounded by overwhelming proof that racial and social injustice persists, and our students are looking to us to see how law and lawyers can make a difference.
"Our educational mission is as important as ever."