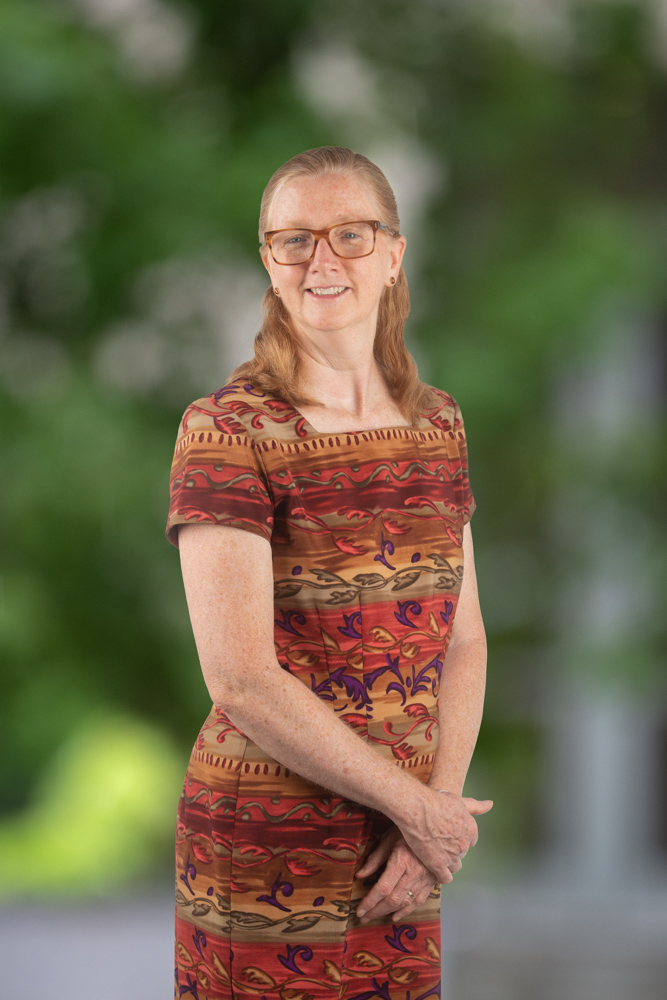 Through teaching and outreach, Francis King Carey School of Law professor makes it her mission to help people who are dealing with immigration or asylum issues.
---
Every fall, the University of Maryland, Baltimore (UMB) commemorates our rich history and celebrates the future we're building together during Founders Week, which this year runs Oct. 10-13. Among the highlights is recognizing the extraordinary work of UMB's faculty and staff with four awards, each signifying outstanding accomplishment in one facet of our mission.
Leading up to Founders Week, we will highlight the award winners every Wednesday on The Elm. For more information on UMB's annual celebration and associated events, please check out the Founders Week website.
---
Today: Public Servant of the Year Maureen A. Sweeney, JD
---
Working tirelessly on behalf of people facing asylum or immigration crises, Maureen Sweeney has inspired students, colleagues, and clients during her 16-year tenure at the University of Maryland Francis King Carey School of Law. To Sweeney, though, the inspiration goes both ways.
"I love the work of asylum and immigration law and have stuck with it because I'm continually inspired by my clients, who are resilient, hardworking, loving, and remarkably generous people," said Sweeney, professor and director of the school's Immigration Law Clinic. "As a teacher at UMB, I am equally inspired by the energy and enthusiasm for justice that I see in our students."
Sweeney teaches her students to combine legal theory with practice and gives them opportunities to help poor or marginalized members of the community who lack access to justice. She represents clients facing a range of legal issues that place their ability to remain in the United States in peril. She works on broader issues impacting immigrant communities. And she strives to educate the University of Maryland, Baltimore (UMB) community and the public at-large about these issues.
For all of her efforts, Sweeney was named UMB's 2020 Public Servant of the Year, a well-deserved honor, says UM Carey School of Law dean Donald B. Tobin, JD, who points out that the professor advances UMB's mission to improve the human condition and serve the public good.
"Professor Sweeney's work goes to the core of human rights and human dignity," Tobin said. "She is dedicated to the most vulnerable members of our society. People who lack citizenship also often lack access to legal services, courts, education, and due process. They find themselves in a system they don't understand without the resources to adjudicate their rights. The work of Professor Sweeney and her students seeks to address these problems."
Above and Beyond
Sweeney's advocacy for underserved populations doesn't stop with her clinic work. In 2017, when President Donald Trump instituted a freeze on new visas for travelers from six Muslim-majority countries and suspended travel by refugees into the United States, Sweeney rushed to Baltimore-Washington International Thurgood Marshall Airport to assist travelers affected by the executive order.
Also in 2017, when the Trump administration announced plans to phase out the Deferred Action for Childhood Arrivals (DACA) policy, Sweeney lent her expertise to an ACLU of Maryland clinic set up to assist and advise individuals affected, and she held forums to educate the UMB community about the situation and DACA students' rights.
In 2014, when the state of Maryland faced a crisis with a large population of unaccompanied minors arriving from Honduras, El Salvador, and Guatemala, Sweeney worked with a student group to aid with translation services and help children and their guardians navigate the U.S. immigration system.
The seeds of such acts of public service were planted by her parents, whom Sweeney says were dedicated to the ideals of justice and recognized the dignity and value of all people.
"My mother was a social worker and an active volunteer in addiction services, and my father was an attorney who volunteered his time in a lot of ways, including on a number of nonprofit boards," said Sweeney, a 1989 Yale Law School graduate. "I've also been inspired by my faith, and I believe that true justice and love are very closely related.
"I'm also proud that our law school is known as a place to be well-trained as an advocate who wants to fight for justice for immigrants — and that we are known for advocating for justice for all people, including those who may have criminal records or other elements of their history that may seem unsympathetic at first."
The Rewards of Mentorship
Many prospective UM Carey School of Law students identify the Immigration Law Clinic as a chief reason for applying, and current and former students rave about Sweeney's teaching methods and mentorship. Barry Dalin, JD '18, calls her the most important mentor he's ever had.
"While my first-year professors taught me how to read the law, Professor Sweeney taught me how to practice it — and how to do so with compassion and with an eye toward justice, regardless of the obstacles that may stand in the way," Dalin said. "She has dedicated her life to fostering the next generation of public interest advocates and to doing all she can to better our community and perfect our union."
Sweeney says mentorship is one of the most important and fun parts of her job, and she swells with pride when encountering former students working on asylum and immigration cases.
"I rarely go to the Baltimore Immigration Court without seeing a Carey Law alum there representing a client, and I love the idea of those ripples going out into the world through our graduates," Sweeney said. "It's an honor for me to accompany them and use whatever contacts I have to try and open doors to that first internship or first job."
She also has seen a surge in interest in immigration law since Trump took office, saying her Immigration Law class doubled in size after the 2016 presidential election.
"By creating a crisis in the immigration system and directly attacking immigrants and asylum seekers, the Trump administration has highlighted the importance of immigration as a civil rights issue in our country," Sweeney said. "This has greatly increased interest among students and lawyers in studying and practicing immigration law."
In addition to the UMB award, Sweeney has an impressive list of honors, which include the 2019 University System of Maryland Board of Regents Faculty Award for Excellence in Public Service, the 2017 Public Service Award from the Hispanic Bar Association, and the 2016 Benjamin L. Cardin Distinguished Service Award from the Maryland Legal Services Corporation.
Regarding the UMB accolade, Sweeney says she was surprised and honored to be singled out at a University that includes so many people doing public service in a variety of fields.
"I'm delighted to see that the work of standing up for the kind of country we want to be and defending our immigrant family members, friends, and neighbors continues to be valued and celebrated across UMB," Sweeney said.