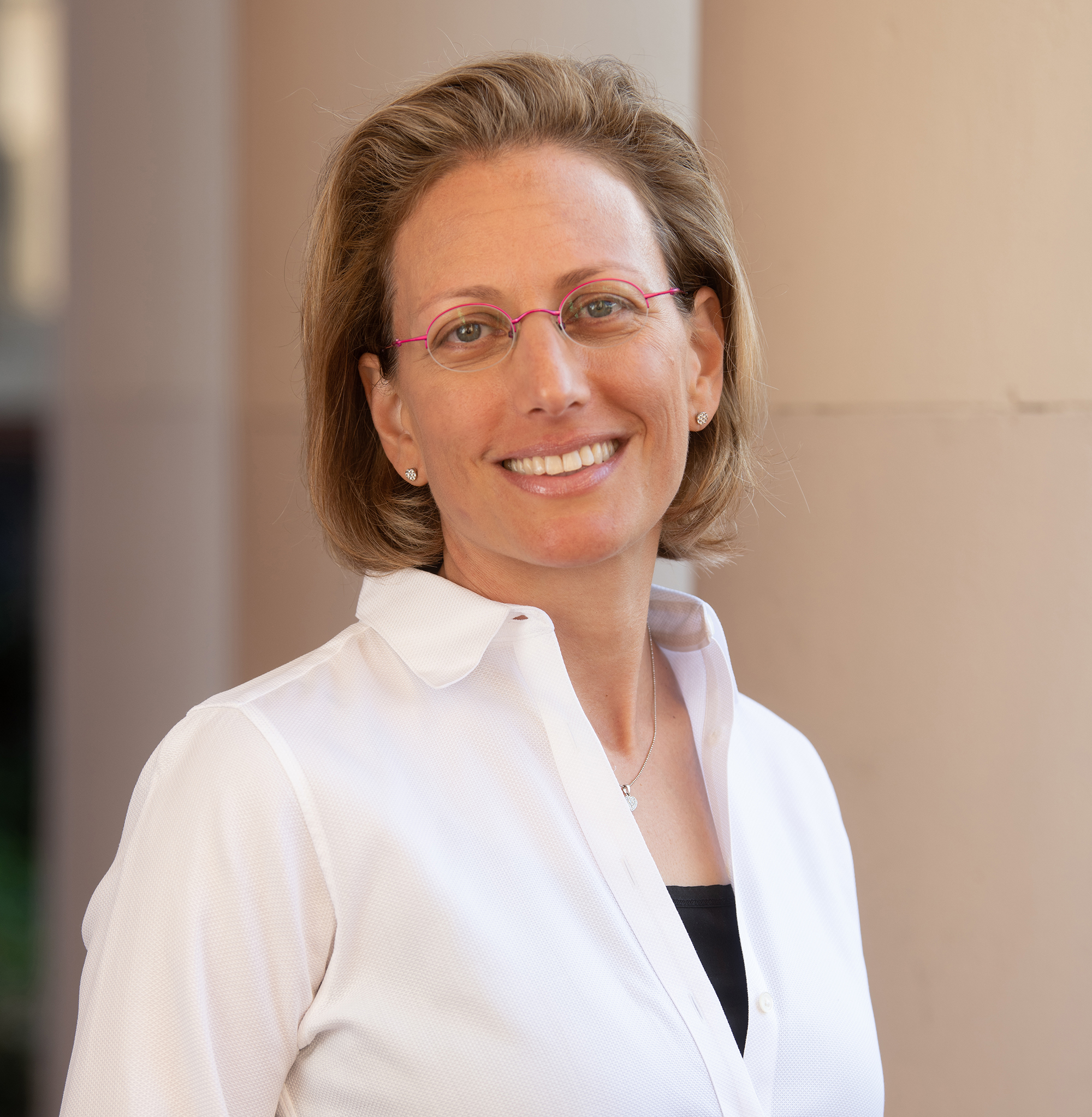 School of Medicine professor combines passion for research on hearing loss with the treatment of patients who have hearing and balance disorders.
---
Every fall, the University of Maryland, Baltimore (UMB) dedicates one week to commemorating our rich history and celebrating the future we're building together. Among the highlights of Founders Week is recognizing the extraordinary work of our UMB community. Four awards are given to faculty or staff members, each signifying outstanding accomplishment in one facet of UMB's mission, and in 2021 we have inaugurated a Student of the Year Award.
Leading up to Founders Week, we will highlight the award winners every Wednesday on The Elm. For more information on UMB's annual celebration and associated events, please check out the Founders Week website.
---
Today: Researcher of the Year Ronna P. Hertzano, MD, PhD

---
Ronna P. Hertzano, MD, PhD, once wanted to become an orthopedic surgeon, but "Mom and chance," as she puts it, led her down a different path.
"My mom is an audiologist and taught in the school of speech and languages in Israel, where I grew up," says Hertzano, professor, Department of Otorhinolaryngology-Head and Neck Surgery, University of Maryland School of Medicine (UMSOM). "Her office was in the school for the deaf, across from my high school. I grew up among audiologists, deaf children, and consults to families with hearing loss."
In her second year at Sackler School of Medicine at Tel Aviv University, Hertzano happened to attend a lecture by American-Israeli professor Karen Avraham, PhD, about the genetics of hearing loss and how mouse models contribute to the understanding of the disorder. A few months later, they crossed paths again, and Avraham offered Hertzano a summer genetics research position in her lab.
"By the end of the summer, I was hooked," Hertzano said. "The research in the laboratory was fascinating. The ability to visualize the sensory cells and see how every genetic mutation changes structure and function was mind-blowing. And the thought of being able to develop treatments by using these very tools was inspiring."
She switched to an MD-PhD track and reveled in meeting surgeon-scientists who could combine their passion for research on hearing loss with the treatment of patients who have hearing and balance disorders. "From that point on, I knew I wanted to be an otolaryngologist and surgeon-scientist. It's a dream I was so fortunate to realize," Hertzano said.
Today, Hertzano is a highly respected otolaryngologist, researcher, and educator who holds a secondary appointment in UMSOM's Department of Anatomy and Neurobiology. Also an affiliate faculty member of UMSOM's Institute for Genome Sciences (IGS), she is being recognized as the University of Maryland, Baltimore's (UMB) 2021 Researcher of the Year.
With significant grants from the National Institutes of Health and other sources, Hertzano's research is focused on developing therapeutics to prevent and treat genetic and acquired hearing loss. Her lab has three main focus areas: cell-type specific molecular pathways in inner ear development; sex differences in hearing and the molecular basis of acquired hearing loss; and tools for sharing, visualizing, and analyzing multi-omics data. ("Omics" refers to a field of study in biology that ends with "omics," such as genomics, transcriptomics, proteomics, or metabolomics.)
As a clinician, she focuses on the diagnosis and treatment of diseases of the ear, with an emphasis on hearing restoration. Hertzano also has a strong interest in mentorship, and her research team includes undergraduates, graduate students, medical students, residents, audiologists, and postdocs.
UMSOM colleague Martin Flajnik, PhD, professor, Department of Microbiology and Immunology, supported her UMB award nomination, recalling his thoughts after first meeting Hertzano in 2006, when she was beginning her residency at the school.
"I immediately saw in her a scientist with a drive and earnestness rarely found together," Flajnik said. "When she became an assistant professor, I offered advice on grant writing, how to make connections with other departments, and suggested collaborators. While this advice helped to kick-start her independent career, within a few years she started offering me advice — the mentee became the mentor — and her rise as a physician-scientist has been meteoric.
"Her sincere interest in science combined with the compassion shown in her clinical work is unrivaled at the School of Medicine. Add to that her extraordinary productivity in procuring grants and publishing in the most prestigious journals, her clinical aptitude in otorhinolaryngology, her teaching skills, her organizing workshops and classes in mouse genetics and bioinformatics, and her mentorship skills, and I can't think of a more deserving recipient of Researcher of the Year."
Hertzano also has deep entrepreneurial roots. Seventy years ago, her grandfather, Ephraim Hertzano, invented Rummikub, a popular worldwide family game and one that her father still manufactures today. Hertzano grew up working in the family business, taking an active role in the organization of the Rummikub world championships.
Pulling from all those skill sets, Hertzano and her IGS colleagues have developed a research portal called gEAR (gene Expression Analysis Resource), an online tool that could more quickly advance medical discoveries designed to reverse progressive hearing loss. The tool provides easy access to genetic and other molecular data from hundreds of technical research studies involving hearing function and the ear, allows researchers to rapidly access data, and provides easily interpreted visualizations of datasets.
"The gEAR portal is an exciting addition to UMB's research portfolio," said Curt Civin, MD, professor, Departments of Pediatrics and Physiology, and associate dean for research, UMSOM. "With her elegant and dedicated combination of deep science and collegiality, Dr. Hertzano is helping many others incorporate omics into their own research."
After completing her residency at UMSOM in 2011, Hertzano joined the school as an instructor. She was promoted to assistant professor in 2012, associate professor in 2016, and professor in 2021. Reflecting on her 15 years in Baltimore, she finds great satisfaction in working with medical and graduate students, postdocs, and colleagues at UMSOM, other UMB schools, and around the world.
"As a mentor, I have the immense responsibility to support the education of highly talented individuals who offer me the opportunity to meaningfully shape their learning experience as budding scientists or clinician-scientists," she said. "There are very few things more gratifying than seeing your students succeed, present in meetings, make new discoveries, and go from crawling to walking to running in the world of research.
"Our lab forms a unit with a shared identity, values, and knowledge base. We are all driven by the hope of making meaningful contributions that will alleviate or prevent the suffering from hearing loss."
Asked about her reaction to winning the UMB award, Hertzano said she was "surprised and deeply moved by this recognition," thanking UMSOM for its backing.
"The School of Medicine has always been extremely supportive, from providing me the necessary protected time for research, philanthropic and seed funds, collaborations, opportunities for training and growth, and, most recently, the relocation of our laboratory to the fantastic Health Sciences Research Facility III, which certainly catalyzed discovery by working in the same space with our collaborators and friends.
"We all work extremely hard to be the best clinicians and scientists we can possibly be. I lead a wonderful team that is highly collaborative. This award, therefore, is a recognition of the team for its efforts and culture, as well as the many researchers who choose to work with us, with the sole purpose of advancing the care of hearing health."