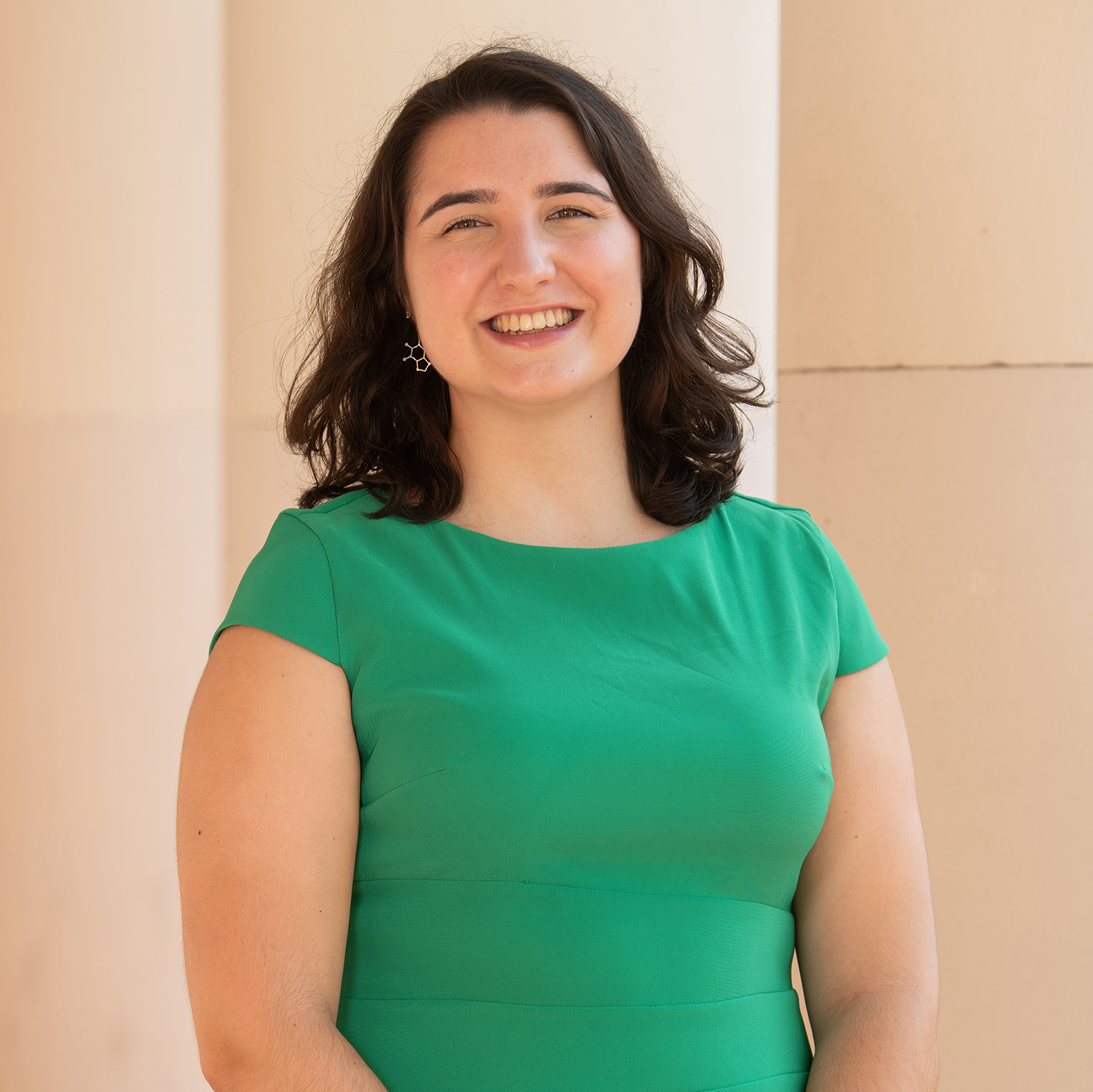 PhD candidate at the Graduate School stands out for her academic abilities, research skills, and leadership in supporting students during the pandemic.
---
Every fall, the University of Maryland, Baltimore (UMB) dedicates one week to commemorating our rich history and celebrating the future we're building together. Among the highlights of Founders Week is recognizing the extraordinary work of our UMB community. Four awards are given to faculty or staff members, each signifying outstanding accomplishment in one facet of UMB's mission, and in 2021 we have inaugurated a Student of the Year Award.
Leading up to Founders Week, we will highlight the award winners every Wednesday on The Elm. For more information on UMB's annual celebration and associated events, please check out the Founders Week website.
---
Today: Student of the Year Emily M. Smith

---
Emily M. Smith says she was interested in science from a young age, recalling a middle school science fair project designed to determine how much bacteria could grow in makeup over time. Her interest increased in high school after she read "The Hot Zone," a book about the origins of the Ebola and Marburg viruses.
Eager to learn about infectious diseases, she majored in biology at James Madison University (JMU) and considered a medical school postgraduate path. But she got the chance to conduct biomedical research at JMU, and then she was hooked.
"I had the opportunity to work in Dr. Louise Temple's lab studying the role of bacteriophages in the spread of antibiotic resistance," Smith said. "My interest grew as I engaged in research internships at different universities over the summers. These experiences helped me realize that research could bring together my passions for science and caring for people.
"Instead of treating patients directly, I realized I wanted to be a scientist who contributes to infectious disease research and helps to create lifesaving therapeutics or vaccines."
Smith's educational journey took her to the University of Maryland, Baltimore's (UMB) Graduate School, where she found her home in the Graduate Program in Life Sciences in Molecular Microbiology and Immunology, where she is a PhD candidate scheduled to graduate in 2022 with a concentration in bacterial pathogenesis.
"When I interviewed for my PhD program, my interest in UMB was cemented by the feeling of community and collaboration in the research space and among the students," Smith said. "I could see that students, staff, and faculty worked together to answer research questions and supported each other's research endeavors. The students' welcoming atmosphere and excitement about their work was also contagious."
Since arriving in 2017, she has compiled a 3.72 GPA and works in the lab of Eileen Barry, PhD, at the University of Maryland School of Medicine's (UMSOM) Center for Vaccine Development and Global Health. Smith has presented her work at international, national, local, and institutional conferences and had manuscripts published in top-tier journals. She also has led research collaborations and served in laboratory mentoring and teaching roles for undergraduate, graduate, and medical students.
Smith also has been active in the Graduate Student Association (GSA) since 2017, first as a program representative, then vice president, and president from May 2020 to June 2021 during the COVID-19 pandemic. With her strong mix of academics, research, and leadership, she is being honored as one of UMB's inaugural Students of the Year.
"Through her diverse leadership and service roles, Emily is a highly visible and accessible ambassador for graduate students in all UMB programs," Barry said in nominating Smith for the award. "She is particularly well-known to molecular microbiology and immunology [MMI] students as the go-to person for help, advice, and support. During this past year, Emily actively engaged first-year MMI graduate students who were particularly impacted by the COVID-19 pandemic and had otherwise minimal interaction with department members and other students due to campus restrictions."
Smith advocated for graduate students coping with pandemic-related issues involving health and safety, tele-education, transportation, and financial and academic support. After the UM shuttle service was paused, she and GSA colleagues worked with UMB's Department of Parking and Transportation Services to create Lyft discount programs for all students who needed a ride to campus to perform research or clinical work. GSA also created a COVID-19 Work from Home Support Award to help students purchase items needed for tele-education.
"Emily's leadership in response to the challenges of COVID-19 was instrumental in sustaining student well-being and productivity that allowed them to successfully navigate a seemingly endless series of personal and educational pivots," Barry said. "Her impressive academic accomplishments, selfless dedication to helping others, and commitment to diversity highlight the traits that make Emily such a deserving recipient of the Student of the Year Award."
Smith also has shown a commitment to UMB's diversity, equity, and inclusion (DEI) efforts. She led hands-on activities and STEM (science, technology, engineering, and math) career discussions for female high school students from underrepresented groups through opportunities at UMSOM. She helped write student policy documents on DEI and advocated for hiring a chief DEI officer within the Graduate School and at the University level. She served on a student committee that met candidates for the UMB position and promoted the inclusion of a graduate student on the selection committee.
"I was proud to promote awareness and the need for UMB to consciously engage in DEI efforts," Smith said. "I felt that I was a part of UMB's first step in reckoning with its prioritization of DEI and consciously and intentionally moving forward to promote UMB as a place of inclusion and belonging for all students."
She said she was excited and felt "immense pride" to be honored by UMB, and she was particularly happy that a Graduate School student is being recognized.
"Graduate students are the largest and most diverse group of students on UMB's campus," she said. "They are innovative, brilliant, passionate, and kind people. After representing them this past year, it is an amazing feeling to receive this award and all it represents for the visibility and importance of graduate students at UMB."
Upon graduation next year, Smith said she plans to pursue a postdoctoral research position with the federal government and continue her research on infectious diseases, therapeutics, and vaccines.
"I also plan to volunteer with organizations that promote science outreach or science communication within the community," she said. "The pandemic has underscored the broken line of communication from the scientific community to the public. I want to work to promote science literacy for all."