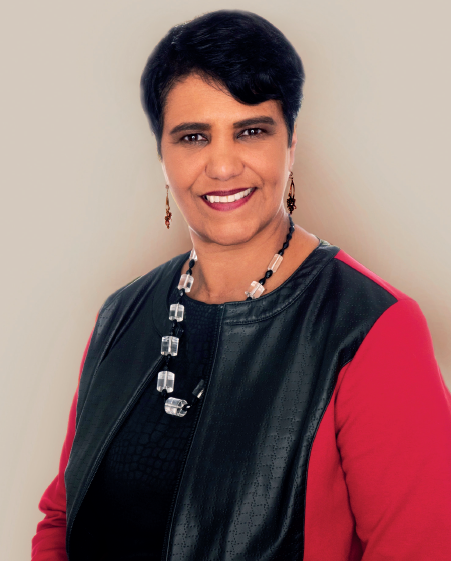 Jacquelyn Gaines, MS '86, BSN '80, says her grandmother offered her advice to live by: 'She told me that to be successful I needed to get out of my own way.'
---
"I took that to mean that the only one who can limit me, is me."
Looking at her track record, the philosophy has clearly paid off: Gaines was the first African-American woman CEO of a hospital in the state of Oregon. She grew a tiny clinic in a Baltimore women's shelter into Health Care for the Homeless, one of the nation's largest and most recognized providers of health care and support services to the homeless. And most recently, she's written four bestselling books.
Each step on her journey, she says, has passion at its core. "My opportunities came from looking for ways I could contribute, and from what brought me joy," she says.
Gaines' experience as a candy-striper at the former North Charles General Hospital in Baltimore piqued her interest in a nursing career. "At first, I wanted to be a surgeon, but the connection between nurses and their patients seemed more meaningful," she recalls. Gaines was working at Johns Hopkins Hospital while finishing her master's degree when one of her professors suggested she contact the local shelter My Sister's Place Women's Center to explore possibilities for next steps.
"Their 'clinic' was two small rooms with an examining table, an antique microscope, and a file cabinet," Gaines recalls. "But I was smitten." Two weeks later, Gaines was sitting on her living room floor creating patient charts for the women there.
"Never before or since have I felt such a sense of purpose, having the opportunity to build something from the ground up and transform care for a vulnerable population in my community," she continues.
Over the next 12 years, Gaines spearheaded Health Care for the Homeless as it expanded from My Sister's Place into a $9 million organization. She moved on to serve as vice president of community health systems integration for Bon Secours in Baltimore, CEO of Providence Milwaukie Hospital in Oregon, and regional president and CEO for the former Mercy Health Partners in Pennsylvania. She also wrote her first book, Believing You Can Fly.
In 2008, ready for a new challenge, Gaines joined Studer Group (now part of Huron Consulting Group) as an executive coach, speaker, and trainer. "This work has allowed me to give back in a new way, teaching and mentoring new leaders," she says.
On her wall, Gaines has a framed article from a 20-year-old UMSON publication featuring her and her daughter, Jennifer Gaines Hrabowski, MBA, MS, BSN '99, RN (both of Gaines' daughters work in health care leadership). In the piece, Gaines mentions that her education helped her be creative about what nurses can do in many different arenas.
"It's true! I could never have anticipated I'd have all of these different experiences," she says.
Photo courtesy of Jacquelyn Gaines
This article first appeared in the Spring 2019 issue of Nursing For/um magazine.