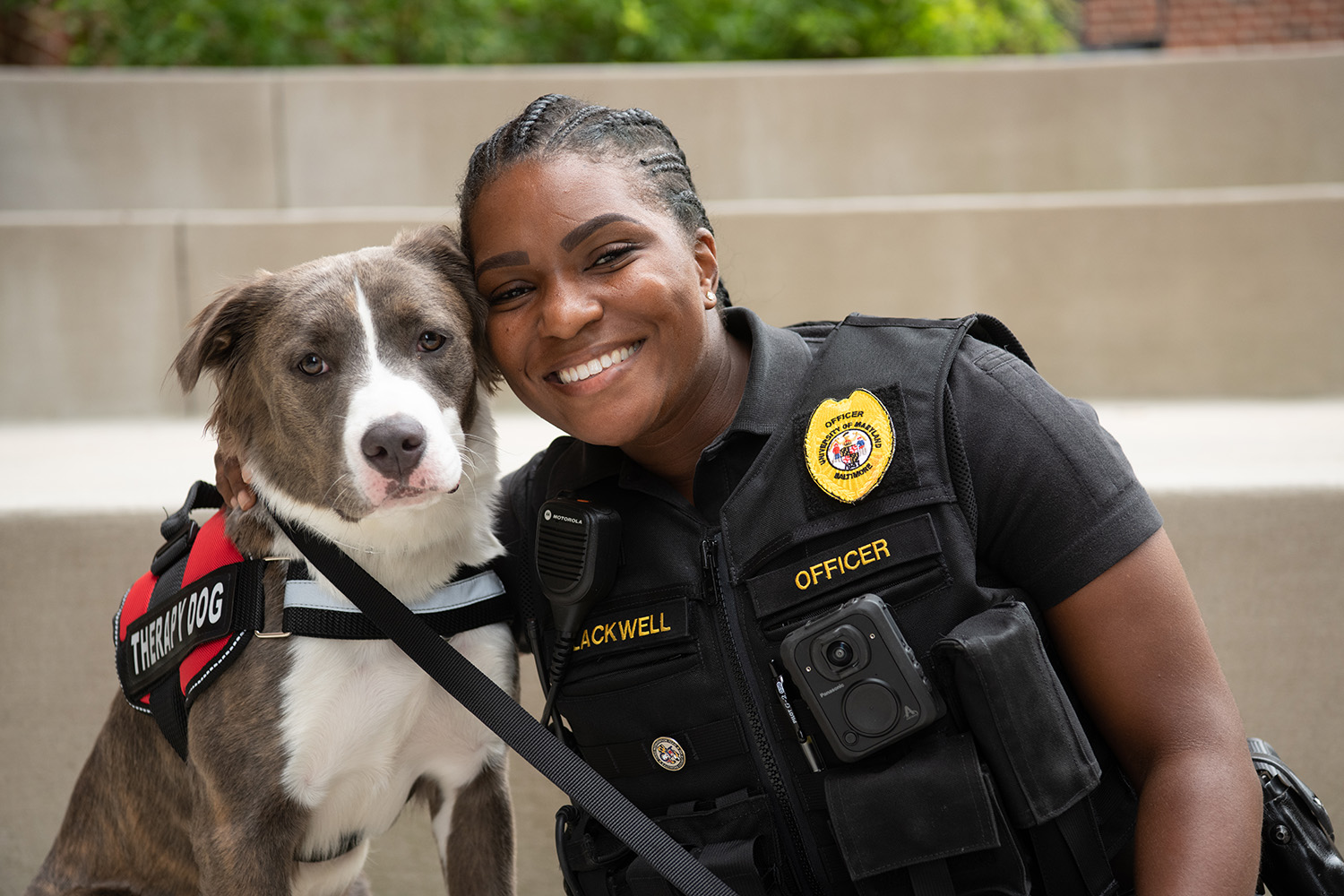 Pfc. Kelli Blackwell recounts meeting the University's new comfort K-9 dog, their initial training sessions, and their road trip from Florida to Baltimore.
---
Lexi, formerly known as Sheba, was born in Brevard County, Fla. On Feb. 16, 2019, Lexi's owner surrendered her to Brevard County's animal shelter when she was 6 months old. Brevard County is unique in that its sheriff's office runs its animal shelter. At the shelter, the deputies noticed that Lexi was a very lovable and mild-tempered puppy and thought she would be a good fit for their therapy dog program.
The Brevard County Sherriff's Office runs a therapy dog program in which it takes inmates from the county jail, professional animal trainers, and rescue dogs from the shelter, and they all work and train together to help the dogs become therapy dogs for law enforcement departments, veterans with post-traumatic stress disorder, citizens with disabilities, and schools with autistic students.
Lexi began her training in the office's Comfort Dog Program in late February. Over the next three months, Lexi learned several obedience commands, such as sit, heel, down, and, most important, potty break. To graduate as a therapy dog, Lexi had to go through a regimen of tasks to ensure that she would show no signs of aggression when put in certain situations. Those tasks included being friendly and nonaggressive toward other dogs, having her ears pulled, having her tail pulled, having her feet touched, having her sides pulled, and having her face and mouth touched. Lexi passed with flying colors and was certified as a therapy dog.
On June 2, 2019, I left Baltimore to fly to Cocoa, Fla., to meet my K-9 partner. I remember being in the hotel room on that Sunday evening, not being able to sleep because I was so nervous thinking about the dog that would be chosen for me, wondering if the dog would like me, and wondering if I would like the dog that was given to me.
Monday morning finally arrived, and it was time to meet my K-9 partner, or at least that's what I thought. To my disappointment, Monday consisted of classroom time only. The instructor informed us all that we would not be working with our dogs until Tuesday. So during each break, I would go out to the kennels and observe the dogs, looking to see which one I thought would be best for the UMB campus and community living. Monday came to a quick end, but I was back to tossing and turning all night, in anticipation of finally meeting my K-9 partner.
After signing in and greeting everyone Tuesday morning, I walked up to the head trainer, Clara Mutter, and asked her to show me which dog she had chosen for me. Clara smiled and said, "What kind of dog are you looking for?" I began to explain that I would be working with my K-9 partner on a college campus and in several children's programs, so I wanted a dog that had lots of personality and energy, but one that also could be calm and reserved when needed.
Clara smiled again and said, "I have the perfect dog for you. I wasn't going to pair her with you initially, but I think she would do great in Baltimore." Clara, Cpl. Ken Lampp (another dog trainer), and I walked to the first kennel, and out came Lexi (then known as Sheba). I know how cliché it sounds, but I loved her from the moment I saw her. Lexi walked out of the kennel and was very calm, but her tail was wagging, and as Cpl. Lampp was putting on her leash, Lexi gave him a bunch of kisses on his hands.
Cpl. Lampp, Lexi, and I walked outside so we could be introduced to each other without distractions. Lexi sat at Cpl. Lampp's side and I kneeled down to pet Lexi, who looked at me, took two steps toward me, and began licking all over my hand and arm. From that moment forward, Lexi and I were partners.
I took a picture of Lexi and sent it to everyone I could think back in Baltimore. She was an instant hit with everyone who saw the picture. Lexi and I spent the rest of the week bonding while training her to obey my commands. The class took daily trips to crowded establishments such as Home Depot, the cruise ship port, and the county jail so that we handlers could see how to handle our K-9s in certain situations. The week flew by, and Friday was graduation day, which was bittersweet for me. I had enjoyed all of the training down in Florida, but I was ready to get Lexi back to Baltimore to get her acclimated with her new home and new UMB family.
The next day, Lexi and I prepared to take our flight back to Baltimore. I dropped the car off at the rental return, and Lexi and I proceeded to Orlando International Airport. As we approached the airport, I noticed a change in Lexi's body language. Her tail was no longer wagging and her ears were no longer relaxed. She had tucked her tail and was pulling on the leash, trying to find a way out. I dropped my bags and attempted to calm and console Lexi, but she was not having it. All of this was very new for her, and her stress and anxiety levels were rising very quickly.
That's when I realized that I would not put Lexi on an airplane. She was still very new to me and I was still very new to her, and I did not want some of her first experiences with me to be traumatic ones. So I decided to miss our flight, rent another vehicle, and drive 13 hours back to Baltimore. That was the best decision I made all week, outside of picking Lexi as my new K-9 partner.
Once back inside the security of her kennel in the car, Lexi returned to her normal, lovable self. The drive back allowed me to talk to her and bond with her during our "potty breaks" and walks. We made it back to Baltimore early Sunday morning, and Lexi was just as tired as I was. After sleeping for a few hours, I woke up and found Lexi wide awake in her kennel looking at me. I got up and got myself together so that I could take Lexi out for a potty break.
During Lexi's first 24 hours in Baltimore, we spent a lot of time walking in her new neighborhood, Fells Point, and trying to get her adjusted to the many sounds and smells of Baltimore. Lexi initially was in complete shock with her new surroundings, but after two weeks, she was settling in and adjusting to her new home very nicely. Lexi has been very friendly with many of that staff members we have gotten to meet, and I know that she will be ready to greet all the students when they return in the fall.