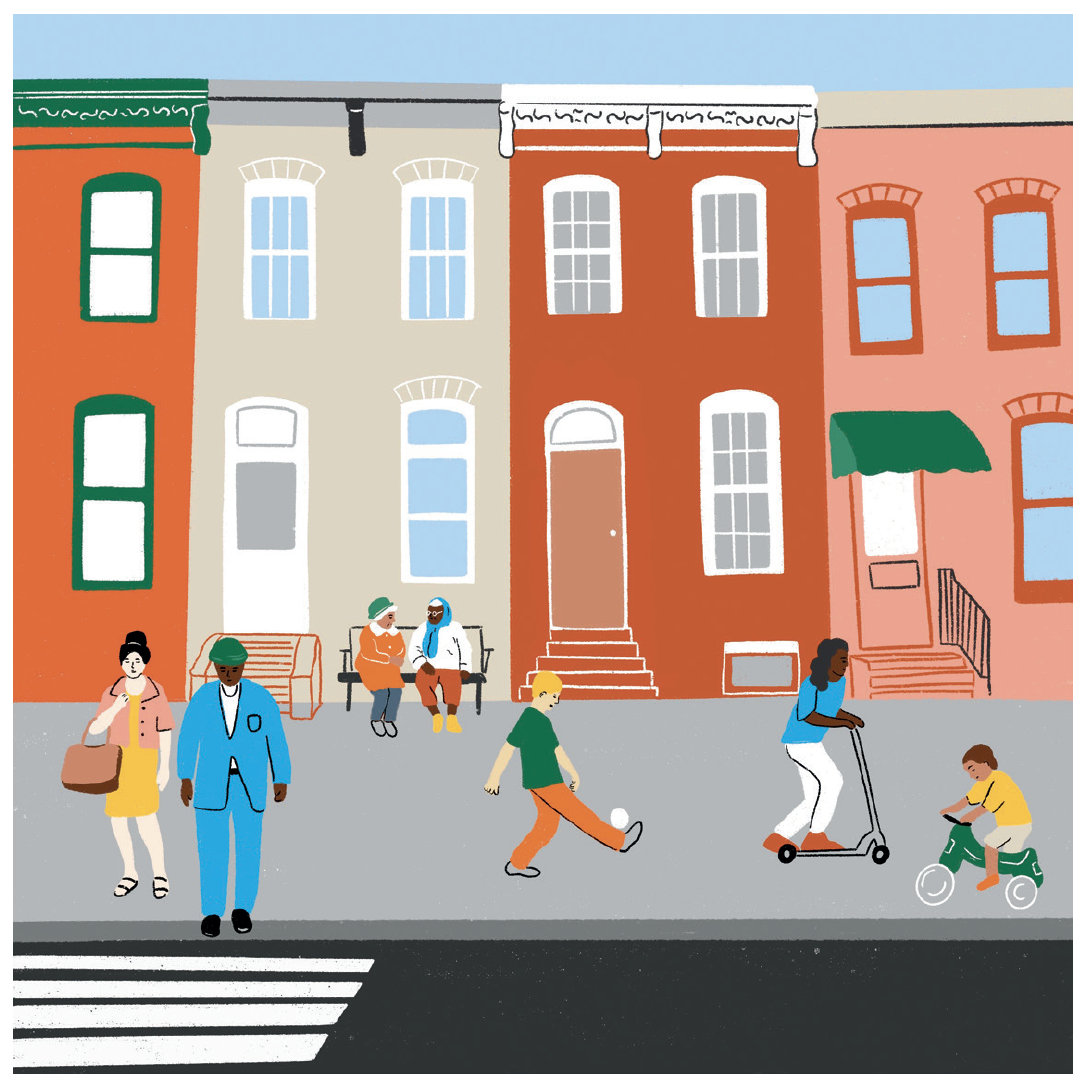 In West Baltimore, physical distancing was a way of life before COVID-19; it offers lessons learned.
---
In West Baltimore, physical distancing was a way of life before COVID-19. Imagine what it's like to live on a block where elderly neighbors are bolted behind their front doors. Where parents worry daily about safety, so they resist letting children play in the neighborhood. Where more than half of the houses lie empty.
This was life pre-COVID-19 for the Baltimore neighborhood where I grew up and now work as a nurse researcher.
For the past year, my research team, with support from the Robert Wood Johnson Foundation, has been listening to residents of two disadvantaged neighborhoods in West Baltimore. These residents told us they were "self-isolating" from family, neighbors, and the community to cope with living in a neighborhood where they don't feel supported, safe, or connected.
Physical distancing during COVID-19 is intended to keep us safe at home and limit the spread of the virus. In much the same way, these families are self-isolating to protect themselves from the dangerous environment in which they live. They fear being swept up by violence or toxic social groups so they don't participate in community life. We coined the term "situational isolation" to describe this self-isolating behavior, which is driven not by choice but by circumstances that make it difficult to get out and about or to develop friendships.
But these anxieties and isolating behaviors have serious consequences. When families weaken their social networks by isolating themselves, they are cut off from support and opportunities that affect health and well-being. Poor family support and limited involvement in community life is associated with increased illness and premature death, and social isolation is as damaging to one's health as smoking 15 cigarettes a day, according to studies cited in an article in the American Psychological Association's Monitor on Psychology.
These behaviors take on sharper meaning today given the disproportionate impact that the coronavirus is having on communities of color. In Maryland as of the end of July, reported deaths among Black people composed 41% of COVID-19-related deaths statewide, even though Blacks make up only 29% of the population.
Physical distancing in the COVID-19 pandemic has forced many to look for creative ways to strengthen connectedness for families and communities. In Baltimore, food, housing, and electricity needs are being urgently addressed through emergency measures. The digital divide that has been a barrier to equitable education is narrowing very slightly through gifting of electronic devices and free internet services to the most vulnerable. The state has halted prosecutions for drug, prostitution, and other offenses to protect vulnerable citizens in prisons. Baltimore ministers have created virtual schools and are delivering free food to community members, bolstering city school efforts to provide meals to children and their families. Others in the community are providing essential services, including health professionals, grocery workers, truck drivers, and hospital environmental health service workers.
This crisis has helped us realize the importance of social connections to our health and well-being. Physical distancing does not have to exacerbate the underlying social isolation in disadvantaged communities like those I study in Baltimore. When the pandemic is over (and it will end), we should strengthen these meaningful social connections we're creating so they are sustained.
Crises have a way of bringing people closer together. I am reminded of the mantra for the African philosophy of ubuntu: "I am because we are." The one lesson I hope we've learned from standing together with family, friends, and community is how feeling connected can help all of us to not only survive but thrive.
Yolanda Ogbolu, PhD '11, MS '05, BSN '04, CRNP, FNAP, FAAN, is an associate professor and chair in the Department of Partnerships, Professional Education, and Practice.
THIS ARTICLE FIRST APPEARED IN THE FALL 2020 ISSUE OF MAGAZINE.
ILLUSTRATION BY SOL COTTI