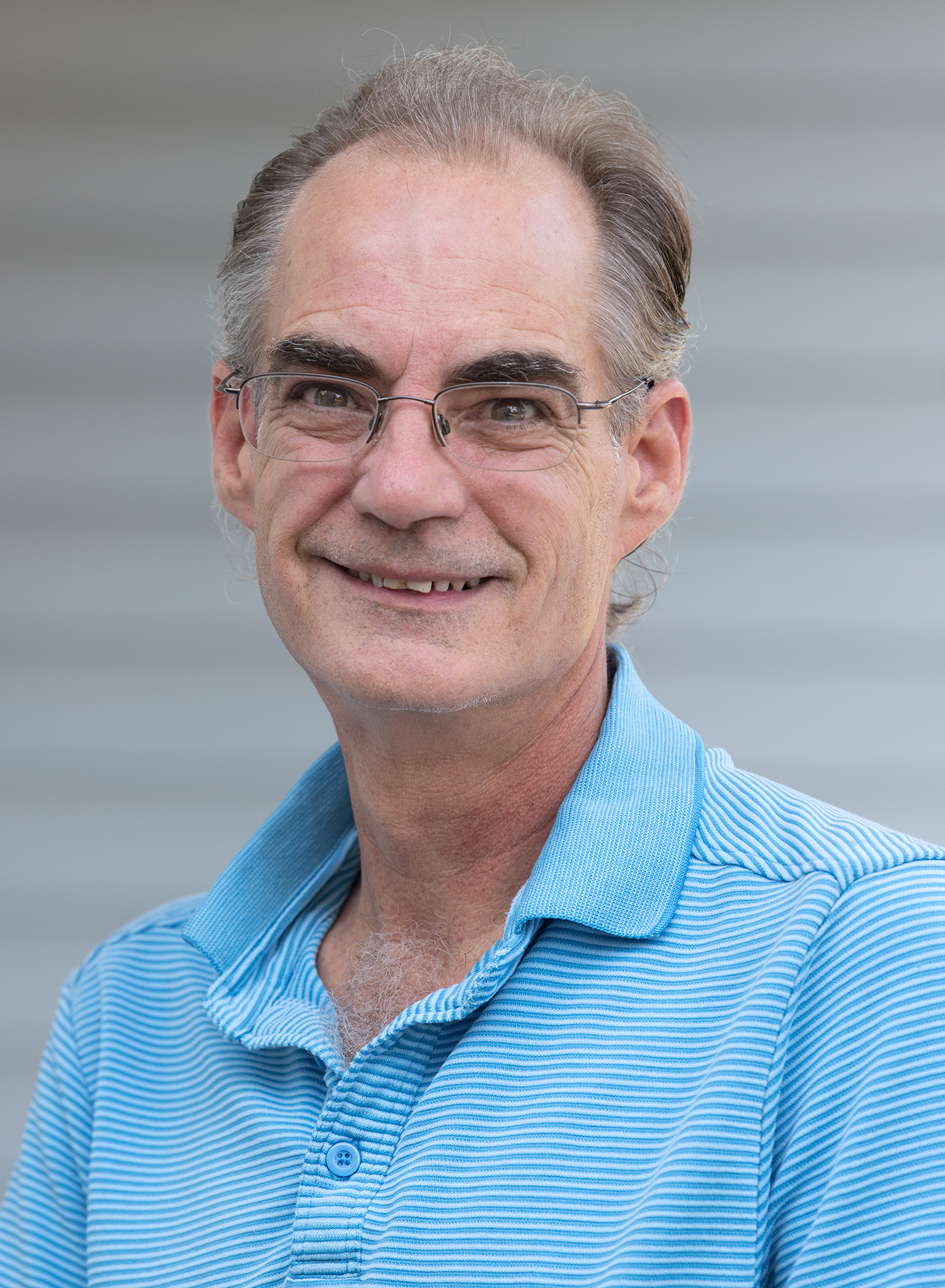 School of Medicine employee delivers computer support with a smile and is "clearly a guy that everybody relies on to get things done."
---
In the age of COVID-19, the University of Maryland, Baltimore's (UMB) Employee of the Month ceremony has gone virtual. Jamie Beaulieu, IT technician, user and support services, at the University of Maryland School of Medicine (UMSOM) was recognized as the March winner during a Zoom conference July 23 with several of his colleagues, UMB Human Resource Services leaders, and Interim President Bruce E. Jarrell, MD, FACS.
Beaulieu joined the teleconference thinking it was a one-on-one meeting with the interim president, but Jarrell surprised him with news of his award, saying he was impressed that several UMSOM employees had written notes of support on the nomination form.
"I already knew what you do because you've helped me more than once," said Jarrell, a former department chair and executive vice dean at UMSOM. "You're clearly a guy that everybody relies on to get things done. That's a remarkable thing, because many of us are helpless when it comes to these kinds of technical issues."
Kevin Watson, manager, technical operations and support services, and Beaulieu's supervisor, was on the teleconference and nodded in agreement, referring to Beaulieu as the IT support "go-to guy" for UMSOM Dean E. Albert Reece, MD, PhD, MBA.
"Jamie is definitely one of the best IT technicians we have," Watson said. "He's been at this for quite some time, assisting Dr. Jarrell and many others. Jamie has done an outstanding job for us for many years, and this award is overdue."
Martin F. Flajnik, PhD, MS, professor, Department of Microbiology and Immunology, and Shannon Salyer, administrative analyst, Department of Physiology, offered praise as well on the nomination form.
"Jamie has helped me with IT support for as long as I can remember," Flajnik wrote. "He helps with everything from software to breakdowns to 'you name it.' He supports my protégés in the lab, and he does all this without expecting any recognition other than thanks for doing a great job. We've never had a problem that he has not solved satisfactorily."
Salyer wrote: "Jamie has always provided exemplary service. He responds immediately, always has the answers, and puts a fix into place with the least amount of disruption possible. He gets the job done with a smile every time. He goes above and beyond to make sure we have what we need to do our jobs to the best of our ability."
Of course, with the majority of UMB employees switching to telework because of the COVID-19 crisis, outstanding IT support has been essential to keeping operations up and running. Beaulieu has been working from home since mid-March and hasn't missed a beat.
"We didn't get a lot of advance warning before the switch to telework," he said. "But our team jumped into action quickly to make sure everybody could access their work computers remotely or use the Windows virtual desktop and get all the resources they need while not on campus.
"About 95 percent of things we do, we do virtually anyway, like remoting into somebody's computer and not actually having to be on-site and touching the computer itself. I kind of see this as the future of IT, to tell you the truth."
Beaulieu, who has worked at UMSOM for 15 years, says he finds the key to success in his job is being personable.
"A lot of our work involves talking people off the ledge, so to speak," he said. "And I like talking with people. I talk well on the phone — that's my strong suit. Just comforting people is the key, and I'm a nice voice to talk to that makes you feel comfortable and confident that I'll get your problem solved."
Citing those problem-solving skills, Jarrell informed Beaulieu that he'd be receiving a plaque, a letter of commendation, and an extra $250 in his next paycheck as Employee of the Month rewards. "The good news is that you're getting some extra money; the bad news is you can't go out to dinner," Jarrell joked.
But Beaulieu, an avid billiards player, has other plans for the prize.
"That money will be going toward a new pool cue stick," he said. "I actually just did a virtual meeting to get a quote on a new pool stick. That's my big hobby, so this comes in handy.
"I'm flabbergasted to win this award. I definitely did not see this coming," he added. "I just go in and do my job every day and try to make everybody happy. From there, the paycheck has been the big reward for me, and this is a nice bonus."