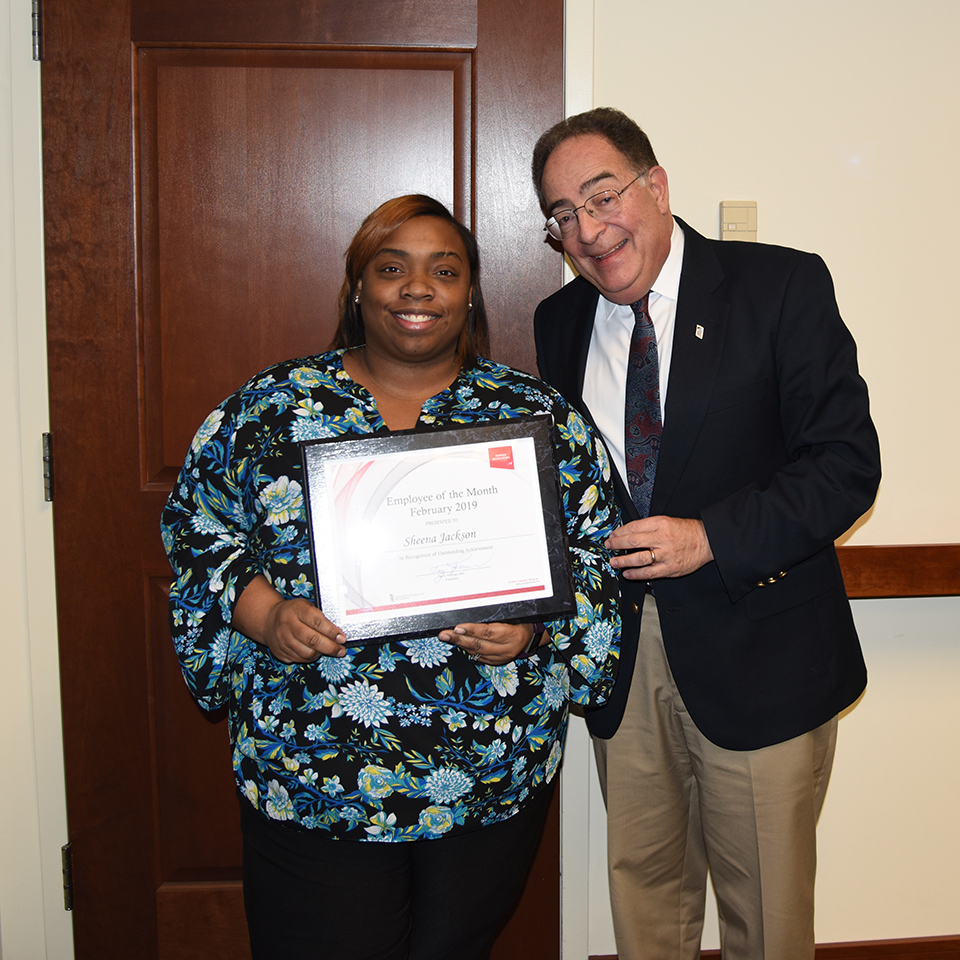 Sheena Jackson, MS, has helped transform the admissions process at the school, making it more modern, service-oriented, and efficient.
---
Sheena Jackson, MS, assistant director of admissions at the School of Nursing, was honored as the University of Maryland, Baltimore's (UMB) Employee of the Month in a ceremony on Feb. 14. It was Valentine's Day, which was fitting, because Jackson describes her job as a romance of sorts.
"I tell people that I kind of landed here by mistake in 2007 as a temporary employee looking for extra cash," Jackson says. "I was thinking I'd just make a couple of extra dollars for Christmas for my kids, but then I kind of fell in love with the nursing students and have been here ever since."
The temporary role turned into a full-time job in 2008 as a coordinator in the school's nurse anesthesia program before she joined the Office of Student and Academic Services (OSAS) in 2014, a move she described as a "leap of faith."
"I decided that I wanted to be on the front line to deal with students in the admissions process," Jackson says. "I dealt with a lot of faculty and current students in my previous role but never really with the prospective students, so that was my passion, to help them begin their journey to becoming a nurse."
UMB President Jay A. Perman, MD, talked about that passion when he surprised Jackson with the award in the President's Conference Room. Jackson thought she and 11 of her School of Nursing colleagues, including Dean Jane M. Kirschling, PhD, RN, FAAN, were meeting to discuss a new software system being implemented at the school.
"Nope, this is all about you," Perman told Jackson. "Your colleagues say that you've transformed the school's admissions office, that you work collaboratively with your team to create a superior admissions experience, and that your work has greatly improved customer service.
"All of these achievements are demonstrative of an employee who comes in every day and pours her heart and soul into serving the School of Nursing. So that's why we're so pleased to be honoring you today."
Perman presented Jackson with a plaque, a letter of commendation, and news that an extra $250 would be in her next paycheck. The rewards are well-deserved, according to OSAS colleagues who used the award nomination form to rave about Jackson's efforts to improve the admissions process over the past two years.
According to the nomination, "Sheena was instrumental in restructuring the admissions operations unit, which had struggled with managing the service expectations of prospective students and members of the School of Nursing community, into one that's modernized, service-oriented, and exponentially more efficient. Her efforts enabled the school to meet its enrollment goals, turn around the reputation of our applicant experience, and significantly reduce the stress of the admissions process."
Jackson helped implement a phone queuing system that reduced wait times and eliminated dropped calls; developed an automated applicant recommendation system that decreased application processing time; established an admissions tour program; and executed "flawless" recruitment events.
"The operations team is well-structured and well-organized, and synergies were discovered that previously never existed," the nomination said. "Sheena's hard work, long hours, and dedication were key to this transformation. Without her guiding hand on the service experience, we would have never been able to achieve the successes of this past year."
Jackson says she was humbled by the UMB honor and grateful that the admissions office was being recognized, thanking her team that includes an office clerk, three enrollment specialists, and a bevy of student workers.
"One person can't do it alone. It takes a team to get the job done," she says. "This could have been much more difficult to do, but it wasn't because we all pulled together to be successful."
Jackson's success in the field of higher education is not something she used to envision — she once wanted to be a lawyer, and her master's degree is in legal and ethical studies — but it aligns with her mission: To help people.
"That's the thing that drives me. Helping people brings me joy," Jackson says. "In this role, I am able to watch dreams come true. I work with prospective students who come to us with just a thought of becoming a nurse, and we're able to take that thought and see it turn into a reality. And then on graduation day, to see the students graduate, it's really the most fulfilling thing that I can imagine."