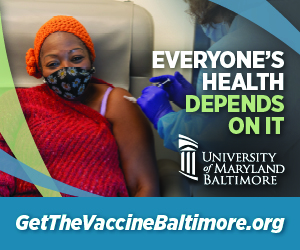 Second doses will end July 17; visit GetTheVaccineBaltimore.org to make an appointment.
---
This is your last shot at getting a COVID-19 vaccine at the University of Maryland, Baltimore's (UMB) SMC Campus Center.
The final date for first doses administered at the clinic will be June 19, and the final date for second doses will be July 17.
Visit GetTheVaccineBaltimore.org or call 410-706-3000 weekdays between 9 a.m. and 5 p.m. to make an appointment.
Walk-up slots are available Thursday from 2:30 p.m. to 6:30 p.m. and Saturday from 10:30 a.m. to 4:30 p.m., for the following:
UMB students and employees
Native Americans and tribal agency employees
Baltimore City residents, workers, and students
Baltimore metro area residents
For a walk-up vaccination, please go to 621 W. Lombard St. Baltimore, MD 21201.