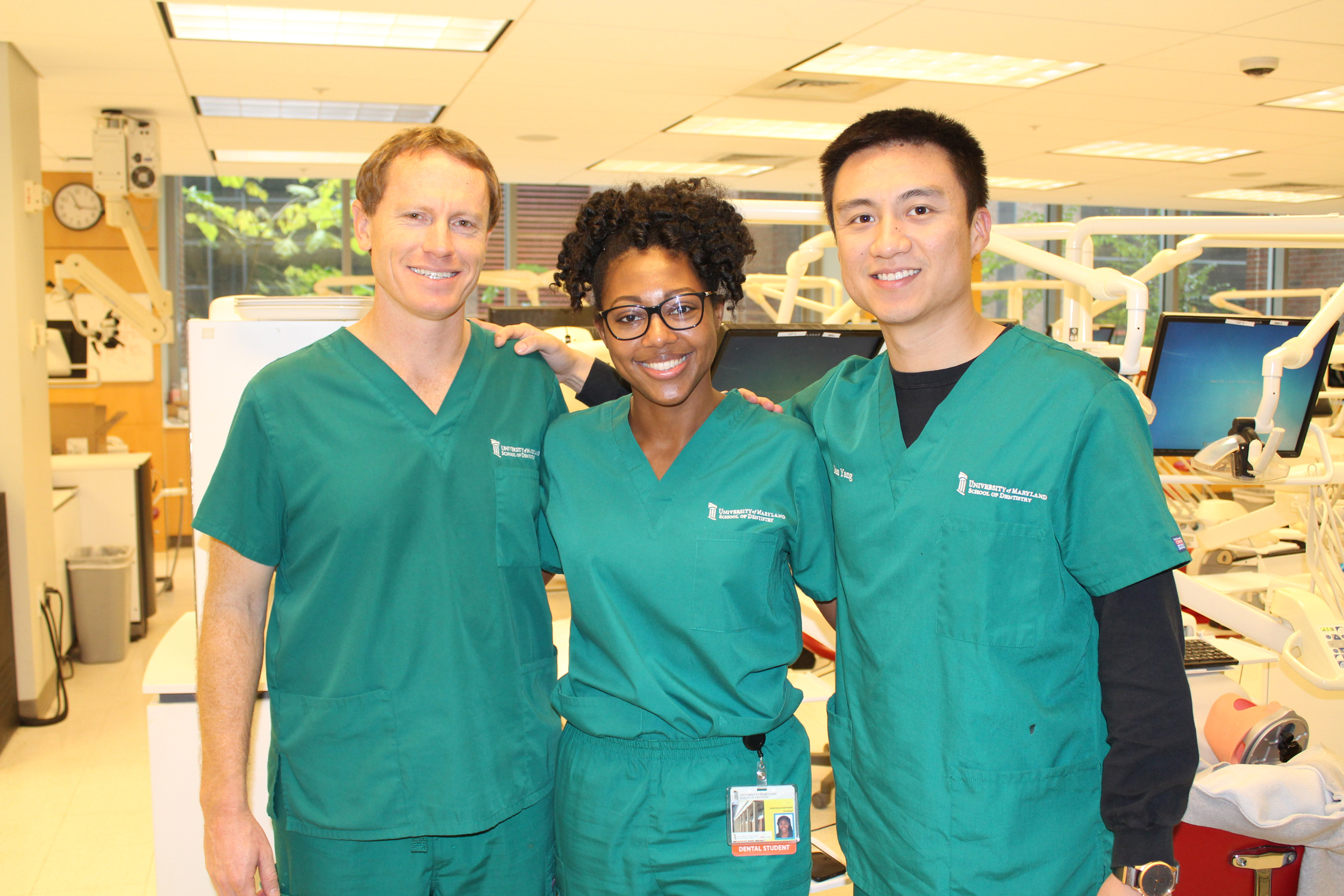 Three Class of 2021 students are the subjects of a series of articles being published on the dental school experience.
---
One student always wanted to be a dentist. A second already has enjoyed a successful career as a Navy aviator. A third was drawn all along to the health care professions but until recently wasn't sure which discipline to pursue.
These are three of the 130 men and women in the University of Maryland School of Dentistry's (UMSOD) Class of 2021; they also are the subjects of a series of articles being published in ADA News, the American Dental Association's publication.
Since fall 2017, Jennifer Garvin, Washington, D.C., editor for ADA News, has followed UMSOD students LaShonda Shepherd, Benjamin Horn, and Dan Yang and detailed their dental school experiences.
"The ADA project is an unusual undertaking that promises to be interesting and informative," says UMSOD Dean Mark A. Reynolds, DDS '86, PhD. "I also hope that it will bring national recognition to and discussion about the education our students receive during their years here."
Readers thus have learned about the students' career aspirations, methods of coping with demanding workloads, and experiences in gross anatomy and endodontics labs. Read the current installment here.
Shepherd, a Grady, Ala., native and graduate of the University of Maryland, College Park (UMCP), has always wanted to be a dentist.
A father of two, Horn rises daily at 4:30 a.m. and commutes to UMSOD from Annapolis. After graduating from the U.S. Naval Academy, he was a naval aviator before deciding to switch careers. After dental school, he plans to resume his Navy service, this time as a dentist. "Some people don't get to follow any of their dreams in life. I consider myself immeasurably fortunate to have lived one of my dreams as a naval aviator and now I get to pursue another," he told Garvin.
Yang, who majored in bioengineering at UMCP, initially planned to apply to medical school. He even worked at the University of Maryland Medical Center conducting research before an opportunity to shadow a dentist convinced him that this was the career for him. "Dental school made a lot of sense to me because I really enjoy working with my hands."