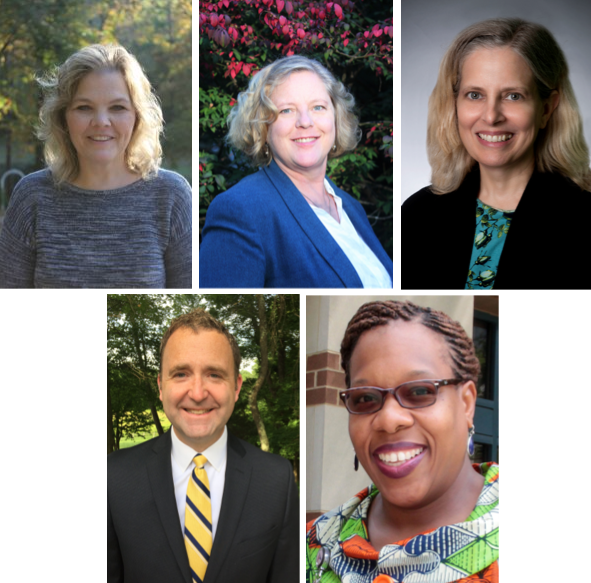 Applications for the 2021-22 cohort of NLI Fellows extended to June 15, 2021.
---
The deadline to apply for the 2021 - 22 cohort has been extended to June 15, 2021. Learn more and apply here.
---
Fellows of UMSON's Nurse Leadership Institute (NLI) complete a yearlong program that prepares nurse faculty and clinicians to assume leadership positions and participate as partners in developing health care delivery models that improve health outcomes for Maryland residents.
The NLI was established in 2015 by a $2.5 million, five-year grant from the Maryland Health Services Cost Review Commission, administered by the Maryland Higher Education Commission through the Nurse Support Program II. In July 2020, the institute's grant funding was renewed for another five years at $1.7 million, allowing NLI to continue serving as a statewide resource for developing academic and practice nurse leaders.
Five of the 127 fellows who have completed the NLI (one representing each year that the program has been in existence) told us how their participation has contributed to their success as nurse leaders
Tracey Long, MSN, MPH, RN-BC, CPH
Independent Consultant
2015 - 16 Fellow
"In a fragmented health care system facing more challenges than ever, reducing duplication and quickly disseminating information is crucial to delivering world-class care to all. When academic and practicing professionals come together to share ideas, collaborate on projects, and move their organizations forward with a unified vision, it is a win for all Marylanders."
Karin Russ, MS '09, BSN '89, RN
Clinical Instructor, UMSON
2016 - 17 Fellow
"The NLI helped prepare me for a new role as a public health official for the Universities at Shady Grove. Through the program, I refined my communication, conflict management, and negotiation skills. I also set a goal to achieve the Public Health Foundation's core competency to influence policies, programs, and services. In my new role, I'm writing policies and procedures for COVID-19 education, screening, and testing so that the location can safely reopen once pandemic conditions allow."
Veronica Gutchell, DNP '13, RN, CNS, CRNP
Assistant Professor, UMSON
2017 - 18 Fellow
"The NLI helped me develop skills to listen carefully and find creative solutions that meet the needs of Maryland residents in my position as a nurse practitioner in Takoma Park, where I deliver primary care to an underserved immigrant patient population through the Governor's Wellmobile. I have practiced and grown into my own authentic leadership style that has served me well in developing relationships within this community."
Brian A. Burke, MBA, MS '11, BSN '07, RN
Director of Nursing – Medicine, Telemetry, and Dialysis,
University of Maryland St. Joseph Medical Center
2018 - 19 Fellow
"My experience in the NLI strengthened my self-awareness of my leadership style and enhanced my ability to support our front-line nursing teams to lead through this crisis, as they established two COVID-19 care units and worked cross-functionally to meet the needs of our patients, our colleagues, and our community during this evolving crisis."
Eursula L. David-Sherman, MSN, BSN '92, RN, NPD-BC
Nurse Residency Coordinator, Department of Professional Development and Practice,
Adventist HealthCare Shady Grove Medical Center
2019-20 Fellow
"Participating in the NLI gave me the confidence to accept the role as chair of the Transition to Nurse Residency taskforce under the Maryland Organization of Nurse Leaders' Maryland Nurse Residency Collaborative. The taskforce develops onboarding strategies to support new nurse graduates as they successfully transition into nurse residency programs during these unprecedented times. Leading this taskforce allows me the opportunity to collaborate with academic partners and practitioners across the state of Maryland, to support the future nursing workforce, and to ensure these new nurses are equipped to provide care for Maryland residents."
Pictured: (top, l to r) Long, Russ, Gutchell; (bottom, l to r) Burke, David-Sherman
THIS ARTICLE FIRST APPEARED IN THE SPRING 2021 ISSUE OF MAGAZINE.