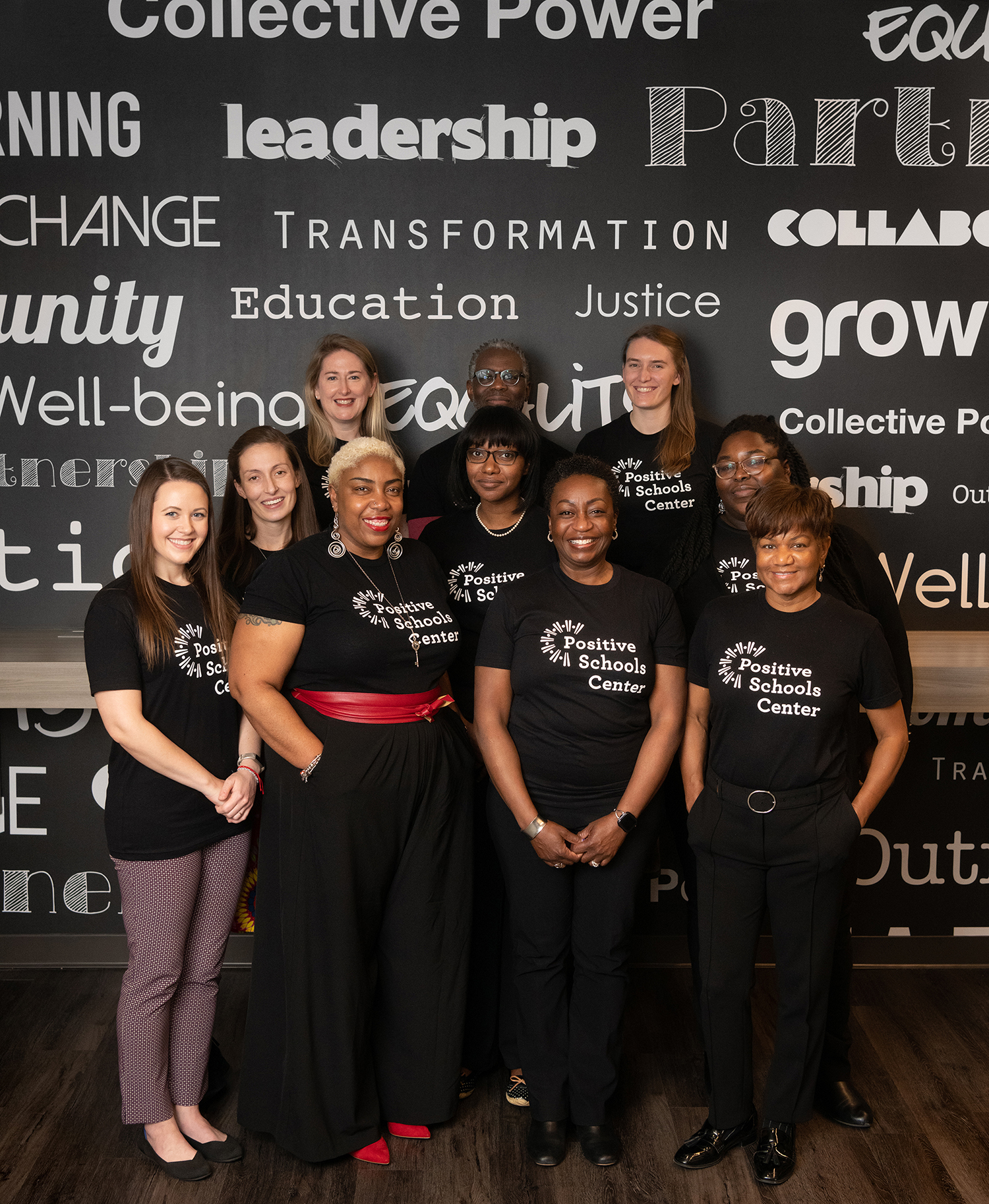 Program under the Social Work Community Outreach Service works diligently to improve school climate for students in Baltimore City.
---
The Elm is featuring stories on the three Diversity Recognition Award winners leading up to UMB's Dr. Martin Luther King Jr. and Black History Month celebration on Wednesday, Feb. 5, at MSTF Leadership Hall. You can register to attend the event here.
Today: Positive Schools Center, Outstanding Faculty/Unit

---
The Positive Schools Center (PSC) is succeeding in its mission to improve school climate — the tone, feel, and character of a school's atmosphere — for Baltimore City students. One measure of its progress: In five years, the number of schools receiving PSC's training and services has grown from six to 24.
But PSC director Shantay McKinily, MEd, doesn't need numbers to confirm the impact of the K-12 program, which is based within the Social Work Community Outreach Service (SWCOS) at the University of Maryland School of Social Work. She sees the results almost every day.
"We are proud when a student demonstrates improved social awareness and relationship skills by lifting up a peer's accomplishment and acknowledging their hard work," says McKinily, a clinical instructor at the School of Social Work who has been PSC's director since November 2017. "We are proud when a student who has struggled with self-confidence and self-esteem takes the initiative to enroll in honors classes and seek out extra support. And we are proud when a student's parent finds a new job opportunity as a result of a connection made by one of our coordinators.
"Our team of faculty and staff work every day to create positive environments where young people can thrive. Our students are our future leaders, and these seemingly small steps are the foundation of their success and ultimately of a more equitable and just society."
During the 2018-19 school year, PSC provided nearly 450 hours of coaching and training to almost 600 Baltimore City Public School (BCPS) teachers, administrators, and staff. Through these efforts, school climate has improved for nearly 6,000 students. The program's impact is being recognized by the University of Maryland, Baltimore (UMB), which named PSC the winner of a 2020 Diversity Recognition Award as Outstanding UMB Faculty/Unit. The center and its leaders will be honored at the University's Dr. Martin Luther King Jr. and Black History Month ceremony on Feb. 5.
"This award is evidence that UMB is committed to creating more restorative spaces that are racially equitable, trauma responsive, and inclusive of the communities they serve," says McKinily, a former BCPS teacher and principal. "PSC is a collaborative effort that requires tremendous time and energy not only of our staff members, but also from our graduate interns, Baltimore City principals, school staff, and students. We are immensely grateful that their hard work is being recognized."
PSC describes its mission as promoting positive, supportive, and mindful learning communities where students, school staff, and other stakeholders can connect with one another in a safe and positive environment, positively develop as students and staff, and grow as scholars and educational leaders. The program aims to strengthen conversations around racial justice and equity, and it advocates for less punitive approaches to discipline, particularly when those issues result in high rates of suspension and expulsion.
PSC defines school climate as a combination of important dynamics within a school, including social-emotional ties among students, staff, and administration; governance and decision-making processes; and the physical environment — all of which collectively impact the experience of those who interact with the school. The program differs from similar school climate efforts in two key ways: PSC provides a comprehensive and integrative approach to improving school climate, compared to other initiatives that focus on one or two components, and it focuses on training adults rather than providing direct services to students.
"Through introspection and self-reflection, school staff members are better equipped to integrate racial equity, healing, and cross-racial community building in all spaces of their everyday work," says Wendy Shaia, EdD, MSW, founder of PSC and executive director of SWCOS. "PSC's director meets quarterly with each school leader to assess its progress and review data, acting as a thought partner and helping principals identify needs and training/coaching that will support their goals.
"PSC has been a natural evolution of the work SWCOS has engaged in for over 25 years, and it's our largest effort to foster inclusiveness and racial equity in Baltimore City."
McKinily notes that each PSC success story could be seen as one step toward the type of equality and justice championed by Dr. Martin Luther King Jr., saying it was fitting that the center won an award in his name.
"Dr. King understood that progress is achieved through a series of small steps, that while one person alone may not be able to change the world, each person has the power to create change and together we can move mountains. PSC shares this mindset," McKinily says. "We build the capacity of our teachers to create positive environments for students, of our principals to support and retain high-quality teachers, and of our students to lead with empathy and compassion. We recognize the power in each and every person, and we believe, as Dr. King did, that these small steps are the foundation for revolutionary societal change."
Read about the keynote speaker and other award winners at the link below.