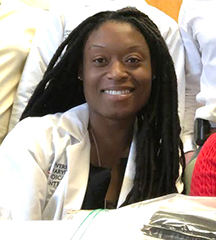 Dr. Mona-Gekanju Toeque recently arrived to begin work at the University Teaching Hospital in the capital city of Lusaka.
---
In the spring, Mona-Gekanju Toeque, MD, MPH, was awarded the first Maeve Kennedy McKean (MKM) Global Public Health Fellowship. The fellowship granted Dr. Toeque an opportunity to work in Zambia, where she will be conducting research and be engaged in clinical work and public health activities related to HIV treatment and prevention. The COVID-19 pandemic delayed her travel, but in September, Dr. Toeque received permission to depart and arrived in Zambia several weeks ago to begin work.
Dr. Toeque will be working at the University Teaching Hospital in the capital city of Lusaka, where she will be conducting rounds and teaching. She will also perform research and help support Ciheb's ongoing HIV programmatic work. This is not Dr. Toeque's first Zambian experience. She had previously worked as a fellow in the country under a University of Maryland Medical Center infectious disease fellowship.
The MKM Fellowship is the achievement of Dr. Toeque's lifelong desire to help populations in low-resource regions.
"To be able to help Zambian patients is such an amazing opportunity," she said.
Dr. Toeque's interest and commitment to working in Africa stems from her upbringing as the daughter of Liberian immigrants living in Los Angeles. After Liberia's 14-year civil war ended in 2003, she visited family in West Africa and developed an appreciation of the unique challenges faced by the communities in the region, as well as a desire to contribute to their betterment.
She later found her career path in medicine and public health, first earning a master's in public health with an emphasis on urban health disparities and global public health. Before beginning her medical career, she provided HIV counseling and testing in Los Angeles County to sex workers, the homeless, teens, and others. From that experience, she went on to medical school and completed her residency in internal medicine. She completed her infectious disease fellowship at the University of Maryland, Baltimore in June 2020.
COVID-19 has impacted Zambia; however, Dr. Toeque indicates that it has not been as severe as in other nations, with a total of approximately 16,000 cases and 350 deaths (nearly all of the cases have since recovered).
"People are taking precautions and wearing masks," she said. "As public health professionals, we are also driving home that message in our everyday practice."
Read more about Dr. Toeque's work here.