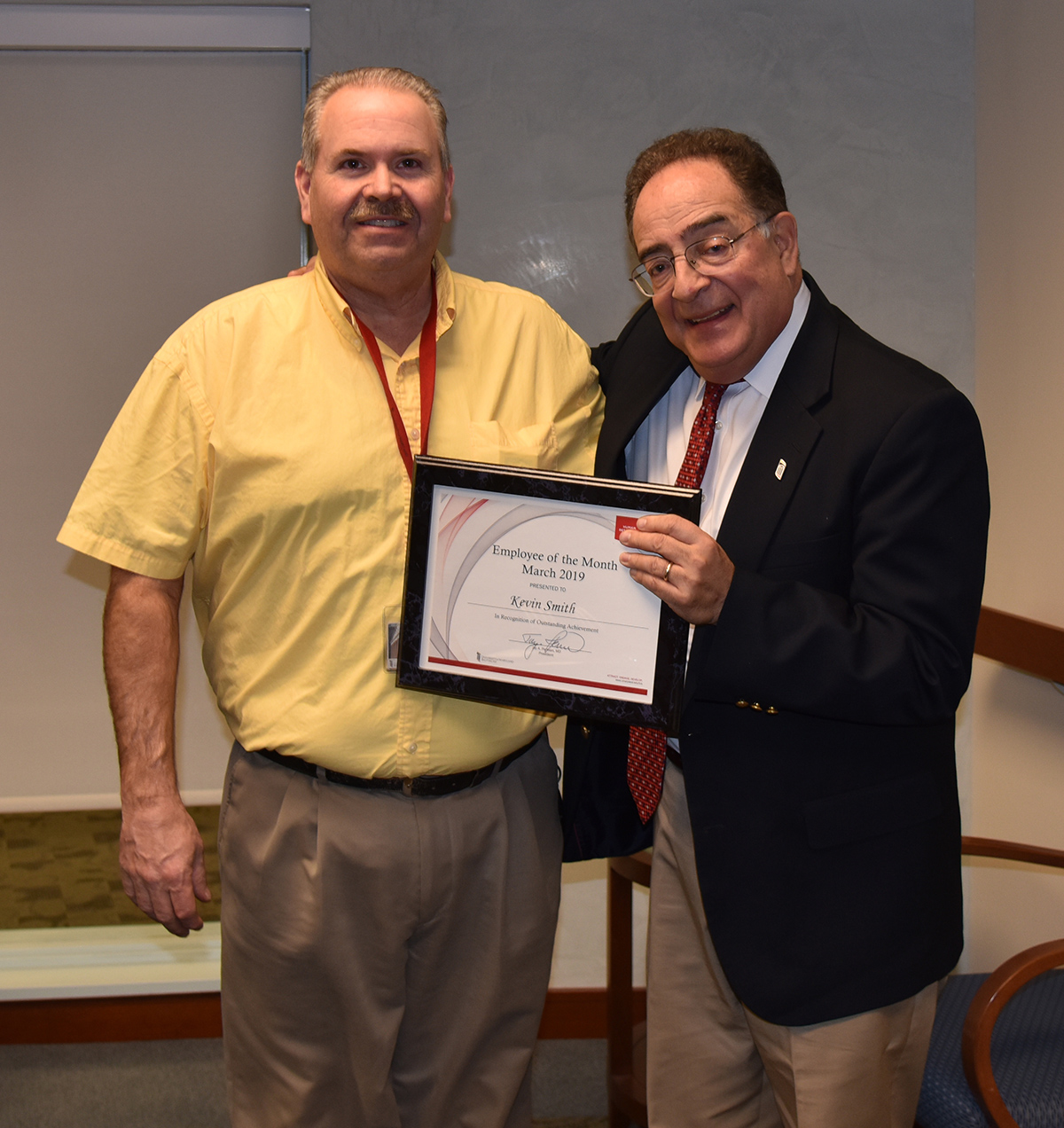 Kevin Smith, assistant director of mechanical trades, is honored for going above and beyond in solving plumbing and HVAC problems and managing night-shift facilities workers.
---
Kevin Smith has been doing mechanical work since he was 16, so when there's a problem in a University of Maryland, Baltimore (UMB) building, he can draw upon nearly 40 years of experience to resolve the issue. That was the case recently when the School of Dentistry's first-floor bathrooms lost water pressure and stopped functioning.
Smith, assistant director of mechanical trades for UMB, worked remotely from home, managing a team of night-shift workers as they troubleshot and fixed the issue — all in the wee hours of the morning.
"We figured out that some pressure-reducing valves had gone bad," says Smith, whose areas of expertise include plumbing and HVAC (heating, ventilation, and air conditioning). "We had to drain all the water from the building at 3 a.m. and replace those valves, just so the bathrooms would be working in a facility that has a huge number of people who come in for dental work every day. We finished by 7 a.m., and the bathrooms were functional when the building opened."
It's that kind of work and dedication that earned Smith recognition as UMB's March Employee of the Month. University President Jay A. Perman, MD, surprised Smith with the award in a ceremony March 6, getting him up to the 14th floor of the Saratoga Building with a work order: Fix the exhaust fan in the president's kitchenette.
"I know you're an expert on exhaust fans, but that's not why I really asked you to come up here," Perman told Smith, who received a plaque, letter of commendation, and news that an extra $250 would be in his next paycheck. "We brought you here to honor you, because it's clear that you make yourself available at all hours of the day and night to correct problems that occur in our buildings. You're an employee who goes the extra mile to help our schools, and that makes you a model for the rest of us. I appreciate your hard work and all of the work that's done by our facilities team."
A clear leader among those teams is Smith, who has worked at UMB for seven years and calls 2018 one of his most challenging years, in part because of the opening of Health Sciences Research Facility III, the new 439,000-square-foot building on West Baltimore Street that features a cutting-edge HVAC system.
"The controls package in HSRF III is completely different from anything we've used on the campus, with state-of-the-art equipment that nobody was familiar with," said Smith, whose duties include supervising facilities employees who work overnight. "It's been very challenging to transition 30 employees to understand how this new system works. I've spent a lot of time training people, the night-shift guys especially, because they're the only ones here at night to take care of buildings. If something happens, they have to understand how we mitigate damage."
Several of Smith's colleagues attended the ceremony to celebrate his award, saying it was a well-deserved honor for a hard-working and conscientious employee.
"Kevin embodies of the characteristics of a UMB Employee of the Month, including excellence in performance, making a difference, excelling as a team player, and being an innovative problem solver," says Robert Cook, MBA, executive director, facilities and operations, School of Medicine.
Terence Morse, MBA, MS, executive director, UMB Office of Design and Construction, concurred. "This award couldn't have been given to a better person," Morse says. "Kevin is a great asset to our facilities maintenance team. We totally trust him and rely on him to give us the benefit of his operational knowledge and experience. He and I collaborate quite often when trying to come up with creative solutions to engineering problems. I rely on him for his expertise all the time."
Adds Rob Riesner, MBA, CEM, acting director, UMB facilities maintenance and housekeeping, "Kevin regularly goes above and beyond in responding to the schools' needs. His knowledge of the mechanical systems throughout the campus has made him an invaluable resource to UMB. His willingness to take ownership of any challenge further adds to his value to the campus community."
Smith describes his job as "24/7 and 365 days a year," explaining that he can help control mechanical systems or troubleshoot at home via his laptop, desktop, or iPad. He attends numerous meetings per day, participates in the review process for renovations and new construction designs, and goes out in the field to help with troubleshooting.
"I accepted this role knowing that this is a large campus and there's a lot that goes on here," says Smith, who worked at the University of Florida for 12 years before returning to his hometown of Baltimore. "We have a lot of critical environmental issues that need to be attended to 24 hours a day. I try to communicate well with my supervisors, and I think that's probably why I'm here today, because I show them a lot of extra effort.
"This is a challenging job, but I love what I do," Smith adds. "Doing mechanical work, it's just in me. I enjoy coming to work. We've got some really good people who work here that I think very highly of, and obviously in winning this award some of them think the same about me. To know that my co-workers have such confidence in me makes me feel appreciated, and it makes me feel good inside."