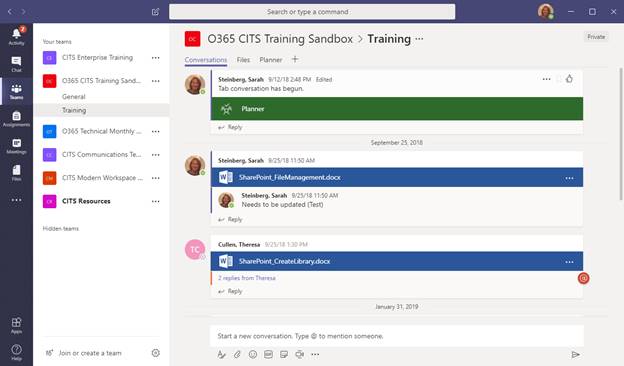 Learn about Microsoft Teams and how this tool can help your team collaborate.
---
Office 365 has been available at UMB for a few years now and includes many great tools – OneDrive, SharePoint, Skype, OneNote, etc. Another great tool that is available to the UMB community is Microsoft Teams!
What is Microsoft Teams?
At its simplest, MS Teams is a chat-based workspace that features group and private messaging, file storage, virtual meeting capability, and the ability to organize all these features by topic.
When a new team is created, it automatically comes with:
Teams: The hub for teamwork
SharePoint: File storage
Office Online: Co-authoring
Outlook: Team email/calendar
OneNote: Digital note taking
Planner: Task management
Because MS Teams is a part of Office 365, it works seamlessly with all the other Office 365 tools.
Why Use Microsoft Teams?
Outside of MS Teams, how a team communicates is usually by email, sharing files via a patchwork of different services, and there is a great potential for missing messages and files.
MS Teams is designed to allow for seamless and secure movement between editing documents, sharing files and ideas, group chat, and video/voice calls. The default screen in MS Teams is a Conversations tab, which allows for chat among team members, tagging of members, pulling in files that the group needs to collaborate on. Any and all conversations that appear on this tab are persistent and perpetual — everyone on the team can view and contribute as needed.
Files that are stored in MS Teams also are stored in SharePoint and can be accessed through either tool. If more than one person opens a file at the same time within MS Teams, everyone can edit and work on the file together. You will see changes other people make in real time. There are numerous ways to communicate within the file — Chat, Conversations, and Comments.
A Chat is between two people and is not saved
A Conversation is between anyone working on the file and it is saved to the Conversations tab for other team members to view
Comments are saved with the file and can only be viewed when the file is open
Microsoft has incorporated Skype functionality into the Teams Meeting feature, making it easy to create and conduct online meetings. Regardless of where team members are geographically located, Teams Meeting allows for everyone to come together in one, easy virtual location. Teams Meetings also can be scheduled through Outlook.
What Is a Team?
In this environment, a team can be any combination of people that you need it to be. It can be an entire department, it can be a sub-group within a department, a project team, or even a class — any group of people that has a specific need to work together and collaborate.
Interested in Learning More?
This is just a taste of what MS Teams offers. If you want to learn more about how it works, how all these pieces come together, please view our support page at www.umaryland.edu/office365 and/or sign up for a MS Teams class through our https://cf.umaryland.edu/cits_training/home.cfm.