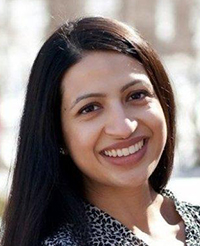 Associate director and academic advisor in the School of Social Work says the institute gave her time to reflect on her career path.
---
I am so thankful to the UMBrella Group for selecting me to attend the Women's Leadership Institute (WLI) sponsored by the Association of College Unions International (ACUI). It was invigorating to carve out a few days to reflect on my career path while having the opportunity to make connections with other higher education professionals from across the country.
Poised so close to the new year when I already enjoy making professional and personal resolutions, WLI delivered perfectly on assisting with my goal-making. Indeed, conferences are designed to motivate, similar to new year's resolutions, and it was hard not to leave inspired. However, throughout the conference, the message was simple — do not let this conference be the end of this journey. It can be so easy to go back to work and get caught up in the busyness of it all and not truly reflect on what was learned, leaving session notes unread in a notebook.
One statement that I've been mulling over was from the session "Women and Politics: Getting Noticed, Making an Impact, and Being Seen for Who You Are, Not Just What You Do." Dr. Sandra Miles said, "You need to stop assuming that your hard work will get you noticed, it's YOU that needs to be the one to be noticed." I love this thought, especially since it's so common to think that if we do good work, we will eventually be handpicked for promotions. This thinking can be a detriment to one's career. Instead, Miles said to be noticed, you need to let people get to know you personally. Though it may be uncomfortable, invite "key players" to lunch to talk business so that you're not just a name but someone they actually know.
Being vulnerable and putting oneself out there is important. Many of the presenters made the distinction between a mentor, who helps develop you as a professional, and a sponsor, who can help guide positive conversations about you when you're not in the room. A sponsor can only guide the conversation about you if they know your work, know you, and trust you. This comes from conversations and relationships.
So where do I go from here? I need to ensure that I carve out time to think about what I've learned from the conference and how to put it into practice. Creating a vision for my professional future and the goals to achieve that vision is a first step. I also need to identify a sponsor and nurture that relationship organically and authentically. Once a month I need to schedule time in my Outlook calendar to check in on my goals, knowing that it is easy to forgo this in order to read or write one more email.
As Teri Bump said in the session "Can You See Me Now? Becoming Visible: Your Executive Presence & Being Sponsor Ready," "You don't get the career you want, you get the one you build." But building things can take time and it's not something that I should leave to chance or to other people. Through WLI, the UMBrella Group gave me a golden opportunity to think about myself and my career, and now it's time for me to actualize all the promises and intentions I have set for myself.
Nakiya Schurman, MSW '06, is associate director in the Office of Records and Registration and academic advisor at the School of Social Work.
The UMBrella Group is sponsoring two scholarships for UMB staff or faculty to attend the ACUI Women's Leadership Institute in December 2020. Applications must be submitted by Friday, Sept. 4, at noon. Apply for a scholarship at umaryland.edu/umbrella/scholarships/acui.
The UMBrella Group works to support the success of women at UMB by building community and helping them achieve their personal and professional goals, enhancing their leadership skills, and championing women at all levels of the organization. Learn more at umaryland.edu/umbrella.