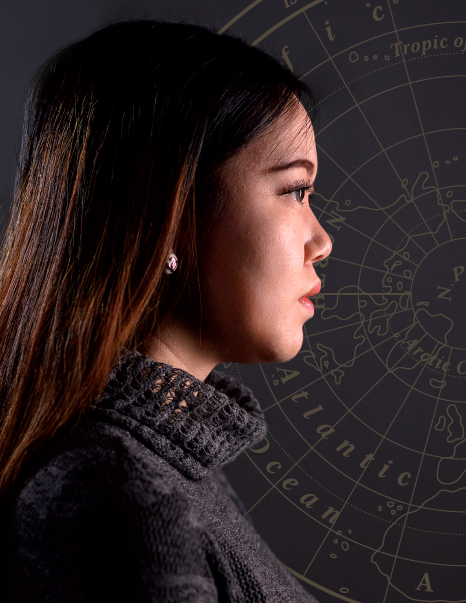 Four alumni tell the stories of their journeys across the globe to join the significant immigrant population among the U.S. nursing workforce.
---
On a typical unit at an American hospital, you may find nurses born on several different continents working together. Roughly one in six registered nurses in the United States (15.8 percent) were born outside of the country, according to 2015 estimates from the U.S. Census Bureau. That figure is up from 9 percent in 1990.
Immigrant nurses "have made a significant impact on helping to improve health outcomes, particularly for hospitals that tend to have challenges in terms of building their own nurse capacity," Yolanda Ogbolu, PhD '11, MS '05, BSN '04, CRNP-Neonatal, FAAN, assistant professor and director of UMSON's Office of Global Health, said in a U.S. News & World Report article in 2017.
At this point, the vast majority of immigrant nurses in the United States first move to the United States and then receive their nursing education here. Fifteen years ago, it was more common for U.S. hospitals to hire foreign-educated nurses, but this became a somewhat controversial practice, as critics worried about "brain drains" from developing countries and potential exploitation.
Those debates have faded as the number of new foreign-trained nurses in the United States (as measured by foreign-trained, first-time NCLEX passers) has fallen by about half, from 10,636 in 2004 to 5,696 in 2017. That number has dropped for multiple reasons, including the United States' 2009 cancellation of the H-1C visa program, which was geared specifically toward foreign nurses, and the World Health Organization's 2010 enactment of the Global Code of Practice on the International Recruitment of Health Personnel, which discourages hiring nurses away from certain low-income countries.
UMSON alumni from other countries — whether recent graduates or those who have been working as nurses in the United States for decades — are contributing to improving health in the United States in ways that transcend workforce numbers. They are enhancing cultural competence, creating global connections, and educating the next generation of urgently needed nurses.
---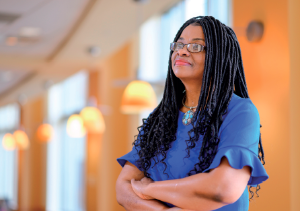 Ask UMSON assistant professor , why she decided to move from Nigeria to the United States and become a nurse, and she'll tell you it wasn't really a decision; it was more like fate.
In 1997, Ayichi was teaching microbiology at a university in Nigeria. Her husband had earned a doctorate in agricultural economics and was an officer with a World Bank-supported program. They were financially comfortable and expecting their first child.
One day, a neighbor stopped by and said he was applying for the U.S. visa lottery program. Why didn't they also give it a shot? On a whim, Ayichi and her husband filled out the forms. A few months later, they learned that they'd won a slot. They weren't sure that they actually wanted to migrate to the United States, but they decided to test the waters. They crossed the ocean and temporarily moved in with Ayichi's brother in Baltimore.
Over the next few months, fate seemed to show its hand: A job that Ayichi's husband had been expecting with an oil company in Nigeria fell through at the last minute. The political situation there became more unstable. Some members of their extended family said that the United States was probably a better place to raise their child, at least in the short term.
But they needed to make a living in this country. Ayichi's husband found work at a middle school in Baltimore while she stayed home with their baby. A year later, she gave birth to their second child.
"EVERYONE IN MY FAMILY BACK HOME IS A PRINCIPAL, A TEACHER, OR A PROFESSOR. I USED TO DO RESEARCH BACK IN NIGERIA, AND IN THIS NEW ROLE ON THE FACULTY I'LL BE DOING IT AGAIN."
- Oluchi Ayichi
"That was the day that ignited my interest in nursing," she says. "Watching the nurses take care of me and my baby, I thought, 'That could be me.' "
After a few long conversations with her husband, Ayichi decided to apply to UMSON. With her master's degree in microbiology, she didn't have to worry about many prerequisites.
"I loved it from the beginning and I've loved it ever since," Ayichi says. After she earned her Bachelor of Science in Nursing (BSN), she spent a year on a medical-surgical unit and then moved to a weekend-only job as a psychiatric nurse at Sheppard Pratt Health System in Baltimore.
It was around this time that her husband also found himself drawn to nursing. "I told him, 'If you can handle middle school students, you'd probably make a good mental health worker or psychiatric nurse,' " Ayichi says with a smile. Her husband, Damian Ayichi, MSN '13, MS '08, RN, CRNP, is now a psychiatric nurse practitioner.
After several years at Sheppard Pratt, Oluchi Ayichi found a job on the medical intensive care unit at the University of Maryland Medical Center (UMMC). On her days off, she returned to UMSON to complete a master's degree. Since 2011, she has worked as a family nurse practitioner in primary care, inpatient, and urgent care settings. She joined the UMSON faculty full time last year.
Ayichi feels that she has come full circle. "Everyone in my family back home is a principal, a teacher, or a professor," she says. "I used to do research back in Nigeria, and in this new role on the faculty I'll be doing it again."
---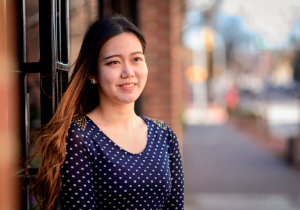 When Yizhu Tao, BSN '18, was nearing high school graduation in Nanjing, China, she kept getting advice from her uncle in Massachusetts.
"He told me nursing is a good major, as nursing was a very in-demand job here," she says, "and that it's pretty easy for people to make a decent amount of money right out of school."
Tao and her parents found this a little hard to believe — nursing doesn't pay well in China, Tao says — but they did some research and learned that her uncle was right. Tao spent two years at the University of Maryland, College Park before transferring to UMSON in 2017.
"Luckily, when I entered nursing I found that I love it," she says. "Because, to be honest, this whole decision was really job based. But I found that this is really what I like to do. I like to help people. I like to interact with people. I wouldn't want a job just sitting at a computer. Every day I learn something new."
"I'M CURIOUS TO SEE NEW PLACES. I FEEL LIKE ANYWHERE CAN BE A LIFE FOR ME."
- Yizhu Tao
But moving from College Park, where there were many other Chinese students, to Baltimore, where she felt much more isolated at first, was difficult, and some of the courses in pharmacology and pathophysiology strained the limits of her English vocabulary. She spent many hours getting comfortable with reading and speaking health care terms.
Her favorite course, she says, was Complex Nursing Care of Patients with Co-Morbid Conditions, affectionately known as "CoMo." "That's where you really learn to put everything together," she says. "When I was in my practicum, it helped me see how everything connected. It's a great class, but oh my God, it was a struggle."
Tao graduated in December and would like to find a job with a hospital that might sponsor her for an H-1B visa so she can remain in the United States to gain more experience in nursing. Finding hospitals that sponsor nurses for H-1B visas is challenging, Tao says, but she is prepared to relocate anywhere in the United States.
"I'm curious to see new places," she says. "I feel like anywhere can be a life for me."
---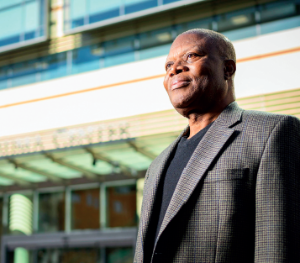 As , was growing up in rural Ghana, he didn't have a clear idea of what he wanted to do as an adult. After secondary school, he thought about studying business but was accepted into a university program in philosophy and psychology. "That's where I developed an interest in the human brain," he says. "That's what has stayed with me all through my life."
In 1992, having earned bachelor's degrees in those two fields, Amoako was teaching logic to secondary school students in the harbor city of Takoradi. He was frustrated by the economic and political situation in Ghana, and he often thought about moving to Europe, possibly to study neurosurgery. Eventually, a few of his former students who had moved to the United States encouraged him to follow them. He spent a month living in New York City, which he quickly realized wasn't for him ("I was dizzy, honestly — I'm a country guy," he says), and then settled with friends in Silver Spring, Md.
He had a little savings, but he knew he needed to make a living quickly. "I realized that I was going to be destitute within a couple of years," he says. "Someone suggested, 'Why don't you try nursing? Then you can be financially independent, and after that you can pursue whatever you want to pursue.' "
"ON THE UNIT WHERE I WORK NOW, THERE'S GREAT RESPECT AND RAPPORT AMONG THE NURSES AND THE DOCTORS. WE HAVE EACH OTHER'S BACKS."
- Kwadwo Amoako
Amoako completed his prerequisite courses at Montgomery College and enrolled at UMSON. His path after nursing school has been similar to Ayichi's: After a couple of years on medical-surgical units, he gravitated toward psychiatric nursing, which suited his long-standing interest in the brain. In the mid-2000s, he earned a master's degree in psychiatric nursing from Catholic University and a Master of Public Health in community-oriented primary care from George Washington University. Today, he works as a psychiatric clinical nurse specialist at UMMC and is completing a PhD in Nursing at the University of Phoenix.
Amoako says his experience in the nursing profession has been mixed. He loves his work with patients but says he has seen persistent workplace bias against immigrant nurses. Too often, colleagues who encounter him for the first time seem to assume that his nursing skills are subpar or that he's generally uneducated.
"It's sometimes difficult to be an African in the nursing profession," he says. "But on the unit where I work now, there's great respect and rapport among the nurses and the doctors. We have each other's backs."
---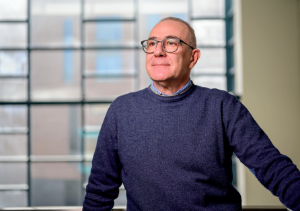 Back in 1996, , was practicing as a cardiologist in Albania and teaching at the country's only school of medicine. Albania's communist regime had crumbled five years earlier, and the country was experiencing a time of relative prosperity. But as 1997 began, several government-endorsed Ponzi schemes in which thousands of Albanians had invested began to collapse. With their savings lost, people took to the streets, and there was a period of civil disorder.
Caridha and his wife decided it was time to leave. "We'd had papers for two years," he says. "My wife's parents were already in the United States."
Caridha's wife, a research biologist, quickly found work at labs in Rockville, Md. But Caridha faced a dilemma: Should he go through the trouble of obtaining licensure as a physician? "My impression was that doctors here worked crazy hours," he says. "Our daughter was 9 at the time. It just didn't seem worth it."
Instead, Caridha found work as an operating room tech at Holy Cross Hospital in Silver Spring and slowly put himself through the Associate Degree in Nursing program at Montgomery College. A few years later, he completed the RN-to-BSN program at UMSON.
"STAY IN THE PATIENT'S ROOM THAT EXTRA MINUTE. STAY IN THE ROOM. THAT'S HOW YOU MAKE A CONNECTION. THAT'S HOW YOU REALLY LEARN ABOUT THE PATIENT'S LIFE."
- Artur Caridha
"I was surprised when I arrived here to see how much autonomy and respect nurses have," he says. "It wasn't like that in Albania."
Soon after he completed his BSN, Caridha started to work as a clinical instructor and adjunct faculty member at UMSON. Today, he's an assistant professor at the school's Universities at Shady Grove (USG) location in Rockville.
"Life is busy but not hard," says Caridha, adding that he has no regrets about not trying to stay in medicine. He says that USG sees an increasing number of immigrant students each year and that the institution has a robust set of support services for non-native English speakers. "We have success centers," he says. "We have plenty of writing clinics. We'll help show students how to write papers in APA format. My students know that they can knock on my door any time."
And when they do knock, Caridha gives them advice that served him well as both a physician and a nurse: "Stay in the patient's room that extra minute," he says. "Stay in the room. That's how you make a connection. That's how you really learn about the patient's life."
---
Words from the Wise
Ayichi advises new nursing students to find a community with a similar background, if possible. "In this sea of human beings, you sometimes want to see someone who has the same experiences," she says. "West African students will sometimes search through the UMSON directory, notice my name, and contact me. Just the other day, someone wrote to say that they wanted to apply to the Clinical Nurse Leader [CNL] master's program and they wanted me to be their mentor. I told them that I don't teach courses in the CNL program, but I'll be glad to support them any way I can."


If she could do nursing school over again, Tao says, she would carve out a little more time for friends who aren't involved in nursing. "With your nursing school friends, everyone's struggling the same way," she says. It was valuable, Tao says, to visit her non-nursing friends at the University of Maryland, College Park, where she completed her first two years of study.


Amoako advises new nurses and nursing students to approach all of their patients and colleagues with an open mind. "Nursing as a profession depends on diversity to move forward," he says. "Diversity breeds innovation, improvement, and excellent nursing practice. We as nurses must learn to accommodate, assimilate, and tolerate cultural diversity."


Caridha recommends practicing spoken English as much as possible, which he says is different from the English taught overseas. Speak everywhere, even at home; the more, the better. He also encourages new nurses to prepare for and embrace big changes in the delivery of health care and to identify support systems and resources and use them as much as possible. There are a lot of them, he says, and using them is a sign of strength, not weakness.
This article first appeared in the Spring 2019 issue of Nursing For/um magazine.