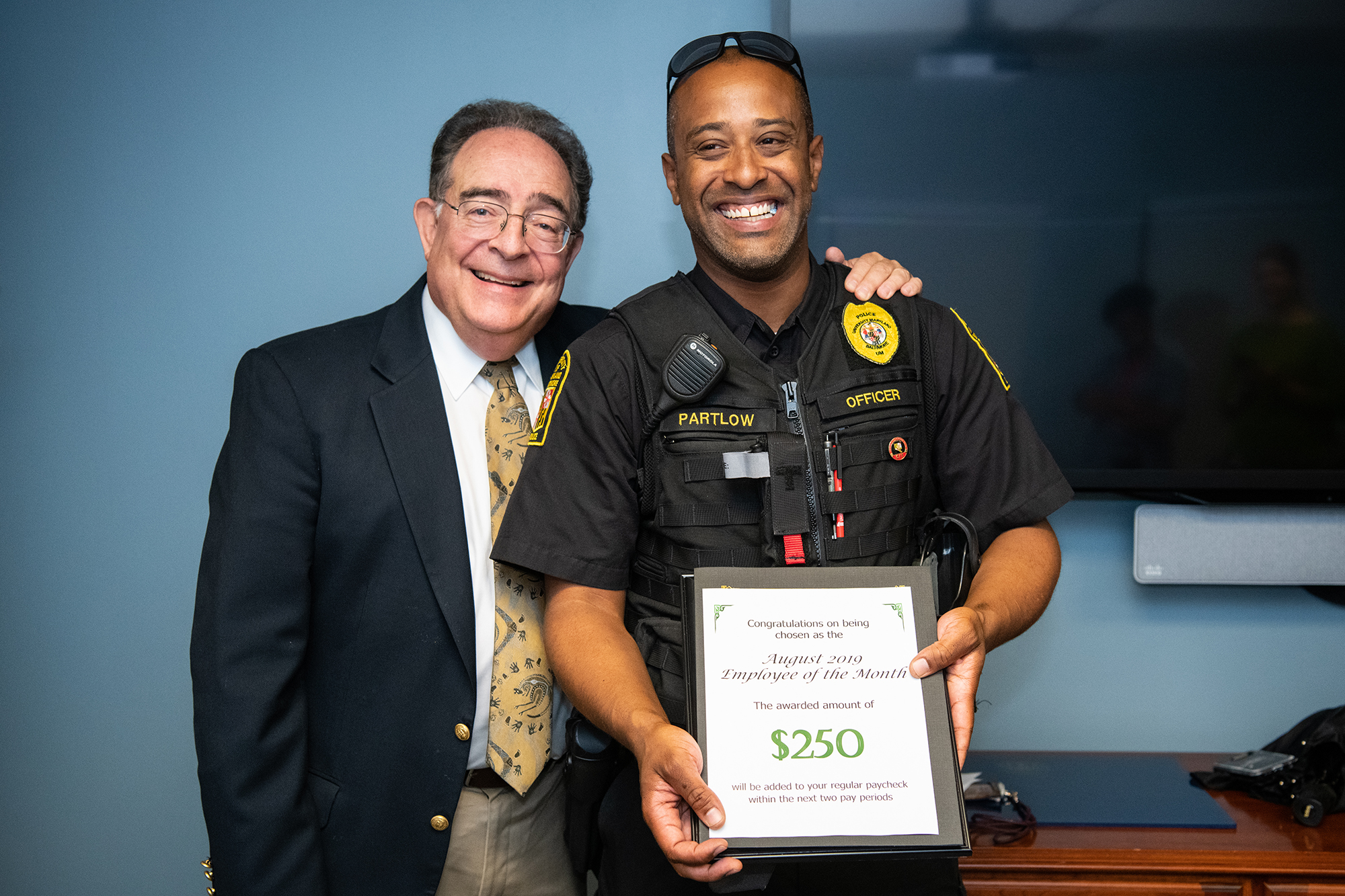 UMB Police Department's outreach and crisis intervention liaison makes a difference as key member of Community Outreach and Support Team.
---
When University of Maryland, Baltimore (UMB) Police Officer Yale Partlow was told to report for an Aug. 13 unit meeting at the Saratoga Building, he dutifully obliged but found the location to be unusual.
"They didn't say what the topic was, so I had no idea what we were going to talk about. I just followed orders and showed up," says Partlow, who was joined by a group of 10 colleagues in the 14th-floor President's Conference Room. "I was kind of joking with one of my co-workers, saying, 'It feels like Obama's about to walk through the door.' "
Instead, it was another president, UMB's Jay A. Perman, MD, who entered to interrupt the proceedings and surprise Partlow with some great news: He had been selected as UMB's August Employee of the Month for his efforts to help the homeless as the UMB Police Department's (UMBPD) outreach and crisis intervention liaison.
"They got you, didn't they? Good, we like surprises," Perman told Partlow amid applause from the group, which included UMBPD Chief Alice Cary, MS; Deputy Chief Thomas Leone; Assistant Chief Matthew Johnson; and the department's K-9 comfort dog, Lexi, and her handler, Pfc. Kelli Blackwell.
Then Perman turned serious, adding, "I've been all over the country, and there are variations of a famous slogan that many police departments use, but it's always about 'Protect and Serve.' Everybody understands what 'Protect' means, but I've often wondered what exactly 'Serve' means. But now I get it, and it's because of what you're doing in reaching out to homeless people and saying, 'Let us give you a hand.' That is serving. I appreciate that, and you honor the University with your service."
Partlow is a member of the UMBPD's Community Outreach and Support Team (COAST), established last year by Cary and led by Johnson. COAST is one component of Cary's community engagement efforts, as the unit collaborates with UMB offices, city police and agencies, and non-governmental organizations to support the University's neighbors in West Baltimore.
In his role, Partlow aims to connect the homeless to much-needed social services through those entities and to educate UMB students, faculty, and staff on how to interact with and help this population. He also is a key liaison to the city's Law Enforcement Assisted Diversion (LEAD) program, which redirects people arrested for low-level drug offenses to treatment and other services.
"In a short period, Officer Partlow has built positive working relationships with dozens of people experiencing homelessness on and around the UMB campus," Johnson says. "He has entered some of our community members into the LEAD program and helped people with substance abuse issues find resources that have led them onto the path of sobriety.
"I'm super proud of him. He deserves this award. He's out there every single day in the community, and there isn't a homeless person around who doesn't know Officer Partlow."
Partlow has been with the University for seven years, serving as a patrol officer before assuming the outreach liaison position last January. He previously worked in security at Johns Hopkins Hospital to help pay his way through nursing school at Baltimore City Community College. But a friend told him about a law enforcement opening at UMB, so he shifted his career focus from nursing to policing.
"I had done well for myself in security and thought I should give law enforcement a try," Partlow says. "I really came to enjoy it, so here I am seven years later, and I'm very thankful to be given the chance to lead our homeless outreach efforts."
Partlow brings a lot of compassion to his position, well aware that many in the homeless population are suffering from mental illness or addiction. To add to his expertise, he's pursuing a bachelor's degree in psychology from University of Maryland Global Campus (formerly University of Maryland University College) and plans to pursue a master's in the same field. Also, he says his family's experiences with mental illness have given him great perspective in his job.
"There have been some really difficult times in my family, so I think on the street as an officer I was quick to recognize the complexity of these issues and know how to deal with certain situations revolving around mental illness," Partlow says.
Cary is pleased with Partlow's performance and the results of COAST's outreach efforts, including a homeless outreach symposium in January with a police liaison from New Orleans and the Community Engagement Academy, a six-week program in which the UMBPD shows civilians how law enforcement officers are trained. Another homeless outreach symposium is scheduled for Sept. 19 and will feature a New York Police Department officer.
"Officer Partlow has an innate compassion for helping the homeless," Cary says. "With a background in nursing and pursuing a degree in psychology, he is a natural at what he does as UMBPD's homeless liaison. I am honored to have such a caring, compassionate officer who is making a difference."
Partlow thanked Cary for launching COAST and trusting him to lead the homeless outreach branch, calling her leadership since arriving in June 2018 "a breath of fresh air."
"Chief Cary has really been open and willing to take risks," Partlow says. "She's willing to experiment, to think outside the box, and is open to suggestions from the bottom up, so a lot of credit goes to her for allowing a space for this program to happen and develop.
"There are a lot of people at UMB doing a lot of great work and making an impact, so I'm just honored and humbled to be recognized like this," says Partlow, who received a plaque, a letter of commendation, and news that an extra $250 would be in his next paycheck. "Our team is one of the most amazing groups of people I've ever worked with. This whole project has been a real blessing."