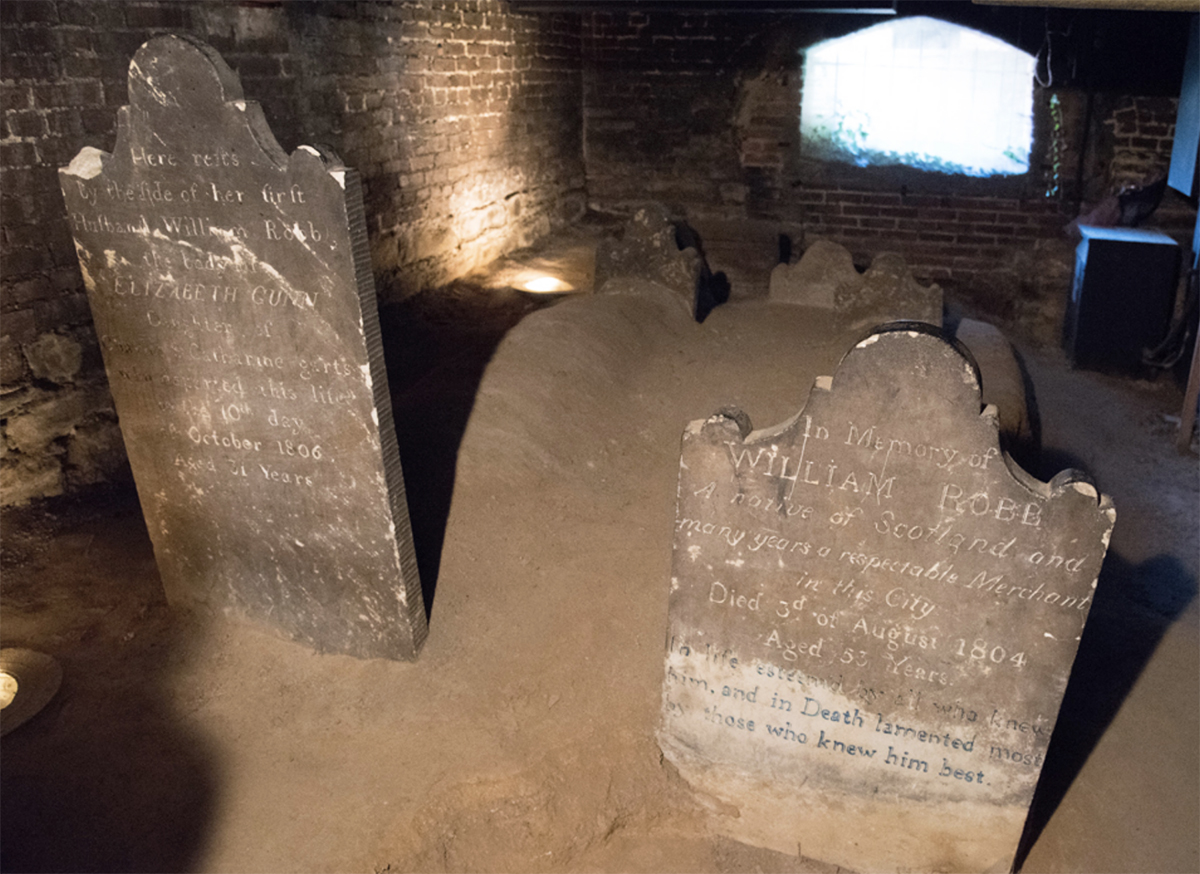 Lu Ann Marshall, academic coordinator at the Carey School of Law and tour director, leads 40 visitors on an educational tour of the Westminster Hall Burying Ground and Catacombs.
---
On April 9, after the group of 40 visitors had moved away from Westminster Hall's gates at the corner of Fayette and Greene streets, past the famous burial site of Edgar Allan Poe, and into the pews located beneath the building, the tour guide opened her presentation by saying, "My name is Lu Ann Marshall and I am tour director for the site, even though I prefer to be addressed as 'Queen of the Graveyard.' "
On the tour, organized by the University of Maryland, Baltimore's (UMB) Council for the Arts & Culture with participation from the Francis King Carey School of Law, Marshall delved into the haunting tales of the School of Medicine's resident grave robber, Frank, and Samuel Smith, a former U.S. senator, Baltimore mayor, and military general who provided defense in major battles such as the Revolutionary War and the War of 1812.
Marshall, an academic coordinator at the Carey School of Law, has led Westminster Burying Ground and Catacombs tours for over 40 years. While she continues sharing the narrative of the site's beginnings, stemming from migration away from the Jones Falls, Poe and his wife Virginia, Frank selling bodies to medical students, and the rumored haunting of Smith, it's being in a covered graveyard that sets the haunting tone.
Marshall leaves the grandeur of the experience up to the individual, saying, "So, are we haunted? Who knows?" Regardless of whether the site is haunted or not, numerous ghost hunters, psychics, and empaths have most certainly passed through Westminster Hall, each leaving with a different experience. In that same vein of mystery and horror, the celebrity of the afternoon undoubtedly was Poe, the famous 19th-century writer of short stories and poetry. Marshall presented a series of Poe stories, including:
People associate Poe with Baltimore, but he was born in Boston and lived much of his life in Richmond, Va., and New York. Poe lived in Baltimore for only about two years, from 1834 to 1836. Back then, if someone had the misfortune of dying while visiting out-of-town relatives or friends, they were not transported back home because the body could not be kept fresh. Poe died in Baltimore, and that's where he remains.
There is great mystery surrounding Poe's death, with 20-something causes among the speculation. Rabies was perceived to be one of those causes, which Marshall says would have been "interesting for someone who wrote The Black Cat." The official cause on Poe's death certificate is brain fever. At that time, if a proper diagnosis could not be determined, the cause was defaulted to brain fever. Some speculated that Poe might have been killed by Elmira Royster's brother in an attempt to derail a possible "bad marriage."
The three most important women in Poe's life were his mother, foster mother, and wife, who also was his cousin. All three women died from tuberculosis. It is speculated that Poe's experience with such tragedy inspired his short story Masque of the Red Death.
From 1849 until 1875, Poe was in an unmarked grave. It was not until after his death that Poe became famous. People who had come to pay their respects, typically in the form of leaving a rose or saying a prayer, could not find the exact gravesite. Baltimore schoolkids went out into the neighborhoods collecting "Pennies for Poe" and raised about $600 to use toward buying a memorial marker. The rest of the money was donated by Sara Sigourney Rice, a local philanthropist.
It is said that whenever Poe and Virginia went out, she was often asked to sing, and it was rumored that Virginia had a very beautiful singing voice. One time, when she was singing, Virginia burst a blood vessel in her throat and began hemorrhaging from her mouth. She developed tuberculosis and died at 24.
These are just a few of the Poe stories Marshall shared with the group. Collectively, Poe, Smith, and Westminster Hall itself provide a narrative of Baltimore's rich and mysterious history, making it a truly unique place on the UMB campus.
Public guided tours, sponsored by the Westminster Preservation Trust, are offered on the first and third Fridays and Saturdays of each month from April to November. The next event, "Lunch Under the Pipes" will be held May 9 from noon to 1 p.m. To learn more about the upcoming events at Westminster Hall, click the link below.