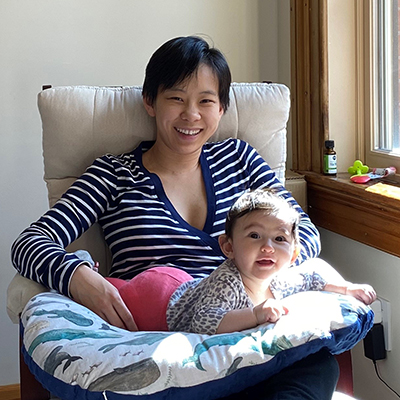 Meredith Lu reviews COVID-19 literature for an online pediatric resource.
---
Prior to enrolling at UMSON, I completed a yearlong fellowship with the pediatric infectious disease team at the University of Maryland Medical Center (UMMC). At the start of the pandemic, I volunteered to help my former team create and maintain a clinical resource page for COVID-19 in children — Kids & COVID-19.
The website includes news, information for parents and families, clinical guidelines for pediatricians, and a literature section. My part is the literature section, for which I review all academic articles relevant to COVID-19 in pediatrics and write a small blurb for each with a quick overview and basic interpretation of the article.
My training is in pediatric emergency medicine, and I have my Master of Public Health. I am specifically interested in large-scale emergencies and infectious diseases. This project has helped me feel connected since I'm not working at the moment in order to stay at home with a new baby girl. Staying familiar with all the new literature coming out on COVID-19 will certainly help me as I work toward a career in pediatric infectious disease and gives me a great topic for schoolwork.
Pictured, Meredith Lu with her baby girl Rosalind, "Roz".
---
Additional Kids & COVID-19 contributors include Ginny Cummings, MS '99; Linda Wadsworth, BSN '81; and Nancy Wymer, BSN '84.