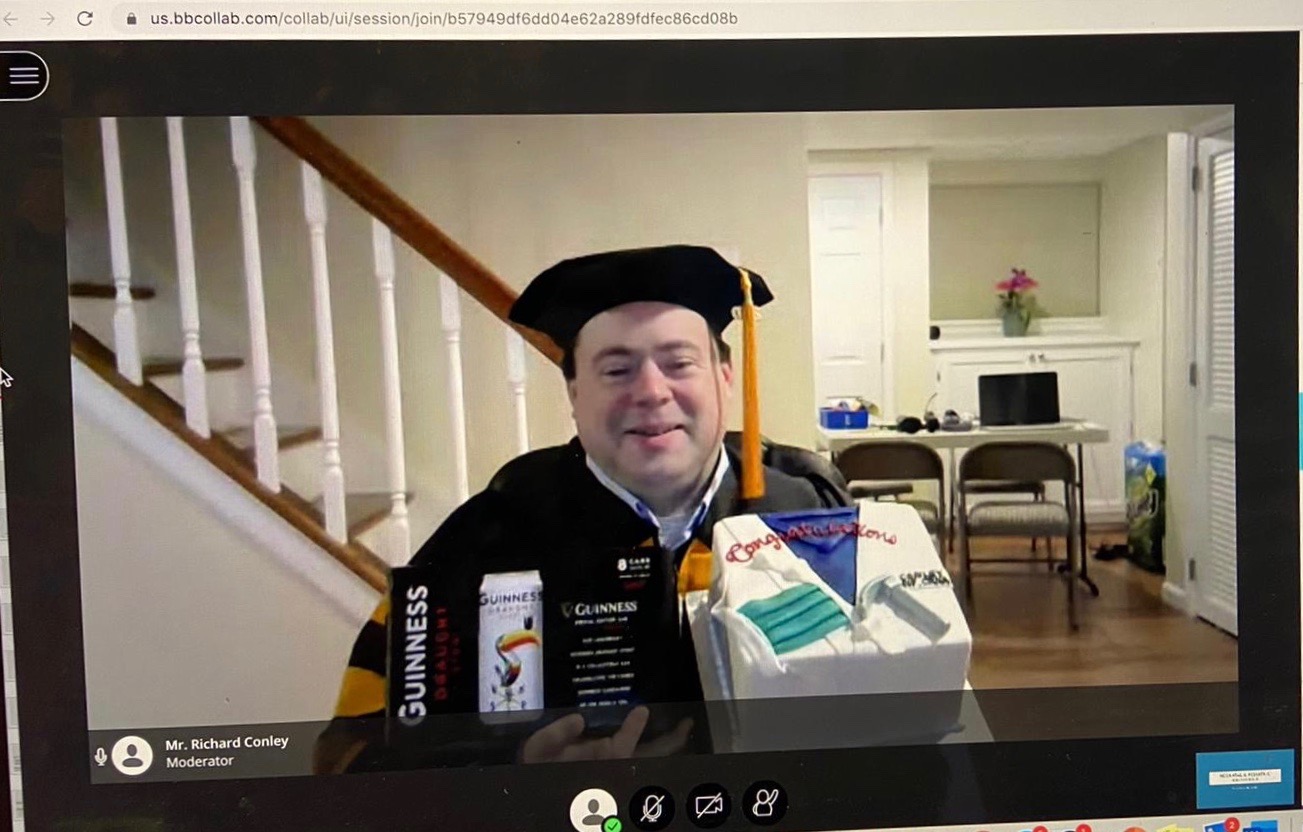 DNP Nurse Anesthesia Class of 2022 students secretly deliver a cake, party hats, and drinks to a beloved teacher's house and surprise him before the last lecture of the semester.
---
There are not enough words to express the appreciation and love we have for Dr. Richard Conley Jr., DNP '20, CRNA! His teaching methods are unparalleled and he is able to explain the most convoluted material in easy-to-understand ways.
Dr. Conley has miraculously earned his DNP in Nurse Anesthesia while juggling THREE additional full-time roles: supportive husband and (no doubt insanely cool) father to three children and one dog, talented CRNA working incredibly long night shifts, and teaching our Type-A, incessant-question-asking (probably annoying) group of students.
Dr. Conley is the epitome of an ideal educator: patient, approachable, incredibly talented, respectful, and passionate. He goes above and beyond every single day to ensure our multitude of questions regarding lecture material are answered while never making us feel inadequate.
To express how proud and thankful we are, we devised a top-secret mission to collect class donations, deliver them to his door, and give him the graduation he deserves. We were able to throw a proper celebration and gift Dunkin' gift cards, a delicious cake, his favorite beer, and party hats for the whole family.
With the help of a second professor, we were able to get Dr. Conley to sign on to Blackboard Collaborate early to help with "technical difficulties." He was then informed he had a delivery at his door, and once he realized it was a graduation gift, he went to put his cap and gown on, "Pomp and Circumstance" was played, and Dr. Conley was officially a 2020 graduate!
Dr. Conley, we can never thank you enough for all of the hard work and support you give us. We would not make it through this program without you! You are a true role model and the HEART of health care!