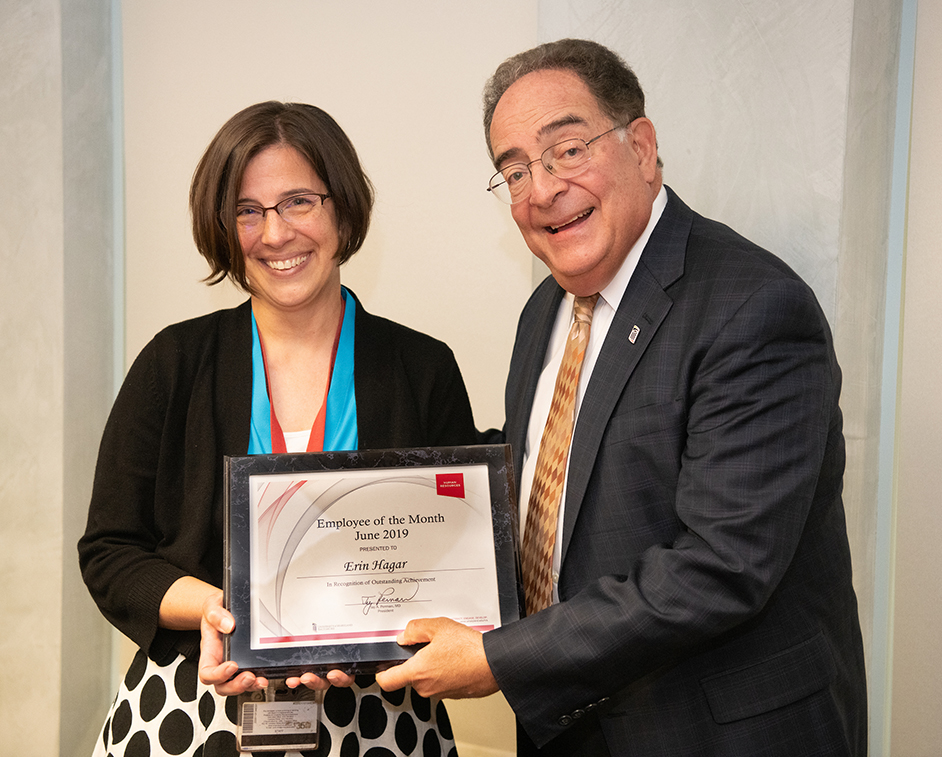 Senior instructional designer in Graduate School shares expertise on course creation and implementation across the University.
---
The field of online learning is growing rapidly, and Erin Hagar, MA, MFA, is working diligently to guide the University of Maryland, Baltimore (UMB) through the boom.
As senior instructional designer for the Graduate School, she has made her mark by helping faculty members create online courses and sharing her expertise on design and implementation with the University's other schools.
"Erin has been at UMB for a little over three years, consistently receiving exceptional performance accolades and reviews," says Mary Jo Bondy, DHEd, MHS, PA-C, director of graduate studies and Hagar's supervisor. "She has gained the reputation across campus as the go-to person for colleagues and faculty to learn about online learning pedagogy and design."
For these efforts and more, Hagar was honored June 25 as UMB's Employee of the Month, receiving the award from President Jay A. Perman, MD, during a surprise ceremony in the Saratoga Building. Hagar thought she and her colleagues were there to brief Perman on the Graduate School's involvement in the School of Pharmacy's new Master of Science in Medical Cannabis Science and Therapeutics program, but the president announced that the meeting was all about her.
"I understand you're very important to instructional design in the Graduate School, which means you're doing good work for our students, and that's something I truly appreciate," said Perman, who presented Hagar with a plaque, a letter of commendation, and news that a $250 bonus would be in her next paycheck. "I also understand you're involved with the Council for Arts & Culture, and I think it's very important to the University. This award is the institution's way of giving you a well-deserved pat on the back."
Hagar's duties are varied, but asked to described them in a nutshell, she says, "I support faculty who are making the transition to teaching online by helping them think out the structure and then the goals of their course, and then by helping them design activities that get the students where the faculty members want them to be by the end.
"I'm always trying to help faculty think of assignments that go beyond maybe your traditional written paper," adds Hagar, who also was involved in the course development for online master's programs in health science and palliative care, among others. "We're thinking about products that students can create and bring to a job interview, or some kind of portfolio so they can go to an interview and say, 'Not only do I have this degree, but here are products I created as a result of that degree that could be useful in this environment.' "
Bondy says Hagar consistently goes above and beyond expectations to assure that Graduate School faculty and students are successful in their courses. "She routinely provides creative ideas and suggestions to faculty to increase student learning and engagement," Bondy says. "Student performance and the faculty's opinion of course development exceed expectations consistently in courses that are designed by Erin."
Hagar describes her job as a labor of love, singling out colleagues Bondy, Christina Cestone, PhD, Kevin Engler, MDE, and Sharon Gillooly for their support. "This is truly the most collegial and supportive environment I've ever worked in, and I'm really grateful for it," Hagar says. "I work with such an incredible team, and every single person on the team makes my job a thrill to come to every day."
Hagar's father was a professor at Salisbury University, so she grew up with an appreciation for higher education. She also has worked for American University, Montgomery College, and Johns Hopkins University.
"Higher education is a world that's really familiar to me," she says. "But what I really like is how much I get to learn, because by working in-depth in all these courses, I feel like I get a sneak preview into what the students are going to see before the courses are launched, so I learn a lot."
Hagar's creativity isn't limited to the workplace. She has authored three nonfiction children's books, with divergent subjects: the founders of Legos; chef, author, and TV personality Julia Child; and the Woman's Land Army of America, an organization created in World War I to replace men working in agriculture who were called to military service. She's working on a fourth book about the advent of Title IX and the creation of the sports bra. Its proposed title: "Supported: How a Bra and a Law Changed the Game for Women Athletes."
Hagar's experience as a writer led her to form an affinity group through UMB's Council for the Arts & Culture called the Artists' Alliance. Members of the University community meet once a month during the school year to discuss the challenges of balancing full-time work with their artistic endeavors. Hagar says there are about 50 in the group, including six whose work was published in UMB's inaugural edition of 1807: An Art and Literary Journal.
"We talk about what it's like to make art, what we're working on, what the challenges are, the dynamics of having art that you need to make to sell, versus art that you're just making for yourself," Hagar says. "What I love is the way it brings together staff and faculty from all over the University to discuss these issues. There's a really wide range of artistic people on this campus, and I don't know that I would have met them without this group."